Hapag-Lloyd Joins Carriers' Container Cancellation Fee Trend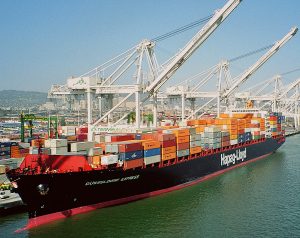 It looks like carriers are jumping onboard for issuing fees on container cancellations and no-shows from shippers, as Hapag-Lloyd is now adding such a fee to their practices, according to a Gavin van Marle written article from The Loadstar:
Hapag-Lloyd has become the latest container shipping line to introduce a cancellation/no-show fee, as carriers appear increasingly intent on penalising shippers and forwarders that book slots on services but don't arrive with the cargo on time.

The German carrier has announced a $60 fee for all export shipments from Singapore to India from 9 June on "all bookings which are cancelled within three calendar days prior to vessel arrival".
A couple weeks ago, I wrote that such cancellation fees could become a trend, rippling through the international shipping industry after van Marle reported CMA CGM was launching a $150 per TEU cancellation fee.
Two carriers launching cancellation fees isn't exactly a trend, but Hapag-Lloyd and CMA CGM are not the only two. Like almost all carrier trends in the international shipping industry, this one appears to have been started by Maersk.
In the Loadstar article quoted above, van Marle brought up that Maersk introduced a booking cancellation fee back in April.
It should be noted that such fees are not just for entire shipments that are cancelled or become no-shows. When talking about Maersk's cancellation fee, van Marle wrote, "… reducing the number of containers in a booking would 'be treated as booking cancellation and charged the same way'."
Three carriers issuing cancellation fees does look like a trend, but will it really catch on?
Right now, it appears that Maersk, CMA CGM, and Hapag-Lloyd are trying out the fees. They have not launched such fees on all routes. So far, transpacific routes are not being hit. But could they be?
This is not the first time carriers have attempted cancellation fees. According to Gary Ferrulli of Unicon Logistics, Maersk and Hapag-Lloyd tried such fees before without success. His opinion is that these fees will fail again even though they would actually be good for the industry.
Ferrulli said in a comment to our blog on CMA CGM's launching of the cancellation fee:
It's been tried before by Hapag and Maersk and because the market wouldn't follow, failed. Will it work now? My personal feeling is no…

Carrier's just can't seem to tolerate having shippers upset, the ones who
try are told "we'll pull the plug, no one else will do it" and so it goes.

It would actually do much good as it would stop or curtail the multiple bookings done to "make sure we are covered", and in a tight market that has cargo being booked three or four weeks out that could move in a week but doesn't because the ships are overbooked with ghost cargo
by big shippers/nvo's. But with no consequence, why would they care?
Ferrulli makes a good point in that with no consequences for no-shows or cancellations, why would shippers stop. If shippers can find a better or cheaper deal for importing or exporting their goods, they will happily cancel or just switch to the less expensive carrier without a word.
Obviously, this is a problem for carriers. A cancellation fee reduces or neutralizes the savings shippers might gain from moving their cargo. It would make sense for other carriers to follow the lead of Maersk, CMA CGM, and Hapag-Lloyd with cancellation fees of their own.
Usually, as Maersk goes, so goes the industry. But in this case, many carriers may hold back from doing what Maersk is doing for fear of backlash from shippers. If several carriers decide not to adopt cancellation fees, those that do may find themselves at a little bit of a competitive disadvantage.
The cancellation fees so far are hitting European trade routes where cancellation and cargo rollover issues seem to be more severe.
Perhaps I am wrong, but I feel like the backlash from U.S. shippers might be greater than that of their European counterparts. In the previous Universal Cargo blog on this topic, I wrote:
Such fees on U.S. cancellations and transfers would likely garner complaints from shippers and freight forwarders to the Federal Maritime Commission (FMC).

Perhaps the best ground such complaints would have of convincing the FMC not to allow the fee is that shippers and freight forwarders would not have a similar recourse against carriers for blank sailings or container rollovers that can be so costly for shippers, delaying the receipt of cargo.
Ultimately, if the carriers adopted cancellation fees across the board (that is, all the carriers launched this fee on all routes), cancellation fees would likely be successful in becoming a new standard practice in international shipping.
Like Mr. Ferrulli, I believe the accountability would be a good thing for the international shipping industry. Of course, shippers would likely demand accountability from carriers on rollovers and blank sailings.