Is a Trucker Freedom Convoy Protest Coming to the U.S.?
We could soon be seeing even more disruption of the U.S. supply chain.
Truckers Protest in Canada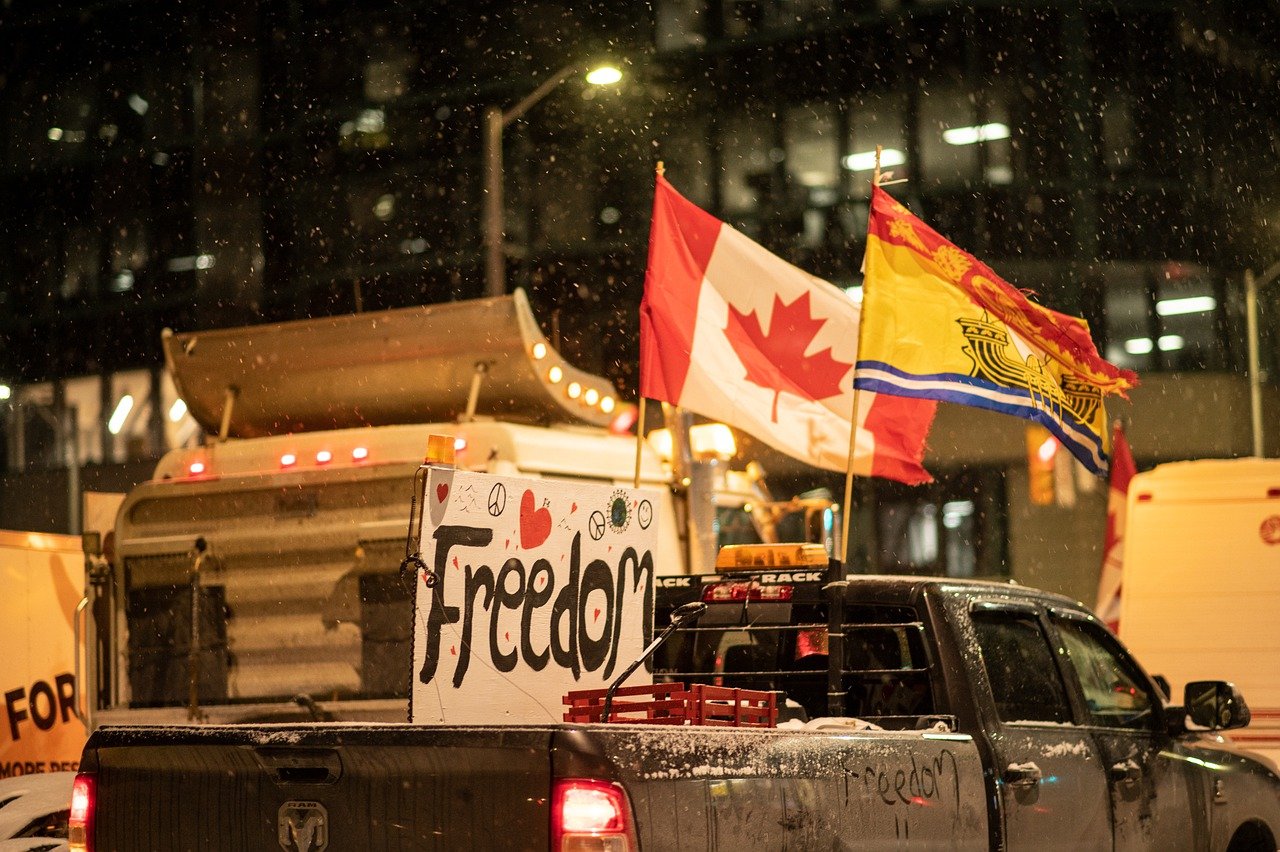 You've probably heard about the Freedom Convoy in Canada. In protest to draconian COVID-19 regulations and vaccine mandates, truckers traversed the provinces of the country and converged on Ottawa. There, they further disrupted the supply chain and commerce by creating blockade of the Ambassador Bridge, which is a major connection point between Canada and the U.S. The truckers were joined in their peaceful but effectively disruptive protest by masses of non-trucker citizens.
Somehow, they've been managing to have a peaceful protest without lighting any buildings or cars or even dumpsters on fire. Weird, Canada. If you watched CNN or MSNBC, you'd know protests are only applauded as peaceful or mostly peaceful when public and private property is being destroyed and a little violence is thrown in. The only thing being lit on fire in these protests are coals in grills to feed the people who have gathered to demand the removal of extreme COVID regulations.
Trudeau's Failed Attempts to Thwart Protest
Canadian Prime Minister Justin Trudeau tried calling those in the protest racists, misogynists, and Nazis – as is instructed in the leftist politician handbook. He also called upon tow trucks to seize the Freedom Convoy trucks. Both strategies failed, as tow truck drivers refused to tow the trucks and it takes more willing suspension of disbelief to believe these politicians calling all of their opposition racists than it does to accept the plot of Star Wars: The Rise of Skywalker.
Similar Resentment Growing in America
Speaking of Star Wars, plenty of politicians have been doing their best Emperor Palpatine impressions since the pandemic hit – and certainly not just in Canada.
Thus, many American's are growing angry over politicians' policies that include imposing COVID vaccine mandates; forcing children to wear masks in school with no data that it does any good but growing evidence of social, emotional, and developmental damage; and even threatening to kick kids out of school altogether if they don't get this vaccine despite statistically negligible risk to kids from COVID that is nearly impossible to argue outweighs the risks already associated with the vaccine for kids or its unknown long-term effects, let alone the fact that the vaccine is made for a strain of the virus that has been replaced by subsequent variants and shows little-to-no effectiveness in preventing the contraction or spread or omicron, the now dominant strain.
Not everyone agrees with those who are angry at governmental response to COVID. In fact, there are still many who trust the ever-shifting narrative from politicians and government agencies despite the fact they've been caught in lies and have often imposed rules on their constituents that they don't follow themselves. However, there are more than enough people who have had enough to fuel a movement to replicate Canada's Freedom Convoy in the U.S.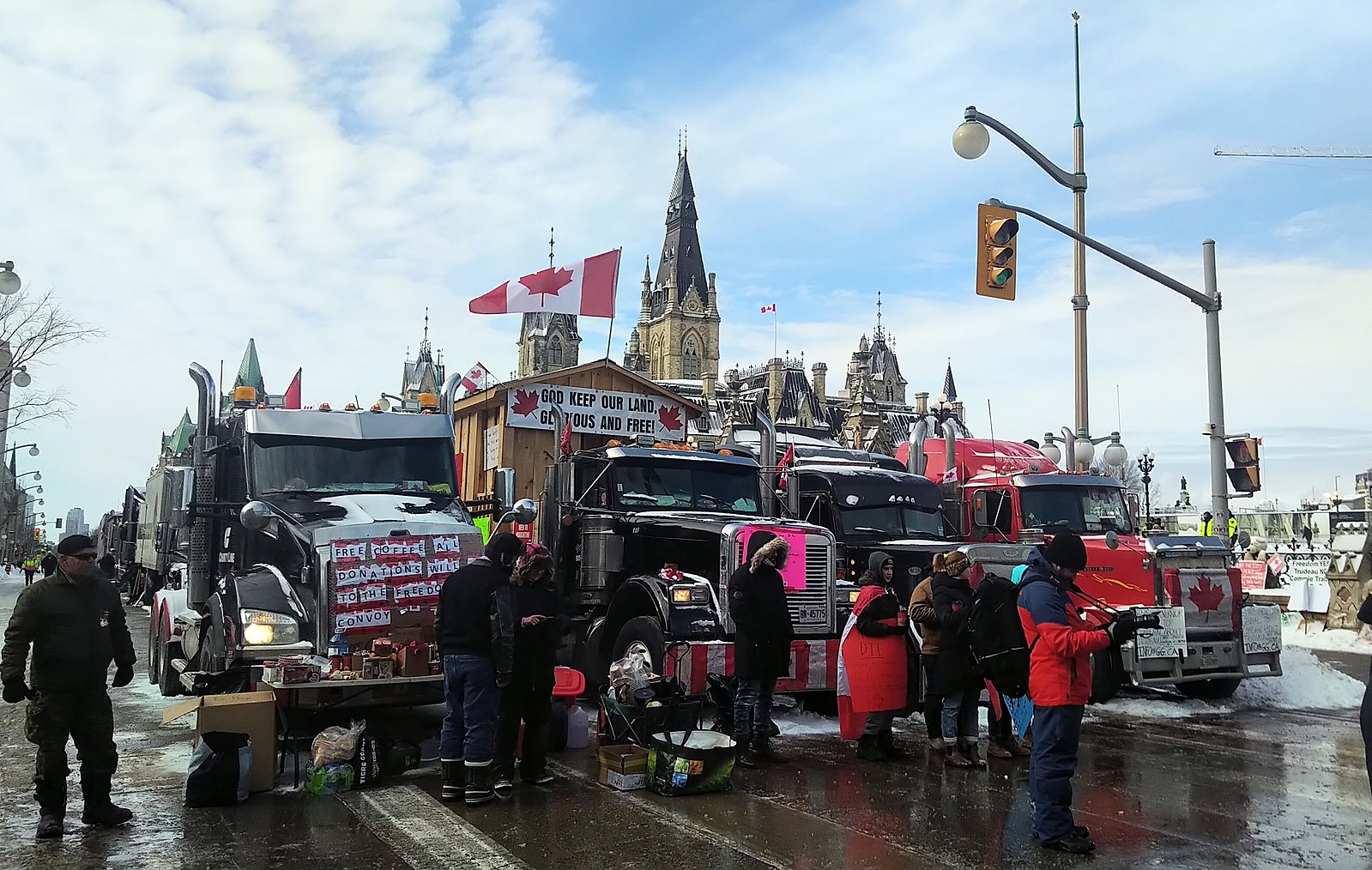 Freedom Convoy Succeeds
Further filling the tank for the movement to have a freedom convoy in the U.S. is the fact that it seems to be working in Canada. Joseph Curl reports in the Daily Wire:
Four Canadian provinces have moved to lift their COVID-19 restrictions as a massive protest by truckers continued blockades Wednesday in Ottawa, paralyzing the capital city.
Freedom Convoy in U.S. Already Being Organized
Obviously, trucks, truckers, and trucking are vital to the supply chain. With a trucker shortage already existing in the U.S., a freedom convoy here could really exacerbate the supply chain crisis we're already experiencing. And that's the point. Plans for such a protest are already well underway.
Sheera Frenkel and Alan Feuer report in the New York Times:
Plans for a demonstration by truckers in the United States similar to the one in Canada appear to be gaining momentum, aided by online supporters.

The route and timing of the demonstration, meant to protest pandemic restrictions in the United States, was set to be announced on Tuesday evening, said Brian Brase, a trucker who is organizing the American effort. According to messages posted on social media, the route may start in Sacramento, Calif., and end in Washington, D.C., but Mr. Brase declined to comment on details of the convoy until an official announcement was made.

…

On Facebook, the hashtag #TruckersConvoy2022 has garnered almost 2 million interactions over the last two weeks, according to CrowdTangle, a data analytics tool owned by Meta, Facebook's parent company. Private Facebook groups dedicated to the convoy have also seen fast growth, with the main group collecting nearly 150,000 members since it started two weeks ago. A second group, dedicated to the efforts in the United States, has gained 50,000 members in the last week.