Maersk is Worried About Amazon – That Could Be Good for Shippers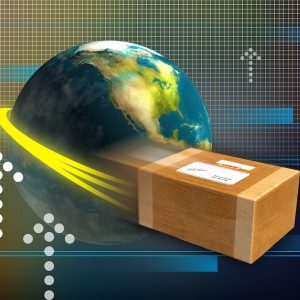 Amazon has Maersk scared. And for shippers, that's a good thing.
Christian Wienberg and Alaric Nightingale reported in an article for Bloomberg that the international-shipping-industry-leading shipping line is worried about not only Amazon but Alibaba as well.
The article's authors are not just extrapolating that Maersk is worried about these companies; it's right in quotes from the shipping line's leadership:
"Amazon is a threat if we don't do a good job for them," Soren Skou, the Chief Executive Officer of A.P. Moller Maersk A/S, said in a phone interview. "If we don't do our job well, then there's no doubt that big, strong companies like Amazon will look into whether they can do better themselves."
Amazon has shown more than just a willingness to get into the international shipping game instead of just hiring companies like Maersk to handle the shipping.
In 2016, there were a couple of big stories about Amazon entering the freight game. In January of that year, we blogged about Amazon registering with the FMC to become a non vessel operating common carrier (NVOCC) or freight forwarder. Then in March, we blogged about Amazon leasing 20 Boeing 767 freighters to launch air freight services.
So there's reason for Maersk to fear Amazon will bypass shipping lines and handle all that international shipping itself. The reasons don't actually stop with moves Amazon has made.
A long history of international shipping lines being notoriously unreliable, lacking focus on customer service, and showing no transparency gives reason for big companies like Amazon and Alibaba to look into handling their own freight movement.
Maersk recognizing the risk of losing major money to Amazon and Alibaba moving into international shipping themselves is good news for shippers because it will cause Maersk to put more emphasis on customer service, transparency, and reliability. Of course, Maersk leads the industry, so as Maersk does, so does the rest of the world's shipping lines.
Wienberg and Nightingale's Bloomberg article actually highlights improvements Maersk has already made:
The Copenhagen-based company has already come a long way. In 2014, it took more than 2 hours to complete a container booking at Maersk. In 2016, the average was 22 minutes, and management wants to bring that down to as little as 2 minutes this year.
In January, we blogged about Maersk teaming up with IBM to create a joint venture company that will use blockchain technology to create a world-wide trade platform for the international shipping industry that Weinberg and Nightingale bring up in their article along with the rest of Maersk's digitization plans and strategy of combining its shipping line, port operator, and freight forwarding activities as moves that might provide companies like Amazon with service that will induce them to stay with the shipping line.
Service from the big shipping lines like Maersk have always been more focused on their large customers than the medium to small shippers who need freight forwarders to act as go-betweens to help them book their imports and exports with the shipping lines. However, as Maersk and other shipping lines work to improve their services for the big shippers like Amazon, service across the board should improve.
Shippers and freight forwarders should expect overdue increases in reliability, transparency, and customer service coming from shipping lines or disruptors like Amazon and Alibaba to enter the industry.