Megalomania (me-gə-lō-ˈmā-nē-ə, -nyə) n., 1: a mania for great or grandiose performance[1]
There is a craze right now in the international shipping industry. A craze for megaships; behemoths of the oceans; great, metal leviathans that can carry thousands of shipping containers across the ocean from port to port.
For years, construction has been underway on huge megaships that are now reaching the point of being put to sea.
In 2009, Discovery Channel released a Mega Builders reality TV episode that visited a relatively small shipyard in Odense, Denmark that was constructing a huge megaship for Maersk. 3,000 laborers worked hard, cutting thick steal plates into hundreds of thousands of smaller pieces they then welded together into giant blocks for the ship. These ship pieces weighed hundreds of tons and required goliath cranes to lift and assemble on the ship.
A 114,000 horsepower strong engine that was five decks high and longer than a tennis court was then installed on the big ship in that little shipyard in Odense under the watchful eyes of the foreman, the engine's engineers, and the hardworking shipbuilders.
Almost exactly a year ago, the megaship Fabiola shattered size records for the Ports of Los Angeles and Long Beach when it arrived. It was described as "just 30 feet shorter than the Empire State Building is tall, as wide as a 10-lane freeway and big enough to carry the contents of eight 1-million-square-foot warehouses."
Even with a capacity of 12,500 cargo containers, the Fabiola is still dwarfed by the Triple E class of containerships Maersk is scheduled to debut in 2014, which have a capacity of 18,000 TEU.
It's hard to grasp the actual enormity of these megaships. Take a football stadium, add a basketball court, now throw in a hockey arena, and it could all fit comfortably below deck on a triple E is how Maersk likes to describe their leviathans.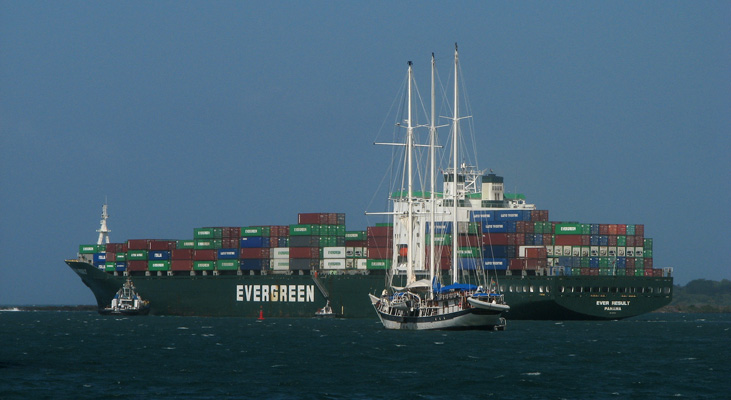 Last April, we posted a blog about how Evergreen, one of the last holdouts of the world's top 20 lines from ordering megaships, jumped on the megaship bandwagon.
Hey, these ships are supposed to be bigger and better, right? Higher efficiency, more economical, better for the environment… Megaships are here to provide the international shipping industry with great, even grandiose, performance. And the industry is obsessed with them. It's in a state of Megalomania.
But then there's that second definition of megalomania.
Megalomania (me-gə-lō-ˈmā-nē-ə, -nyə) n., 2: a delusional mental disorder that is marked by feelings of personal omnipotence and grandeur
I'm not trying to suggest that Maersk and the rest of the carriers coming out with megaships are megalomaniacs or have some kind of mental disorder or God-complex; however, there are some who claim megaships do not benefit anything but the egos of the companies owning the largest ships in the world.
The more I read on megaships, the more I find many are questioning the wisdom of this megaship fad.
In his SupplyChainBrain article, The Era of the Megaship: Is Bigger Really Better?, Robert J. Bowman says, "At what point does big become too big? We might already have reached it."[2]
In another article in SupplyChainBrain Bowman raises the question of who benefits from megaships. His answer to this this question seems to be no one, really. [3]
The article outlined the potential problems with megaships and how they could hurt different players in the import/export industry. Pretty much everyone made the list from carriers to most shippers, to dockworkers, and it would seem, even freight forwarders like yours truly, Universal Cargo Management.
Bowman makes many good points. Is the international shipping industry getting carried away with the megalomania of megaships?
Carriers say the efficiency of these megaships will create cost savings and enable them to give shippers better rates.
The most likely scenario of lower freight rates to shippers I see is megaships replacing smaller ships creating overcapacity issues and causing carriers to scramble to fill all that TEU space.
2011 saw overcapacity and lower freight rates. Carriers lost billions and the next year imposed freight rate increase after freight rate increase. So the savings to shippers only lasted so long. If overcapacity with megaships pushes rates down again, there is likely to be a similar pattern.
Import and export growth does not seem to match the growth of capacity megaships create.
With the great upfront costs of building these megaships, it will take years of excellent, strategic utilization of their new megaships for the carriers to recoup.
Was it wisdom that inspired carriers to start creating megaships when most of the world's ports are not even able to handle ships of this magnitude? Perhaps there was a strategic misstep there, but that question brings me to a clear answer to Bowman's question of who will benefit from megaships mania.
It's hard to say whether the carriers are correct that both they and shippers will benefit from the onset of megaships or if Bowman is correct that neither one will, but someone will benefit.
The ports that are able to handle megaships will benefit.
Ports like the Ports of Los Angeles and Long Beach, which have the water depth for a megaship to dock and the infrastructure to handle the high volume of containers megaships carry, will have a competitive edge over ports that do not.
It will take years for other ports to not just dredge their harbors to enable megaships to dock but create the infrastructure to handle the cargo loads.
Yet, here there is potential for another place of benefit. As ports do the work of preparing their ports for bigger ships like Panama Canal is doing with its expansion, hopefully financed by independent investors in the face of struggling government budgets such as the U.S. sequestration situation, there is great potential for the creation of jobs and boosts to local economies.
Yes, there are some who will benefit from megaships, but their ultimate effect on the international shipping industry will have to be seen with time.
As megaships create waves in the importing and exporting of goods, Universal Cargo Management will be here to help you navigate the waters.
Click Here for Free Freight Rate Pricing