Reasons Why Supply Chain Risk Management Is More Important Than Ever Before
This is a guest post by Carol Cutler.
Supply chains are an important part of our daily lives. The goods and services billions of people use on a daily basis depend on the performance of supply chains. Supply chain risk management has always been an important addition to a company's business operations. In case of risk events such as natural disasters and transport disruptions, your business relies strongly on the quality of your risk management system. Although large-scale supply chain disruptions are nothing new, this year's crisis is different. The novel coronavirus has caused unprecedented disruption to economies, financial markets, and commerce, as well as global supply chains worldwide. Multiple risk factors are simultaneously affecting supply chains, and the consequences are felt everywhere.
Why Is Supply Chain Risk Management Important?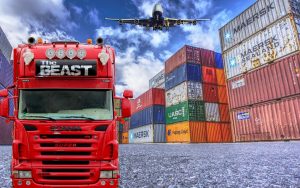 The production of a product involves many stages that can be managed internally by a company or involve multiple suppliers and sub-contractors. To reduce expenses, manufacturing has become more globalized in recent years. As a result, supply chain complexity has increased, posing supply chain risks at each step of the process.  
With more and more businesses handing over their manufacturing processes to external supply networks, supply chain risk management is more important than ever before. Due to higher dependencies, a misstep in one area increases the risk of losing customers. By choosing a reliable third-party logistics (3PL) partner, companies can manage their supply chain more efficiently. The benefits of working with a 3PL provider include access to new technologies, shorter production cycles, and timely strategies.
The Impact of COVID-19 on Supply Chain Risk Management
The COVID-19 pandemic has made the global market more unstable and competitive than ever before. Factory closures, new safety protocols, restricted movement of employees, workforce shortages, transportation hub closures, suspended global travel, and changing customer habits are some of the most impactful effects of the pandemic on the global shipping industry.
The pandemic has exposed numerous issues and weaknesses across many industries forcing them to rethink and update their global supply chain model. In the past few years, a small number of businesses put a supply chain risk management plan in place. Over the past few months, the number of such businesses has notably increased.
The Importance of Having a Supply Chain Risk Management Plan Amid the Pandemic
With a good supply chain risk management plan in place, companies are able to respond to unforeseen events in a timely manner thus minimizing supply chain disruptions. These destructive ''events'' include natural disasters, supplier delay, production interruptions, theft, and even cyber security issues. By having a good supply chain risk management plan, you'll be prepared for unfavorable scenarios such as operating at lower costs, changing market conditions, and evolving customer tastes.
Freight and logistics is particularly vulnerable to supply chain risks. Supply chain risk management includes transportation and route analysis as one of its most important elements. Since freight is vulnerable to various risks from the time the goods are packed until they arrive at their final destination, assessing and quantifying risks with each shipment is crucial. Pulling the right data at the right time helps companies make the right decisions. Modern technology can simplify supply chain management in several ways. For example, technology makes it possible to receive large amounts of data from multiple sources in real time, allowing companies to identify potential risks and estimate their severity during every stage of the journey.
Top Benefits of Supply Chain Risk Management
Here's what supply chain risk management can help you with:
Reducing production and delivery issues
Responding to unforeseen events in a timely manner
Using modern technology that enables real-time updates
Preventing profit losses
Complying with rules and regulations, and meeting safety standards
Boosting and maintaining customer satisfaction
Maintaining a positive company image
What to Expect After the COVID-19 Pandemic
A company's ability to cope with the crisis depends heavily on the quality of its management – business continuity, workforce management, and risk management practices being more important than ever before. Stricter health and safety protocols, labor practices and standards, and operating under restrictions and limitations are putting companies worldwide to the test. These issues will continue to be important following the pandemic.
Once the crisis we are still struggling with is over, we could see more companies focusing on digital solutions and adopting automation technologies. Due to social distancing protocols and the shift to remote work, digitization is more necessary than ever before. According to experts, we can expect the re-evaluation and re-prioritization of digital solutions to increase in the post-COVID era. This year has highlighted the importance of maintaining supplier relationships, assessing supply chain risks, and verifying data and contracts virtually. In addition, data privacy and security issues are more important than ever before due to a higher risk of fraud and cyber-crime.
Conclusion
As the supply chain becomes more complex, the need for supply chain risk management is greater than ever. The global pandemic has brought new challenges to companies all over the world, leaving no region or industry immune. Luckily, some risks can be avoided or at least reduced, no matter the type of supply chain. Supply chain risk management helps companies cut costs but also maintain customer satisfaction and ensure timely delivery as they navigate through these difficult times.
This was a guest post by Carol Cutler.
Author Bio
Carol Cutler is a logistics expert and freelance writer from Monterey, California. She writes for Mod Movers CA and enjoys helping her readers stay up-to-date with the latest developments in the shipping industry.