South China Sea Tensions Intensify Under Trump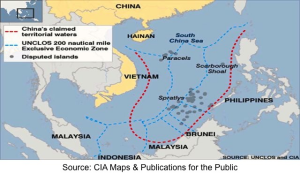 Tensions have been high in the South China Sea for some time as China aggressively pushes its territorial claim on almost the whole body of water, conflicting with claims by Vietnam, the Philippines, Brunei, Malaysia, and Taiwan.
The U.S. is right in the middle of these tensions too, doing things like sending USS Lassen, a guided missile destroyer, right through waters next to man-made islands China has created with air strips and military capabilities to strengthen its claim on the South China Sea.
While the U.S. has taken the stance of protecting international waters in the South China Sea and not recognizing China's self-created islands as affecting territorial claims, there has been very little action from the Obama administration in these waters where about $5 trillion of cargo is shipped through major shipping lanes every year.
The Trump administration plans to be much more aggressive in stopping China's takeover of these international waters.
All the major news outlets have released stories on the Trump administration's vow to protect international waters in the South China Sea. At his hearing, President Trump's selection for Secretary of State seemed to say the U.S. would do two things in stopping China's takeover of the South China Sea:
Stop China from building islands in the South China Sea
Deny China access to the islands it built
Richard Engel, Marc Smith, and Eric Baculinao wrote an article for NBC News quoting Tillerson as saying, "We're going to have to send China a clear signal that, first, the island-building stops and, second, your access to those islands also is not going to be allowed."
While those words of Tillerson's from his Senate confirmation hearing do not necessarily mean President Trump plans to attempt those restrictions on China, his administration didn't exactly back down from them. Ben Blanchard and David Brunnstrom reported in Reuters:
"The U.S. is going to make sure that we protect our interests there," [White House spokesman Sean Spicer] said when asked if Trump agreed with comments by his secretary of state nominee, Rex Tillerson. On Jan. 11, Tillerson said China should not be allowed access to islands it has built in the contested South China Sea.

"It's a question of if those islands are in fact in international waters and not part of China proper, then yeah, we're going to make sure that we defend international territories from being taken over by one country," Spicer said.
The NBC article was more about China's response to the Trump administration's words on the South China Sea. Lu Kang, senior official with the Chinese foreign ministry gave NBC an interview, which will air tonight on NBC Nightly News with Lester Holt. But China's stance is clear even from the article:
"That's not international territory, that's Chinese territory," Lu said, insisting that China has every right to build whatever it wants on the islands.
The quote the article gives from China's media is more ominous as it drops the "W" word:
"China has enough determination and strength to make sure that [Trump's] rabble rousing will not succeed. Unless Washington plans to wage a large-scale war in the South China Sea, any other approaches to prevent Chinese access to the islands will be foolish," wrote the state-run Global Times.
Things were already tense between Beijing and Washington over Chinese and American actions in the South China Sea. Beijing called the U.S. sending a warship, mentioned at the top of this post, within 12 nautical miles of China's man-made islands "illegal" and a "deliberate provocation."
Of course, smaller countries with claims in the South China Sea applaud the U.S. for standing up to China as it builds military instillations in the region's waters.
This already  tense situation is intensifying. And in the middle of it all, shippers are trying to get their trillions of dollars worth of cargo imported and exported.
For more background, check out these related posts:
ARE SHIPMENTS IN DANGER AS US, CHINA TENSIONS RISE IN SOUTH CHINA SEA?
SOUTH CHINA SEA TENSIONS WORRY SHIPPERS
3 CHINA NEWS STORIES SHIPPERS SHOULD KNOW ABOUT
HOW ANTI-CHINA RIOTS IN VIETNAM AFFECTS SHIPPERS
SHIPPING NEWS ALERT: ANTI-CHINA RIOTS IN VIETNAM TORCH VENDORS

Source: UC Blog