Transpacific Freight Rates Hitting Record Highs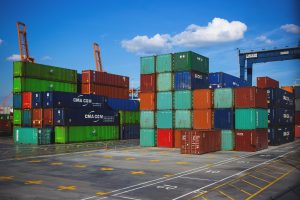 Online shopping is way up. Physical shops and stores around the country have reopened or are reopening. This is the time of year retail typically stocks for holiday shopping, and this year is no different. Peak season shipping is strong. Carriers continue to add capacity to trade routes. Those carriers are also adding general rate increases (GRIs) on cargo shipping. It all adds up to transpacific freight rates continuing to climb. In fact, they're climbing all the way to record highs.
U.S. shippers probably much preferred it back in 2016 when we were blogging about record low freight rates or 2018 when it looked like rates might hit record lows again (before they started climbing) or last year's falling freight rates during the peak season. Since then, it has seemed like nothing but climbing rates.
Big Freight Rate Increases
Shippers definitely won't like Mike Wackett's headline over on the Loadstar's logistics news site, which reads, "Shippers' ocean freight budgets 'about to explode' as rates hit new highs." The article lives up to the title.
Wackett shares data from the Shanghai Containerized Freight Index (SCFI), showing gains for the transpacific and Asia-Europe tradelanes in terms of freight rates. They combine for an increase of 7% on the week, continuing a trend of growth in freight rates, taking rates to 54% higher than they were a year ago.
Looking specifically at the transpacific side, concerning U.S. shippers the most, SCFI shows container spot rates from Asia to the U.S. East Coast (USEC) have jumped to an amount more than 5% higher than the highest freight rates ever reached in 2018, when rates saw major increases during the trade war. For Asia to U.S. West Coast (USWC), rates on the tradelane reached (another) record high, which were 125% higher than freight rates were at the same time last year.
My prediction back in July that freight rates had not reached their peak but would climb higher during the peak season, which many predicted would not even happen this year, certainly became true. Hopefully, my other prediction that carriers would add capacity to trade lanes, which they've done, that would be too high for moments of unexpected cargo volume drops, resulting in moments of lower freight rates for shippers to take advantage of will also come true.
September GRIs
Carriers have no intention of letting freight rates fall or even of staying pat with the record high freight rates they've reached so far. In September, shipping lines plan to push rates even higher with more GRIs.
Freightos CMO Eytan Buchman is quoted in Wackett's Loadstar article as saying, "… carriers will likely introduce another China-US GRI for September, which would be the sixth in just three months."
Actually, there are GRIs that officially go into effect today, September 1st, and others are set for September 15th as well. Carriers have a way of lining up GRIs with each other, which is a consternation for another blog, but let's look at the biggest and most trend-setting of carriers, Maersk, for GRIs going into effect today. Maersk's September 1st GRI for Far East to USWC is $400 and Far East to USEC is $600 per 40 ft. container.
Conclusion
While carriers have managed to maintain GRIs and higher freight rates well so far in 2020, how well they'll be able to do so from this point on will be something to watch. Adding capacity creates risk of any sudden demand drops putting significant downward pressure on rates. Additionally, the risk of a carrier undercutting freight rates to make a grab for market share remains present.
Still, carriers have done an impressive job through 2020 of controlling rates, pushing them significantly higher than last year's, and generating profit in a year that was expected to be difficult for them. As a result, the year has been more difficult for shippers, many already dealing with forced closures of businesses, having to cope with higher costs on shipping.