Freight Rates to Hit Record Lows Again in 2018?
Unprecedented Low Freight Rates in 2018 - Universal Shipping News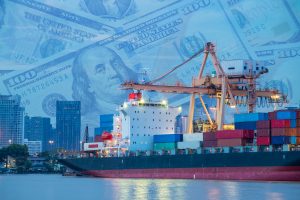 It's bad news for ocean freight carriers but good news for U.S. shippers. At least, it's good news for U.S. shippers in the short run. 2018 could see transpacific freight rates drop to record lows. Again?
If you regularly read this blog, you know all about how overcapacity has plagued the international shipping industry for years. Overcapacity puts downward pressure on freight rates and has caused serious struggles for ocean carriers, which transport 90% of the world's goods around the globe.
For a while in 2017, it looked like carriers were making headway in increasing freight rates to healthier levels for the industry. However, carriers still appear unable to control capacity in a disciplined way. And that's what has 2018's freight rate outlook so low.
A little stroll down memory lane with the below blog posts gives a good overview of recent trends in freight rates and how they affect shippers.
Record Low Freight Rates for Shippers
2016 seemed to be the peak (or maybe the valley) of plummeting freight rates. Shippers loved this because low freight rates meant higher profits for businesses that import and export goods.
But there was a problem…
Are Low Freight Rates Bad for Shippers in Long Run?
This blog post may have been borderline prophetic. Low freight rates are great in the moment for shippers, who should absolutely should take advantage of the increased profit opportunity low rates present. But when those rates are unhealthy, even unsustainable, for carriers over a long stretch of time, something has to give.
This blog highlighted the freight rate wars between carriers that pushed freight rate pricing even lower than overcapacity already had as well as the struggles of Hanjin and Hyundai Merchant Marine (HMM).
It wasn't long after this blog pointed out how shipping companies like Hanjin and HMM might not be able to survive the low freight rates that Hanjin "suddenly" collapsed causing disruption for shippers.
It seemed carriers learned from the disaster…
Freight Rates Primed to Increase on U.S. Imports But May Not Be Bad for Shippers
In April of 2017, when the above titled blog was posted, carriers were making a serious push to increase freight rates. And it seemed to have actually been successful.
In the long run, healthy freight rates are a good thing for shippers and, of course, the stability of the industry.
What's Happening with International Shipping Freight Rates
By May of 2017, carriers' success in pushing freight rates up had made record low freight rates a thing of the past. Carriers maintained their success as the peak season ramped up…
Freight Rate Wars: Carriers Strike Back
In August, Universal Cargo's blog posted about how successfully carriers had managed to "strike back" against record low freight rates with healthier prices on import and export shipments. They were actually making general rate increases (GRI) and peak season surcharges (PSS) stick.
I may have gotten a little carried away with the Star Wars theme in that blog, even posting a Star Wars scroll video about the industry's battle with freight rates.
However, as per usual, carriers were unable to sustain their success with increased freight rates.
What's Happening with Ocean Freight Rates
When we posted this blog in October, carriers had been watching rates slip during the peak season, unable to overcome overcapacity despite increased shipping for the holiday season on the way.
That brings us to now with Alphaliner projecting that freight "rate levels are likely to fall to unprecedented lows" if carriers can't get disciplined when it comes to capacity. Gavin van Marle reports in an article for The Loadstar:
Since the beginning of the year, freight rates from Asia to both the US west and east coasts have more than halved.

"Transpacific routes are currently under the most severe pressure…," said Drewry.

…

It added: "Rates could weaken further and fall below the key levels of $1,000 per feu to the west coast and $1,600 per feu to the east coast, with significant uncertainty over the coming months."
In the article, van Marle points out that this decline in freight rates coincides with the weakening of the Transpacific Stabilization Agreement (TSA), which imposed some capacity discipline and is now seeing industry leader Maersk leave the agreement.
A few days ago, Dhwani Pandya and Anirban Nag reported in Bloomberg that Maersk is issuing caution on the outlook of freight rates:
The world's largest container shipping line says international freight rates are reversing after climbing for most of this year, raising questions about the sustainability of the global trade recovery.

Decade-old oversupply issues swamped demand for containerized sea trade in the third quarter, a senior official at Maersk Line Ltd. said in an interview last week….

"We have started to see some pockets of downward pressure," said Steve Felder, Mumbai-based managing director of Maersk's South Asian unit. The global trade order book at around 13.5 percent of capacity isn't high, "however, given that freight rates are largely determined on the basis of supply-demand balance, they remain fragile," he said.
If freight rates do reach "unprecedented lows" in 2018, more competition shrinking events like the collapse of Hanjin and carrier buyouts and mergers are likely to quickly follow. That will put us closer to Maersk's prediction of carrier competition shrinking to only three global companies.