Watch Out Shippers – Panama Canal Further Tightening Capacity
Panama's drought, affecting the water level of the Panama Canal, continued in October. According to the Weather Channel, "The driest October since at least 1950 has left the Panama Canal with too little water to support the massive cargo ships that are critical to global trade."
That might sound a little hyperbolic, as large container ships are still passing through the Panama Canal, but weight restrictions have indeed limited container ships, Neo-Panamax ones in particular. Additionally, the Panama Canal Authority (ACP) continues to cut the number of ships that can move through the Panama Canal as well as the weight they can carry. Decreases are scheduled in the number of ships allowed through the canal per day all the way through February. That certainly has an impact on international shipping, particularly for U.S. shippers importing goods from Asia to the East Coast.
The decrease of ships able to get through the Panama Canal has already helped U.S. West Coast ports gain back some of the market share they lost to East and Gulf Coast ports in the lead-up to and over a year of on-again, off-again contract negotiations between the Pacific Maritime Association (PMA) and the International Longshore & Warehouse Union (ILWU). The contentious negotiations led to uncertainty at the West Coast ports for shippers and plenty of port disruption from dockworker labor action.
Shippers go from one uncertainty to the next as congestion at the Panama Canal looks likely for at least the next few months.
Meteorologist Orelon Sydney reported in a Weather Channel video, "Because El Niño typically causes drier conditions in the region, officials have plans to further reduce shipping transit in the coming months."
Panama Canal Restriction Details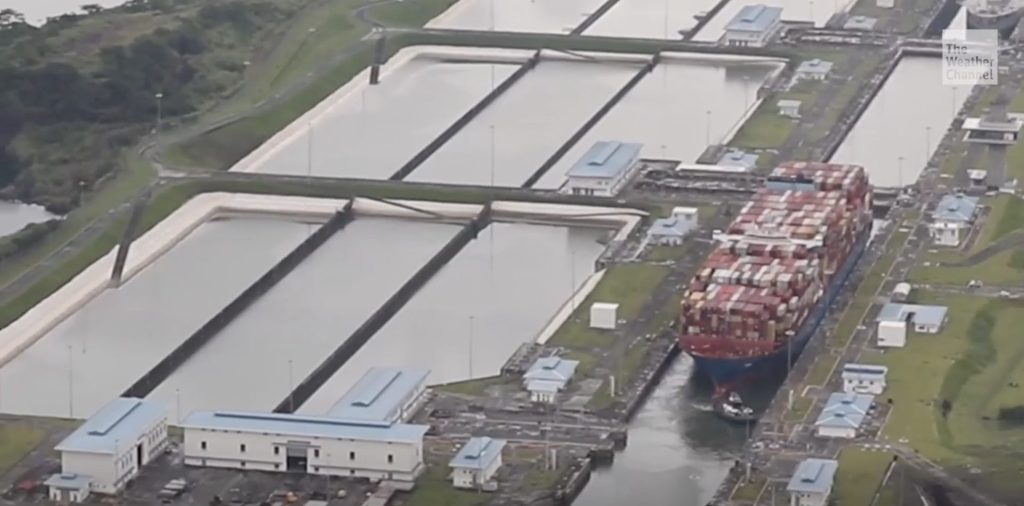 Greg Miller (yes, the one I regularly refer to as Miller Time in Universal Cargo's blog) reported yesterday in a FreightWaves article about the situation. He gave details of the tightening restrictions limiting the number of ships the ACP is allowing through the canal:
… The ACP had previously reduced daily transit reservation slots from 36 to 32. On Tuesday, it announced that reservation slots will be limited to 25 as of Friday, 24 starting Nov. 8 and 22 on Dec. 1. The number of reservation slots will fall to 20 on Jan. 1, 2024, then 18 starting Feb. 1.
He even put the details into a nice table form:
Panama Canal Restrictions' Effects on Container Shipping
I already mentioned the Panama Canal situation helping to restore import market share to U.S. West Coast ports, but Miller Time provides more details on how tightening capacity at the canal affects container shipping:
Larger container ships sailing from Asia to U.S. East and Gulf Coast ports already feel the effect of Panama's drought, because they need more than 44 feet of draft [to which the Panama Canal is being limited] when fully loaded. Vasquez said that for every foot of lost draft, container ships lose capacity for 350 twenty-foot equivalent units.

Thus, this year's loss of 6 feet of draft equates to 2,100 TEUs of cargo. Liners have either had to sail with lower utilization or unload 2,100 TEUs on the Pacific side of Panama, rail them across the isthmus and reload on the Atlantic side.

The just-announced transit restrictions avert or delay further draft reductions that would force liner companies to unload and reload even more containers.

However, the transit reservation cap itself looks likely to affect schedules.  

Over the next two months, the number of Neopanamax transit reservation slots will be cut in half, from 10 currently to five as of Jan. 1.

During the past two fiscal years (the ACP's fiscal year ends Sept. 30), there was an average of 4.7 container ships transiting the Neopanamax locks per day, according to FreightWaves calculations based on ACP transit data.

That historical container-ship average is right at the Feb. 1 limit for total Neopanamax reservation slots (for all ship types) — and it's just an average, meaning that on many days over the past two fiscal years, there were more than five container ship transits through the Neopanamax locks. 

Container shipping flows, as with other ocean cargo flows, rise and fall seasonally. Thus, some container service scheduling changes appear likely while restrictions are in place.
Conclusion
Unfortunately, supply chain disruptions are a regular part of the international shipping industry.
During the pandemic, we saw exceptional port disruption from a combination of things, including hundreds of blanked (cancelled) sailings maldistributing shipping containers around the world right before shipping demand exploded to record levels for which the ports were not prepared. That's not to mention lockdowns, shutdowns, Covid restrictions, and a ship getting wedged in the middle of the Suez Canal adding to the chaos. Then there were the disruptions with the ILWU contract negotiations on the U.S. West Coast followed by the ILWU Canada strike. More labor strikes have hit logistics around the world too, with rippling effects across supply chains. Now we have the restrictions at the Panama Canal, which will probably be followed by some other disruptive event before uncertainty centering around the International Longshoremen's Association (ILA) contract negotiations on the East Coast starts making headlines.
Many shipping disruptions are unforeseeable. Cargo insurance is an obvious necessity to protect against disasters no one sees coming, but shippers should partner with experienced logistics experts who prepare ahead of disruptions that can be foreseen. Regular readers of Universal Cargo's blog were not surprised when disruptions hit during the ILWU contract negotiations. Disruption is pretty much a guarantee during ILWU negotiations, and we were warning our readers and customers well before negotiations began.
Likewise, trusted and experienced freight forwarders can help you right now to protect your imports and exports by informing you of what's happening at the Panama Canal and helping you choose the best and least risky routes for your international shipping. Universal Cargo's account executives also communicate directly and promptly with customers (who can also contact them anytime), so you know exactly what's happening with your shipments, even when the unexpected happens.