What Is the Best Incoterm for Importing from China?
In this blog we'll answer a frequently asked question (FAQ) dealing with Incoterms. Specifically, which Incoterm is the best to use when importing from China. As a bonus, we'll also tell you the worst Incoterm to use when importing from China.
But first, a quick review of what Incoterms are.
Incoterms Overview


Incoterms are international commercial terms meant to bring clarity to business deals that involve the purchasing and shipping of goods overseas.
Incoterms are of particular interest to shippers, such as retailers and manufacturers who import and export goods. This is because Incoterms define who, whether buyers or sellers, are responsible for the shipping and/or insurance of goods through the various legs of transportation in the international shipping process.
We did a whole blog and video series explaining what's the deal with Incoterms and defining all the Incoterms inside their various groups. Here are the blog links and videos so you can review or learn about each Incoterm.
Incoterms Definitions Part 1: EXW, FCA, FAS, FOB
Incoterms Definitions Part 2: CFR, CIF, CPT, CIP
Incoterms Definitions Part 3: DAT, DAP, DDP
Incoterms Definitions - Group E - EXW - Universal Shipping News
Incoterms Definitions FCA, FAS, FOB - Universal Shipping News
Incoterms Definitions CFR, CIF, CPT, CIP - Universal Shipping News
Incoterms Definitions DAT, DAP, DDP - Universal Shipping News
Now to the question.
The Best Incoterm for Importing from China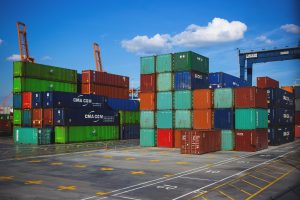 Universal Cargo's General Manager Raymond Rau, who has taught classes about incoterms, recently received an email asking this common question about which Incoterm is best for importing from China.
Ray was kind enough to respond with a thorough answer that not only contained our top two favorite Incoterms as a freight forwarder for importing goods from China, but also contained our least favorite.
Ray listed FOB as the best Incoterm for importing from China.
FOB Defined
FOB – Free on Board (named port of shipment)
Definition: Free Onboard Vessel is sort of a hybrid, where the seller is obligated to bring the goods all the way to the port, clear the goods for export, AND see that they are loaded onto the ship nominated by the buyer. Once the goods clear the railing of the vessel the buyer assumes the risk.[9] FOB is often followed by the named loading port thus: FOB Long Beach, meaning the seller delivers the goods, pays the port fees, and sees the goods loaded onto the ship docked (in this case) at the port of Long Beach.
Note: This Incoterm is used exclusively for maritime and inland waterway transport but not for container shipping.[10]
If FOB is not an option, Ray lists EXW as the next best option.
EXW Defined
EXW: Ex Works; i.e. goods available from the place of production.
Definition: EXW is usually followed by a place name[1], such as EXW Portland and means essentially that the seller will make the goods available to the buyer at a specified place, i.e. the seller's premises/warehouse/works/factory, and at a specified time. This fulfills the seller's obligations – leaving the buyer to load the goods onto whatever transportation has been arranged, clear the goods for export, and bear all the risk during transport.
Caveat: Alternate arrangements can be made, such as the seller agreeing to load the goods and assume the risks of such loading, etc. Any such deviation must be made explicit in the contract.
Note:  When getting an initial price quote for goods, you are usually quoted the price for an Ex Works arrangement, that is, the price of the goods not including shipping, loading, insurance or any of the other costs likely to apply.[2]  Therefore, Ex Works translates into the arrangement carrying the minimum obligation and risk for the seller and the maximum obligation and risk assumption for the buyer. Ex Works applies exclusively to air, rail, road, and containerized/multimodal transport.[3]
Why FOB & EXW Are Best for Importing from China
Here's what Ray wrote, covering why FOB and EXW are our favorite Incoterms for importing goods before we get to our least favorite option.
FOB

FOB is our favorite because it allows each party to handle only what they know best.

The seller knows their country's requirements and processes

Can frequently secure more competitive pricing at origin

The buyer (or their agent/forwarder) knows what is required in the US.

And has access to a vast network of vendors

  Overall there are fewer chances for error [with FOB].

EXW

Specifically when talking about US Imports, if FOB isn't an option, EXW is the next best choice.

The issues that arise during US import shipments are generally caused by issues with customs.

This is because US Customs has very strict rules when it comes to what documents are required, when certain filings need to be done, and what processes need to be followed. If the seller/supplier or his agent is not aware of this or not experienced with US Imports, there is a good chance that they will either miss something or handle something improperly.

The importer (buyer) is the one held responsible for charges imposed by customs and border patrol [with EXW], not the seller/shipper or his agent.

While it is preferable that the seller arranges the origin pickup, delivery to the port, and export documentation, it is not required. Many freight forwarders have very strong relationships with other forwarders overseas that act as their agents to arrange local freight and handle origin processes.

As long as your US forwarder is well versed in customs processes (which they should be), they will be able to have their agents arrange everything perfectly.
Overall, as Ray is saying in his bulleted points, using EXW deals puts the customs process in the importer or their agent's hands. That's optimal because it protects importers from costly fees and delays that could arise from a manufacturer in China (or other country of origin) improperly handling or overlooking something in the U.S. customs clearance process.
Least Recommended Incoterm for Importing from China
Ray begins discussing our least favorite Incoterm for importing goods with a disclaimer about CIF:
I want to start this out by saying that there are companies that successfully ship under CIF terms on a regular basis. These companies have established relationships with their overseas partner and have been doing business this way for years (if not decades).
Obviously, that means CIF is our least recommended Incoterm for importing.
CIF Defined
CIF: Cost Insurance and Freight
Definition: This term is identical to the one preceding it – with exception for the insurance portion. With a CIF arrangement, the seller(not the buyer) assumes the risk (and therefore is responsible for purchasing insurance) for the goods during transit from origin to the port of destination.
Note: This term too applies solely to maritime and inland waterway trade. However, CIF may 
not be appropriate where the goods are handed over to the carrier before they are loaded on the vessel – the usual 
container scenario.[3]
Why CIF Is Least Recommended for Importing from China
Here's what Ray wrote, covering why CIF is our least favorite Incoterm for importing goods.
CIF

For a first-time importer or novice shipper, CIF is probably not for you.

The issues we discussed earlier about US Customs processes not being followed and issues with filing documentation on time are of the utmost concern when shipping under CIF terms.
The specific issues we see very often are problems with ISF filing, documentation prepared improperly, and inaccurate pricing.
ISF must be on file and accurate 48 to 72 hrs before the ship departs the origin port. If this is not on file, or has been filed incorrectly, the US importer will be subject to a MINIMUM $5,000 fine for noncompliance. The fines can even reach upwards of $10,000, depending on the circumstances.
The packing list and invoice must be prepared properly and formatted correctly. When importers allow the supplier to take complete control and don't have a US forwarder or customs broker to verify the accuracy of the documents ahead of time, they are taking a sizeable risk.
Usually forwarders aren't contacted for CIF shipments until the container is about to arrive. Unfortunately, this very regularly results in delays and extra costs.
Conclusion
If you're asking, "What Incoterm should I use for my importing from China," the simple answer is go with FOB. If FOB is not possible, use EXW. Avoid CIF.