What You Must Know for Importing & Exporting Heavy Lift Cargo
This is a Guest Post by John from Anster Special Vehicles
When you import or export heavy equipment or oversized equipment, getting it to your destination is always a big challenge. Heavy lift items are sophisticated and expensive.
Heavy lift cargo products are often customized orders that take months, sometimes even years, to produce. If the item is damaged it will cause serious problems for all parties involved. Therefore, teamwork is absolutely necessary for a successful transportation of heavy cargo. A well-functioning team is highly motivated and flexible to handle such critical situations better and faster.
PART ONE: Tips for Transporting Oversized Freight on Road
Choose the right vehicle
Usually, the oversized machine/cargo is transported using various kinds of vehicles such as the Self-Propelled Modular Transporter (SPMT), modular trailer, lowboy trailer, extendable trailer or a flatbed trailer. Freight costs vary based on the type of vehicle chosen for transportation.
How do you choose heavy transportation vehicles?
If your cargo is less than 100 tons and less than 20 meters, the choice of a lowboy trailer, extendable trailer, step deck trailer, or other kinds of semi-trailer can be best suited to meet the demands for taking up this load.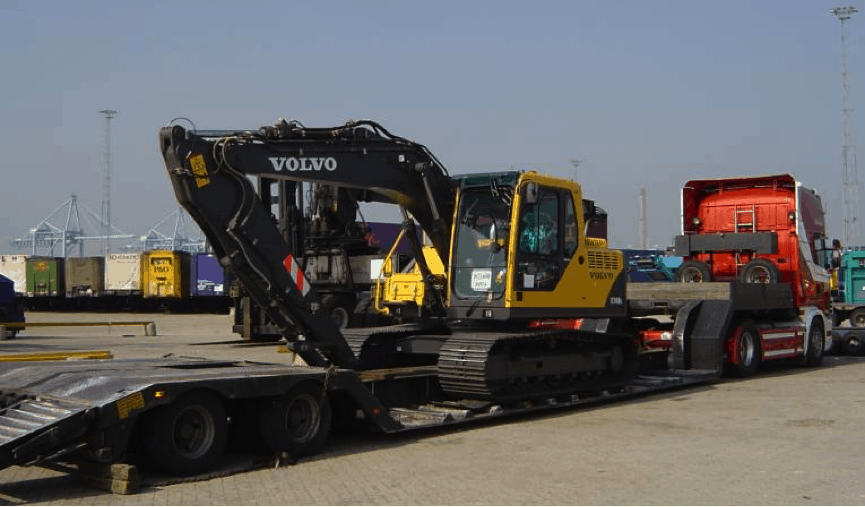 If it is a much heavier cargo — more than 100 tons — it is better to choose a modular transporter, specifically a modular trailer or an SPMT. The freight cost in this application may be higher than that needed for hiring a semi-trailer. However, it is safer and more efficient to use than taking the semi-trailer option for heavy loads of this magnitude.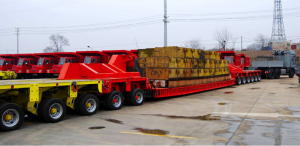 Learn the preparation needed for heavy transportation
This is important to establish whether your transport company is professional and competent enough to meet the needs for heavy transportation. Due to the sensitive nature of heavy cargo transportation, here are a number of things that need close scrutiny:
Cargo should be shielded against sudden weather changes during transport operations. Protection should be done against snowfall, rainfall, and so on. Anti-skid measures should also be put in place.
Have a backup plan of either a standby vehicle or maintenance personnel ready to attend to any emergency calls before getting started with the transportation.
Assess and Get the Infrastructure Ready
Every scenario should be assessed and explored to make sure that there is adequate preparation for unseen circumstances or needs. Based on the findings of the survey on the road, investment in other equipment can be made to facilitate transportation via the laid down infrastructure network.
Survey the conditions of the roads and confirm them a day prior to the shipment day of the equipment. Details of the route should be availed to the driver before getting started with the journey. This is good for taking remedial measures following traffic emanating from emergency road excavation.
A reinforcement plan should be in place to take care of loose bundles. Quality control experts and personnel should follow-up and assess the cargo and come up with feasible schemes of reinforcement for reconsolidating the equipment pieces.
Addressing Force Majeure Emergency Situation
Should anything beyond your control happen, the equipment is to be kept in a safe zone and notifications be made to the owner concerning the incident and the dynamics involved. All work should be conducted based on the authorization of the owner.
PART TWO: Tips for Transporting Oversized Freight on Sea
Oversized shipments should be handled based on a number of factors. This is the reason why logistics companies with project cargo expertise have been successful in heavy transportation. Special attention must be given to large equipment throughout the process with a detailed evaluation and a detailed plan of the operations, assessing the costs for everything to ensure a safe delivery to the designated destination. For that reason, you should ensure that the following considerations are met.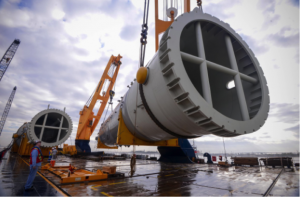 Have a Reliable Partner
Reliability is vital in your transportation engagements. Look at such things as the financial stability of the company, cargo insurance coverage, and competence in handling heavy transportation.
Reference: CHOOSING A COMPANY OFFERING FREIGHT FORWARDING SERVICES
Learn Customs and Regulations
Each country has its own customs laws and regulations concerning the transportation of heavy equipment. These must be established before getting started with the operations.
Make the Right Choice of Vessel
Different ships have different capabilities allowing them to handle certain loads and not others. Here are different options that can take various cargo types:
Heavy-lift ship
A Project Cargo Ship is designed to take very big loads. It has at least one heavy-lift crane for dealing with heavy cargo and sufficient ballast to enhance stability.
Cargo ship
Also known as a freighter ship, a cargo ship is any vessel designed for carrying goods, cargo, and materials. It is normally equipped with mechanisms such as cranes for loading and unloading cargo. It is available in various sizes.
Bulk Carrier
Bulk carrier cabins are not designed to transport oversized cargo. It is difficult for the cargo to be properly stowed and secured. As a result, the goods are often damaged and the ship may be damaged. Ideally, this is a merchant ship designed to handle unpackaged cargo in bulk.
Regardless of its size, a cargo unit should always be carefully packaged and covered for its transportation to protect it from impact and corrosion. The cargo should be inspected at the loading point and any damage be recorded and noted down. The packaging procedure should include:
Protecting sensitive components such as switchboards, pipes of inert gas systems, gauges, etc. as per their special requirements
Making sure that the packaging material allows for good access to facilitate lifting or securing points
Utilizing corrosive protections effective for at least 6 months in excess of the scheduled arrival
Supplying the cargo with appropriate lifting and securing points to protect it from damage
The Bottom Line
A successful heavy transportation procedure is contingent upon a thorough establishment of all factors as listed above. This is a costly venture, hence the need to establish strict safety and security measures for transportation.
Hey, I am John, Marketing manager of ANSTER SPECIAL VEHICLES.
I've specialized in project cargo, heavy haulage, and the heavy lift transport industry for over 15 years.
I like to share my experience in the field.