What's Happening with Freight Rates Right Now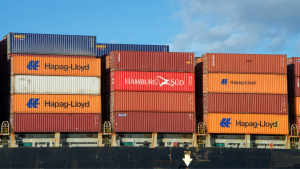 Don't look now, but peak season is upon us. Yes, those big volume shipping months when importers are bringing in products to line store shelves for the back to school and holiday seasons are here.
Generally, that means increased freight rates.
However, in some of these recent years, even with increased shipping volumes and Peak Season Surcharges (PSS), carriers have struggled to maintain the higher freight rates typical of this time of year.
The reason for that has been an inability to control capacity and maintain discipline with freight rates. While overcapacity and undercutting of rates hurt carriers' bottom lines, shippers usually don't complain about lower shipping rates.
Well, shippers don't complain until something like the bankruptcy of Hanjin happens. Yes, that happened right during peak season a couple years ago. Shippers whose cargo was stuck on ships certainly haven't forgotten the mess. Of course, Hanjin customers weren't the only ones whose shipments got impacted and delayed by the event.
Unfortunately, that's the flip side to prolonged unhealthy (for carriers) freight rates. The inevitable effect of carriers struggling to be profitable is decrease in competition. Ultimately, enough decrease in competition will result in an increase in freight rates.
But again, those are long term outlooks. How are things in the short term, the present? What are freight rates doing now? How is the 2018 peak season shaping up?
Right now, carriers are gaining good momentum in freight rates.
Ben Meyer reports in American Shipper that the World Container Index (WCI), which is container freight rate assessments made by shipping industry research company Drewry, surged last week by 13.5%.
That makes for a couple weeks of solid gains now. Meyer also reported:
Shanghai Shipping Exchange's composite Shanghai Containerized Freight Index, which aggregates spot rates on 13 different outbound trades from Shanghai, grew another 3.1 percent on a sequential basis last week after an 8.8 percent jump the previous week.
For many U.S. importers, freight rate numbers on containers moving from Asia to the U.S. are of special significance. And that's actually the area where carriers are seeing their best freight rate increases.
Meyer writes "the transpacific, eastbound WCI rates from Shanghai to Los Angeles skyrocketed 30 percent" and then adds, "Rates to New York grew 18 percent…"
Those big freight rate increases are per FEU (forty-foot equivalent units). On transatlantic pricing, Meyer reports a 5% increase on the previous week.
As we've seen in recent years, a couple weeks of solid freight rate pricing gains from carriers does not necessarily mean they will be able to maintain momentum on rate increases.
However, current projections look good for freight rates to continue to climb as peak season goes on. Gavin van Marle reports in the Loadstar:
Next week is set to see large increases in spot container shipping freight rates on the transpacific trades, according to figures from today's Shanghai Containerised Freight Index (SCFI)

The index, which collates freight rates quoted for the week ahead from a group of carriers and customers, indicates that, as the peak shipping season gets under way, the trade between Asia and the US west coast will see rates rise 10.5%, to $2,074 per feu.

Meanwhile, the on the Asia-US east coast trade, spot rates rose 8.9% to reach $3,099 per feu, and analysts predict that carriers are set to enjoy a better peak season than in 2017 – at this point last year, spot rates had begun to decline.
One of the main reasons carriers are enjoying rising freight rates right now is a successful reduction of capacity on major trade lanes. If carriers can maintain, even increase, discipline in reducing capacity while resisting the temptation to undercut each other's freight rates, they should be able to maintain strong freight rates through the peak season.
Right now, however, there's a wildcard that could greatly factor into how high freight rates are: trade war.
Shippers importing from China are paying close attention as the U.S. and China are hitting each other with spiraling tariff threats and actual enactment of new duties on each other's goods.
The trade war could reduce the volume of goods shipped, even during peak season. If volume falls, that would be another factor putting downward pressure on freight rates.
And the U.S. is not only having tariff disputes with China. There is strife over tariffs between the U.S. and the EU, between the U.S. and Canada, and between the U.S. and others countries.