Will New Ships Bring Freight Rates Back Down?
High freight rates have become a motif in Universal Cargo's blog over the last year. That's not surprising as freight rates have climbed and climbed, breaking record after record, much to the chagrin of shippers. Unfortunately, there's no clear end in sight to these expensive freight rates. Experts see high freight rates and incredible profits for ocean freight carriers continuing in 2022. However, maritime research firm Drewry does point to a risk to carriers' ability to maintain these high rates that's on its way to the international shipping industry in 2023: new ships.
Are New Ships a Threat to Carrier Profits & High Freight Rates?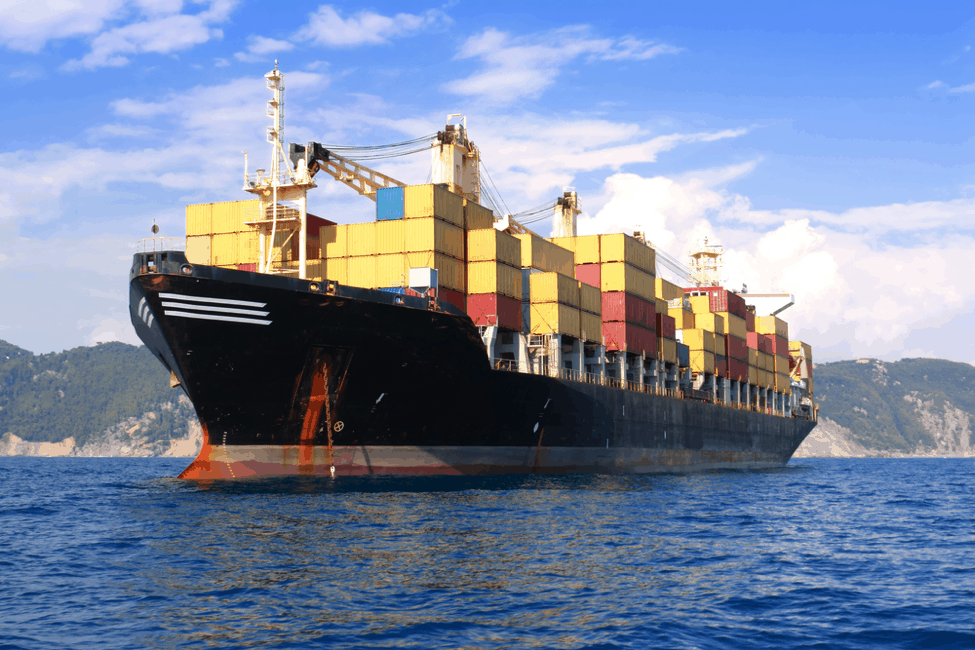 Carriers have been taking advantage of the shipping boom and their high profits over the last year to order ships. Traditionally, more ships – and the increased capacity that comes along with them – brings downward pressure on freight rates which has actually resulted in lower rates. In fact, carriers struggled with overcapacity so much over the last decade, years with billion dollar losses were not uncommon. Are the newbuild ship orders carriers have in place a legitimate threat to their current high freight rates and profits?
Greg Miller reported Drewry's thoughts on ship orders in the American Shipper article we've been discussing through the last couple blogs:
Drewry does see a supply side risk from higher newbuild orders for delivery starting in 2023. However, it added, "Even if carriers do revert to type and the current newbuild craze ends the [profit] upcycle in 2023, they will have made so much money between 2020-22 that they will be set up for years to come. They could potentially make as much profit in this window as they could have hoped for in a decade or more."
Old Habits Would Sink Freight Rates
For more about how much carriers are making right now, you can go back a few blog posts to the one titled, 12 Figure Profits for Carriers? Depends on How Peak Season Plays Out. Despite just a couple years ago many carriers looking like they were struggling to keep afloat, no one needs to worry about the financial health of ocean freight carriers right now. What shippers are wondering, and many hoping for, is will carriers fall back to old habits of pushing capacity way above demand, get into freight rate wars, and cause rates to plunge.
If that's what you're hoping for, don't hold your breath.
Miller's article continues:
… it's far from certain that newbuilds will have the same effect on liner profits that they had in the past cycles. 

Carrier alliances can limit future rate downside by canceling sailings, known in the industry as "blanking" or "voiding" sailings. Maersk CEO Soren Skou said in his company's last quarterly call, "On the question of the orderbook, what really matters to us is the capacity we deploy compared to the demand we have. It's not really important how many ships exist in the world. It's how many ships that are deployed that matters."
Carriers Shouldn't Return to Old Habits
Ah, there's the rub. Not only can carrier alliances limit rate downside by cancelling sailings, they have done it. We've talked a great deal here in Universal Cargo's blog about how carriers blanked hundreds of sailings in 2020 when demand initially did drop a bit in the early days of the Wuhan Coronavirus pandemic. Not only did they drop capacity well below market demand, they caused container and equipment shortages (through failure to properly relocate containers and equipment) that largely contribute to the port congestion problems the international shipping industry has been seeing around the world.
It should, therefore, come to no surprise to regular readers of Universal Cargo's blog that carriers, utilizing their alliances, have the ability to limit the impact of new ships with blanked sailings, controlling capacity and keeping freight rates high. What might be surprising to our regular readers is the beginning of the next quote from George Griffiths, editor of global container freight at S&P Global Platts:
Griffiths said, "Everyone had said this [carrier capacity management] was a pipe dream, but we saw in 2020, at the very start of the pandemic, when demand fell, carriers pulled sailings out of the loops. It's now a tried and tested measure. If carriers understand how to employ void sailings, we will eventually see rates come down, but I'd be skeptical about whether they'd go back down to the levels we saw in 2019."
For years, I've been warning about the shrinking of carrier competition through alliances eventually resulting in shippers paying higher freight rates. If you were reading this blog back in 2014 through 2016, you might have thought I was obsessed with the topic. I even created and kept updating the Carrier Craziness Bracket for shippers to visually follow the shrinking carrier competition in international shipping. Here are a handful of the bracket updates from when I first created it in 2014, as the doomed P3 Network was the biggest news in international shipping, until it was busted worse than a March Madness bracket when all the major carriers were ultimately organized into just three alliances: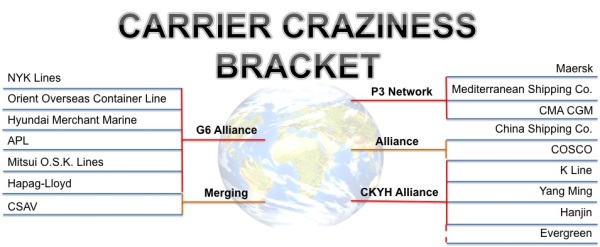 I know Universal Cargo blog readers and I weren't the only ones not surprised to see carrier alliances take control of capacity and push freight rates up. Carriers have been building toward this for quite some time. Their discipline with capacity had already been greatly improved in 2018 and 2019 from previous years of rampant overcapacity and unsustainably low freight rates.
Once you get past Griffiths's hyperbole about everyone having said carrier capacity control is just a pipe dream, what he says sounds very reasonable. Why indeed would carriers allow freight rates to drop again when they've tasted billions in profits from controlling capacity and pushing freight rates way up? That sentiment is echoed in Miller's article by Patrik Berglund, CEO of rate-data platform Xeneta:
As Berglund put it, "Yes, this is a cyclical industry … [but] shipping lines now finally know how to make massive amounts of money. Why would they allow overcapacity to happen again?" 
What Factors Could Cause Freight Rates to Drop Again?
Well, capacity is not the only factor in freight rates. There are some factors that could cause freight rates to come back down in shippers' favor. In the next post, we'll look at how freight rates could improve.