Witness Positions at House Hearing on "Maritime Transportation Supply Chain Issues"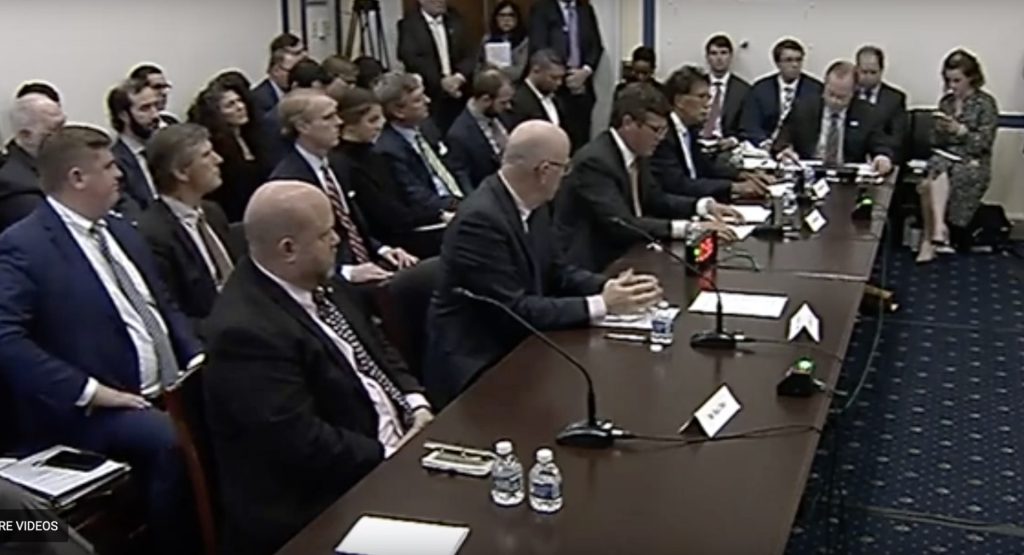 Last week, four witnesses representing U.S. and international supply chain stakeholders appeared before the House's Coast Guard and Maritime Transportation subcommittee to speak and be questioned on maritime transportation supply chain issues.
The witnesses were executives from MSC, the world's largest ocean freight carrier; Ports America, the largest port operator and stevedore in the U.S.; the American Cotton Shippers Association; and the Port of Long Beach.
Lately, U.S. regulators have been showing a great deal of interest in changing and creating laws around the international shipping industry. Perhaps the biggest instance of this so far is the passage of the Ocean Shipping Reform Act of 2022 (OSRA). The jury will be out for a while on how positive or negative the results of OSRA and other U.S. regulatory action will be on the supply chain. But that doesn't mean there aren't strong opinions on the matter.
The witnesses varied in the positions they took before Congress. This post quickly gives you the positions the four witnesses presented in their opening remarks.
If you want more, here's a Youtube video of the House hearing:
1. MSC Warns of Government Intervention Potentially Making Shipping More Costly
We'll start with the end of MSC Group's Executive Vice President Bud Darr's opening statement. As government looks to impose more and more new regulation on the international shipping industry, Darr points out the potential for making the cost of international shipping more expensive:
"The last point I'll leave you with for your consideration is about caution in government intervention in the market at this moment. OSRA 22 was just enacted not too many months ago. The FMC [Federal Maritime Commission], I don't believe, has actually completed yet the first of numerous rule makings they have to do, and I think that we would all benefit from seeing where that lands and how it goes. But this was a market system that functioned quite well and delivered extraordinarily low cost shipping services worldwide pre-pandemic. And I think it can do so again, but we do need to be somewhat cautious to make sure that well-intentioned efforts do not have the opposite effect of perhaps from what's intended."
Darr brings up a good point here. Before writing and implementing new regulation after new regulation on the industry, we may want to see how things turn out with the newest regulations that are still being worked on and brought to the industry. This warning echoes something I wrote in just the last Universal Cargo blog post:
… there is a great deal of risk when seeing the government increase regulation in an industry. Typically, the more the government gets involved in an industry, the more expensive that industry becomes. See education and health care for examples….

The risk of increased port congestion and costly delays for shippers is something worth considering when it comes to both regulatory and carrier policy around the topic of detention and demurrage fees.

In addition, the FMC funding has gone way up, as have the number of recent legislative proposals around the international shipping industry in general. It seems we are in a legislative boom when it comes to the supply chain. The worry is that boom will blow up into a much more expensive climate for shippers.
2. Ports America Criticizes FMC's Recent Detention & Demurrage Action
Ports America President and CEO Matthew Leech, in his opening statement, claimed the FMC is getting it wrong when it comes to regulation changes on detention and demurrage fees.
Leech says new rules as drafted threaten to penalize multimodal transport operators (MTOs) and stop them from charging terminal demurrage, which MTOs consider to be a storage fee. He also criticized the FMC's recent decision to declare unreasonable under the new "incentive rule" of the Shipping Act carriers charging detention fees on shippers who still possess carriers' equipment on holidays and weekends, when terminals are normally closed. He claims the decision is inconsistent with the FMC's own incentive principle, as the one dissenting commissioner wrote in his opinion on the ruling.
Leech says the shippers in the case had every opportunity to return the equipment before the holiday weekend, but the FMC still deemed the detention unreasonable. Leech expressed there are some in the industry who worry this same logic will be applied to terminal demurrage or storage, "even though the terminal demurrage or storage is qualitatively different from equipment detention."
"The analysis under the incentive rule should consider both the actual differences in the charges as well as the cost associated with the services the fees are compensating," Leech stated. "In this industry, fees for storage of goods are and always have been a time based service, irrespective of the day of the week."
3. ACSA Doesn't Think OSRA Does Enough to Protect Exporters
American Cotton Shippers Association (ACSA) President and CEO William Allen looked to bring the plight of U.S. exporters before Congress in the House hearing. A number of times, I've written in Universal Cargo's blog about U.S. exporters, particularly agricultural exporters, getting refused shipping containers and service by ocean carriers in favor of sending empty containers to Asia and prioritizing the more lucrative import market to the U.S. During the pandemic was not the first time this has happened, although it may have been largest level of this disparity we've seen. Allen made it clear in his opening statement, he doesn't think OSRA does enough to prevent this from happening again.
After giving an overview of how ACSA sees the supply chain situation, he got to his opinion that appears to be in stark contrast to Darr and Leech's:
"Our view is that the current relief in our supply chain is solely based on global economic downturn that curtailed consumption of goods and related volumes of inbound cargo. Inundation has been replaced with elasticity in our supply chain. This reprieve is temporary. Our economy will strengthen. Cargo volumes will increase. And we must capitalize on this opportunity to prepare for renewed cargo saturation within our supply chain."
Allen said ACSA applauds Congress and the FMC for the passage and aggressive implementation of OSRA; however, he added the results of its different rules are pending and appear to be of varying value. Then came the more pointed statement:
"We believe that OSRA will likely fall short of providing the needed assurance exporters seek concerning the availability of service when economic conditions favor empty sailing or imports."
To really bring out the contrast between ACSA's position and Ports America's, Allen endorsed the FMC decision on detention that Leech criticized.
Port of Long Beach Focused on Government Funding
The last witness appearing before the House was the Port of Long Beach Executive Director Mario Cordero.
In his opening statement, he was briefly complimentary and uncritical of OSRA. Perhaps that was because his objective was calling for governmental funding, particularly the Port Infrastructure Development Program (PIDP) and its grants. Cordero even presented a list of recommendations for Congress:
"I have six recommendations as follows:
One. Encourage investment in technology so the shippers, ocean carriers, container terminal operators, and truck companies are able to efficiently plan and schedule their operations to prevent bottlenecks. In essence, maximizing digital transformation.
Two. Encourage the supply chain to operate within a 24/7 framework when needed to reduce bottlenecks and promote efficiency."
Number two is funny as the Biden Administration bragged about getting the Ports of Los Angeles and Long Beach to operate 24/7 when the "supply chain crisis" was near its peak. Of course, the ports never did actually go to 24/7 operations. But crediting Cordero, the idea for 24/7 operations has been credited to the Port of Long Beach and goes back to them before the pandemic ever hit.
Cordero continued his list with:
"Three. Direct federal funding to projects that will facilitate goods' movement and reduce greenhouse gas emissions such as the Mega [Grant] Program.
Four. I ask Congress to fully fund the PIDP at 750 million in authorization level. It would take more than 2 billion to achieve our goals of zero emission cargo handling equipment by 2030 and zero emission drayage trucks by 2035.
Five. Likewise funds in the IIJA [The Infrastructure Investment and Jobs Act] and IRA directed to reducing emissions at the ports are invaluable, will spur investments to expedite port electrification.
And last [six], continue to support the required resources to the FMC to ensure a competitive and reliable international ocean transportation supply system."
What's Your Opinion?
Is the federal government intervening too much in the international shipping industry to the point that shippers will eventually pay heavily with higher costs in their supply chains? Or does the government need to do more to protect shippers from unfair practices in ocean freight shipping?
We'd love to hear your opinion. Let us know if you like this kind of blog in the future or want us to cover issues that came up in the questions and answers between the subcommittee members and the witnesses.