Check Out What Maersk Said About the Aftermath of the 2M Split
Maersk doesn't believe any of the ocean freight carriers outside of itself and Mediterranean Shipping Company (MSC) have the ability to stand alone. For this reason, the company doesn't believe there will be a shakeup of the Ocean and THE alliances in the wake of 2M's split.
Greg Knowler quoted Maersk CEO Vincent Clerc in a Journal of Commerce article:
"The situation 2M was in was unique…it was an alliance of the two largest carriers and both of us had reached a size where we could stand alone if we wanted to," Clerc told analysts on the carrier's 2022 earnings call Wednesday.

"I don't think any of the other carriers today have the comprehensiveness of coverage that is required to be competitive, or the cost base to say, 'I could stand alone,'" he added.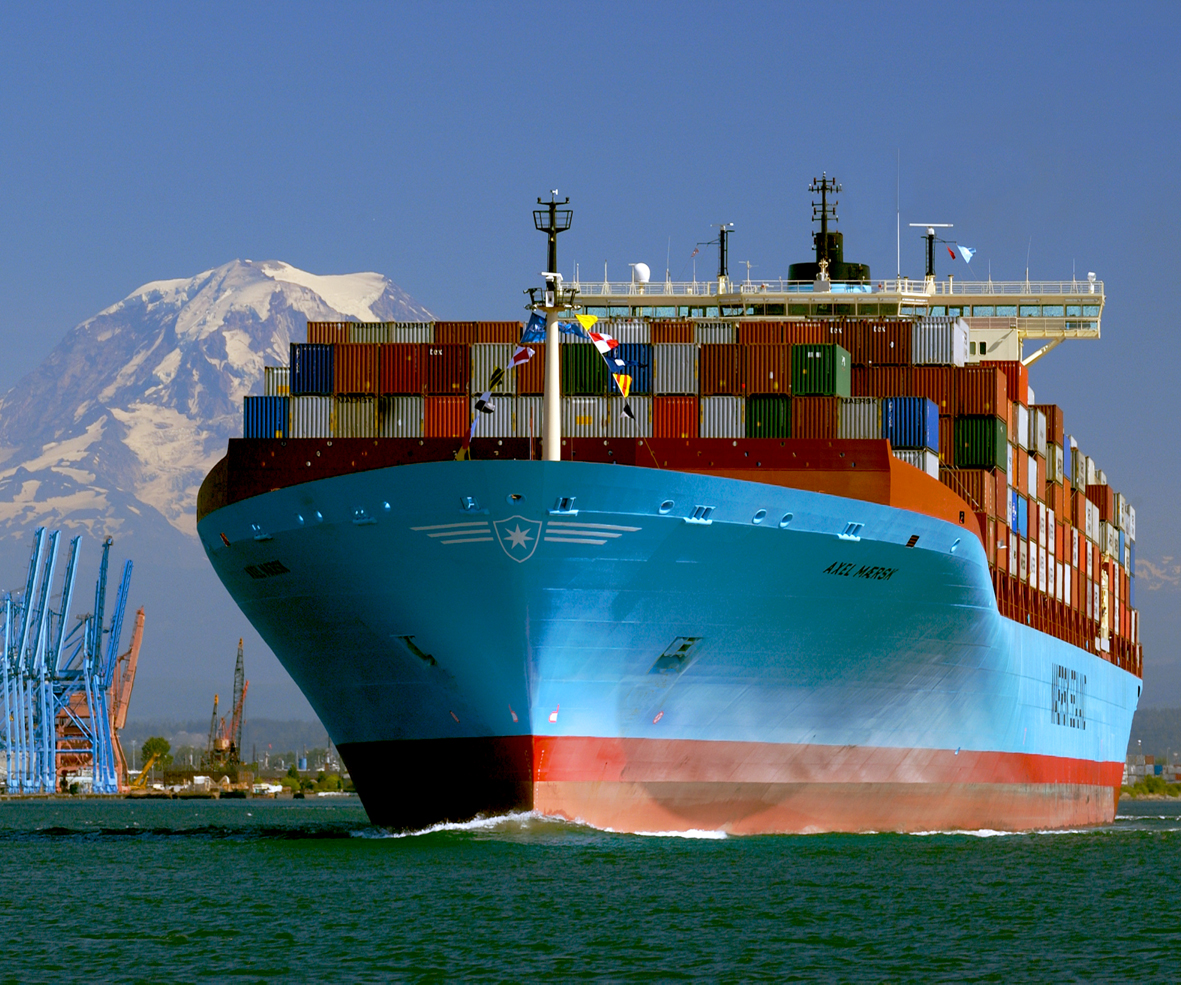 These Carriers Aren't Big Enough to Stand Alone?
That Maersk CEO quote is very interesting. There are some other extremely large ocean freight carriers out there. Rounding out the top five right behind MSC and Maersk are CMA CGM, COSCO, and Hapag-Lloyd. None of those giant shipping lines could stand on its own?
Using slightly old data (from June of 2021) Visual Capitalist has ocean freight carriers ranked by size, listing their capacity by TEU and number of ships. At that point, CMA CGM had capacity of 3.2M TEU with 542 ships, COSCO had 497 ships with a capacity of 2.9M TEU, and Hapag-Lloyd had 1.7M TEU of capacity with its 259 ships. Even when you go to numbers 6 and 7 on the list, Ocean Network Express (ONE) – formed by the merging of Japan's three largest shipping lines – and Evergreen, each had 1.5M TEU of capacity and over 200 ships.
All of these ocean freight carriers made billions over the last couple years and have been able to increase their size. But none of them have the ability to be competitive and stand alone like Maersk and MSC are doing? Not even China owned COSCO that would get state help from the biggest exporter of goods in the world?
Clerc is obviously a bigger expert on the running of gigantic ocean freight carriers than I am, or I would be the CEO of one of these shipping lines, but I have to wonder if there isn't another carrier with the ability to at least try what Maersk and MSC are doing.
There was a time when carrier alliances certainly seemed a necessity for these shipping lines to survive. The industry was struggling with overcapacity, which – combined with freight rate wars – pushed freight rates so low they were unprofitable, even causing losses in the billions of dollars, and were, thus, unsustainable. Carriers turned to megaships and alliances to fill those ships in solving the problem.
For the last few years, carrier profits have been through the roof. But unbelievably long-sustained levels of near-record to record shipping volumes (demand) were artificially created by pandemic policies. Now that demand has fallen with the onset of economic downturn and uncertainty, shipping looks to be going back to more pre-pandemic patterns. Certainly, ocean freight carriers have built up some cushion with those billions upon billions in profits, but if they're going to continue to be profitable now that "the party is over" as Hapag-Lloyd's CEO put it, they probably do need those alliances.
Why Maersk Thinks Other Alliances Won't Change
Many have speculated that a big reshuffling of the other two alliances could happen as a result of 2M splitting, but Maersk's CEO obviously doesn't think that will be the case. Knowler quoted Clerc on his reasoning:
"Ocean Alliance is going on into 2027, so there will be a few more years of stability there, and it is hard to see how THE Alliance will make a significant change, given that both Maersk and MSC will have standalone networks," he said.

"I see this as a clear transition from three to four networks, which is not as much of a change as has been made out," Clerc added. "I don't expect this round of musical chairs that is being talked about where everyone is trying to find new partners."
Another Carrier Trying to Go Alone Is Still a Possibility
As I stated in a blog about how the 2M split will affect shippers, going from three alliances dominating ocean shipping to four networks is still a major shakeup. It creates more competition in the waters and increases the risk to any other shipping line considering going on its own.
However, as I've talked about many times in this blog over the years, Maersk has served as the leader for ocean freight carriers. As it did, so did other carriers. Obviously, its size allows Maersk to do things many other carriers could not. But might one of the larger carriers see what Maersk is doing in expanding its shipping services across the logistics process, rather than focusing just on ocean freight, and do likewise?
Surely, Maersk is not unique in how it sees the international shipping industry. The company sees it as moving into a more unpredictable and volatile place than it was pre-pandemic. That's saying something as international shipping, along with its freight rates for shippers, has always been a volatile industry.
In an article for the Loadstar, Mike Wackett also reported on Clerc's answers to questions after presenting Maersk's profits and picked a interesting statement from the CEO to quote:
"The quicker we get there [not to have ocean as a separate business to logistics] the more it allows us to accelerate the integration and move away from this commodity game we are in, which, we can see very clearly now, doesn't lead anywhere."
It's that "doesn't lead anywhere" bit that stands out to me. Maersk seems to see clearly that ocean freight as a stand-alone business doesn't lead anywhere. If Maersk sees things that way, there would be reason to think some of the other major ocean freight carriers see things similarly.
Others on the list of top ocean freight carriers have been acquiring other logistics businesses. Hapag-Lloyd acquired shares in J M Baxi Ports & Logistics Limited; COSCO has been acquiring port terminals and logistics company shares for years; and CMA CGM acquired GEFCO, a European leader in automotive logistics, and terminals at the Port of New York and New Jersey (the company boasts owning 7 U.S. port terminals) within the last year. That's to name just a handful of acquisitions that have recently happened.
All it would take is for one of these shipping lines to try to step away from its alliance to cause the remaining two alliances to likely scramble and reshuffle. That's something that could leave a carrier out on its own that would struggle to be competitive that way.