How Long Will this Downward Pressure on Freight Rates Last?
After a couple years of out of control, skyrocketing freight rates, ocean freight pricing finally came tumbling down. Freight rates have gone from peaks, including cargo routes getting carriers more than 5 times pre-pandemic rates, all the way back down to pre-pandemic numbers. These much lower freight rates are obviously good news for shippers, but how long will this downward pressure on freight rates last?
Economic downturn reducing shipping demand is the largest factor in dropping freight rates. Judging by retailers' projections, it looks like we can expect lower demand putting downward pressure on freight rates at least through the first half of the year. Economic uncertainty means it could last much longer.
U.S. Retailers' Gloomy Outlook
Kevin Saville reported in a Journal of Commerce article titled "US retailers offer little optimism in gloomy H1 import forecast" on falling amidst economic worries:
US imports through the first half of 2023 will fall almost 20 percent from the same period last year as "worried" consumers dial back their purchasing in a slowing economy, a major retail group forecast Tuesday. 

That softening of freight demand will keep downward pressure on trans-Pacific spot rates that have tumbled more than 80 percent since last February and should result in continued improvements in vessel schedule reliability for shippers. But for carriers, it will likely lead to much lower profit levels in 2023. 
Silver Linings
The improved vessel schedule reliability for shippers is certainly a silver lining type of line in those paragraphs from Saville. Weakened demand means less cargo going through ports, making congestion less likely with the much more manageable cargo levels. That keeps ships from getting delayed at anchor, waiting for berth. However, the decline in volume also means more blank (cancelled) sailings. That impacts schedule reliability negatively, but overall, Saville should be right in that reliability will be improved from the extremely low reliability experienced during all the port congestion seen over the last few years.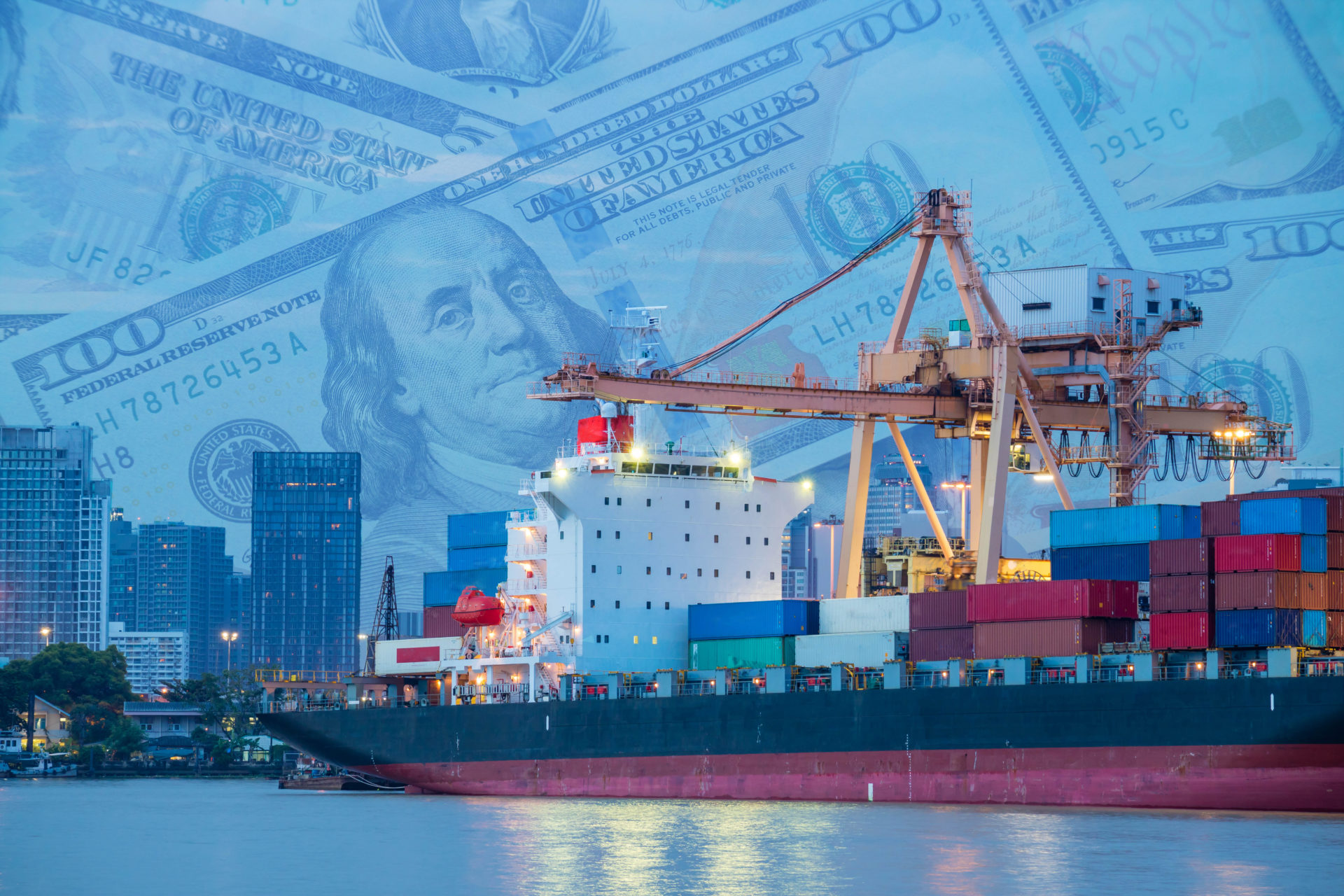 Still, the real silver lining for shippers is paying lower freight rates.
Falling Profits for Carriers
We're only starting to see carriers' profit levels dive with the change in the international shipping outlook. There are still reports like Kim Link Wills writing a Freight Waves article last week about Hapag-Lloyd's "extraordinarily strong result" in 2022 earnings. But now we're also seeing reports like another Freight Waves article last week from Wills covering that the Ocean Network Express's (ONE's) quarterly profits plunged by $2.75 billion according to ONE's latest reporting.
There should be many more multi-billion-dollar profit plunges for ocean freight carriers in 2023 with such lower demand and lower freight rates. Market conditions could create more competition between carriers, adding another downward pressure on freight rates.
Freight Rates in the 2nd Half of 2023
Could demand and freight rates rise after the first half of 2023? That's where things get very murky, but generally things are not trending in a positive way in terms of demand or economy as a whole.
The falls we're seeing in demand are even bigger than previously estimated, according to Saville's reporting:
"With the US economy slowing and consumers worried by rising interest rates and still-high inflation, retailers are importing less merchandise," Jonathan Gold, vice president for supply chain and customs policy at the National Retail Federation (NRF), said in a statement accompanying the Global Port Tracker (GPT) for February. 

The latest GPT report, produced by the NRF and Hackett Associates, further downgraded monthly import expectations through June. January imports are now expected to fall 17.6 percent from January 2021; last month, GPT forecast the year-over-year drop at 11.5 percent. February imports are now projected to be 25.5 percent lower than a year ago, a downgrade from last month's projection of a 23 percent drop. 
If the economy takes a turn for the better as the year goes on, demand could begin rising again, reducing the largest downward pressure on freight rates. There are mixed signals on that. In the JOC article, Saville gave a good feeling of that economic uncertainty by quoting Ben Hackett, founder of Hackett Associates, who "said the uncertainty surrounding the direction of the global economy in 2023 is reminiscent in some ways of the early months of the pandemic in 2020."
"Cargo volumes are down, and the economy is in a contradiction of rising employment and wages that promise prosperity at the same time high inflation and rising interest rates threaten a recession," Hackett said in the statement. "The economy is far from shut down, but the degree of uncertainty is very similar."
2023 Not So Similar to 2020
Those early months of the pandemic were accompanied by extreme levels of blank sailings, which dropped capacity (supply) below demand, bringing the initial rise in freight rates. We're seeing a great deal of blank sailings now, but it's hard to imagine the economic situation that's about to hit mirroring what we saw after all those blank sailings in 2020.
Then, lockdowns hit followed by government issued stimuli. These things created a boom in goods buying as spending shifted from services, traveling, and entertainment with extra money hitting people's pockets from government checks adding to that spending.
That's nothing we're seeing right now. There has been a recent gain in jobs, which is generally a good thing economically. However, according to a Market Watch article by Greg Robb, January's job growth slowed from the previous month and was over in service side of things rather than the goods side:
All the job gains were in the service-producing sectors. The goods -producing sector lost jobs in the month.
That's obviously very different from what we saw in 2020, giving little reason to believe there would be any kind of shipping boom like we saw beginning in 2020.
Economists Give Mixed Readings
With the recent bit of job growth the economy has seen slowing last month, there's higher concern that we are still a long way from economic recovery. However, some, like payroll services firm ADP's chief economist, have blamed slowed job growth in January on the weather. Many economists aren't buying the excuse according to Robb's Market Watch article:
What ADP said: "In January, we saw the impact of weather-related disruptions on employment during our reference week," said Nela Richardson, chief economist of ADP. "Hiring was stronger during other weeks of the month, in line with the strength we saw late last year."

What economists are saying: "On balance, we are skeptical this slowdown is primarily a temporary weather-related issue. Added to the weakness in activity, and the downturn in some forward-looking employment indicators like temporary employment and hours worked, it suggests that the easing in labor market conditions is gathering momentum," Paul Ashworth, chief North America economist at Capital Economics.
Conclusion
Personally, I wouldn't expect much rise, if any, in shipping demand until the peak season when retailers traditionally increase imports in preparation for the holiday shopping season. Of course, that is around the halfway point of the year. And how much demand increases will depend upon consumer confidence in the economy and retailers' confidence in consumer shopping. The murky picture should become somewhat clearer as spring and summer months draw near. Overall confidence in the economy is far from strong, but whether it moves in a positive or negative direction in the upcoming months should have a large effect on the behavior of freight rates.