COSCO Predicted to Take Down Ocean Alliance
Shippers, get ready for the freight rate war saga of the ocean carriers to continue. Perhaps the biggest reason for shippers to pay attention to what's happening with carriers is because it directly affects how much importers and exporters pay for their international shipping.
One of the first analysts to predict the breakup of the 2M Alliance now thinks the Ocean Alliance could be the "next domino to fall."
In Universal Cargo's last blog post, about the sword of Damocles hanging over ocean freight carriers, I talked about how dangerous it could be for shipping lines if they fall into freight rate wars. The prominent analyst mentioned above says with the plummeting freight rates we're seeing, carriers are already in a rate war. And if what he says about China's massive shipping line is right, COSCO, the fourth largest carrier in the world, could be a fateful warrior that brings down one of the two major alliances remaining after Maersk and MSC announced the splitting of their alliance.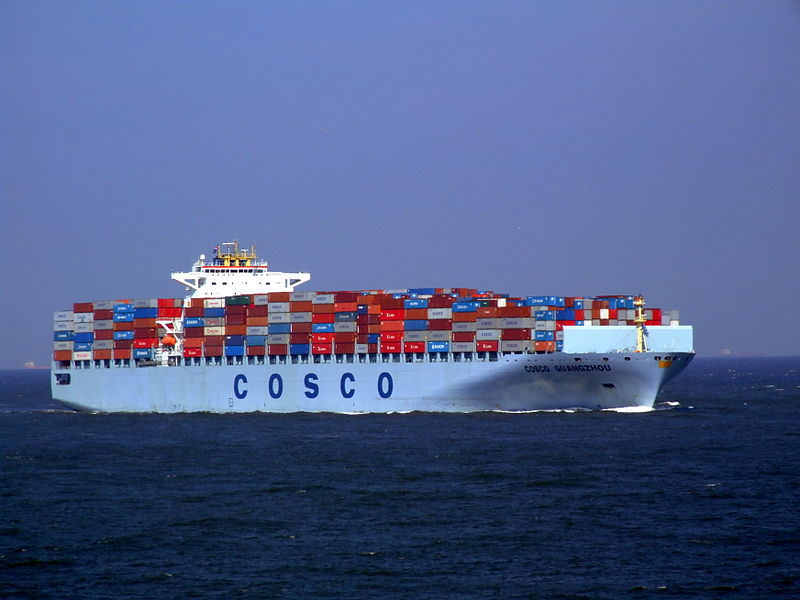 The analyst is Lars Jensen, CEO and Partner at Vespucci Maritime. In a Journal of Commerce (JOC) article, Mechael Angell reported on Jensen speaking at the JOC's TPM23 conference in Long Beach. Jensen had a great deal to say about the industry that is facing an uncertain moment, but what he said about COSCO and the Ocean Alliance really stands out with its potential ramifications.
Why & How COSCO Could Break Up the Ocean Alliance
Here's what Jensen had to say, according to Angell's reporting:
… at the time that Mediterranean Shipping Co.'s  large orderbook of new vessels allowed it to operate on a standalone basis across many trade lanes, without having to share space on Maersk vessels. A similar dynamic could play out with Ocean Alliance member Cosco Shipping, which has the second-largest orderbook of new ships behind MSC, Jensen said.   

Cosco faces renewed urgency to fill those new vessels due to a loss of market share over the last two years that Jensen attributed to China's COVID-19 lockdowns and the resulting shipping delays out of the country.  

"I'm going to expect Cosco to be very aggressively going after market share," Jensen said. "Who's the easiest prey to go after? That would be customers already on your ships through your alliance partners." 

"That's not going to sit well with [Ocean Alliance members] CMA CGM and Evergreen Marine," Jensen said…
Return of the Freight Wars
We've seen freight rate wars in the past between carriers. While it's happening, rates are fantastic for shippers, importing and exporting their goods. However, when you go back to the last time rate wars got out of control, alliances, buyouts, mergers, and even bankruptcy shrank competition in the industry. As we move from a time of excess profits for carriers and exorbitantly high freight rates to a time of plummeting freight rates and a return of competition in the industry, there's a danger of competition really thinning again.
This is a cyclical industry.
The rate wars video Universal Cargo posted five years ago, explaining the situation of falling then rising freight rates and ocean carriers through a Star-Wars-eque crawl could very well be describing the period the international shipping industry is moving into now:
Alliance Fallout from 2M Breakup Is Extremely Possible
When Maersk and MSC announced they're dissolving the 2M Alliance, there was much speculation as to the fallout for the other two carrier alliances. After all, we're talking about an industry that has been dominated in these recent years by just three major alliances. One of the three coming to an end is a major change. How could it not affect the others, right?
However, Maersk quickly stated it didn't think any of the carriers in the other alliances were big enough to stand alone. The implication was clearly that the other two carrier alliances would remain as they are. I pushed back on that a bit, citing the size of the next few largest carriers, including CMA CGM, Hapag-Lloyd, Evergreen, and COSCO. Jensen obviously thinks the other carrier alliances are in danger of a major shakeup too.
In fact, all of the carriers I mentioned above factor into Jensen's thinking on the situation. Angell reports:
[Jensen added] that Taiwan's Evergreen faces the additional tension of working with a China-based carrier.  

Indeed, Cosco recently upsized capacity on an Asia to US Gulf service it operates on a standalone basis, but that is also offered through the Ocean Alliance. The new capacity on that Cosco service now evenly matches one that CMA CGM also offers on a standalone basis to the US Gulf. 

Likewise, CMA CGM is pursuing a strategy not similar to Maersk's, "but somewhere in the same direction," Jensen said.  

As does Maersk, CMA CGM looks to own US terminal assets after striking acquisition deals on the US East and West coasts. CMA CGM's North American President Peter Levesque said during his appearance at TPM23 Tuesday that owning terminals allows the carrier to "determine our own destiny." 

The Ocean Alliance's agreement is set to expire in 2027, Jensen said, but he noted the current market uncertainty and the pending breakup of 2M could hasten a decision not to renew the Ocean Alliance in 2023.
Seeing the Ocean Alliance decide against renewing this year would be a big and fast shakeup of the remaining alliances. But now is the moment of plummeting freight rates, of rate war according to Jensen, and possibly the moment carriers are most likely to look around the international shipping oceanscape to decide how they want or need to position themselves for the future.
If the Ocean Alliance splits, it would be hard to imagine THE Alliance not getting swept up in all the reshuffling. Here's what Jensen had to say about the third alliance, according to Angell:
 Regarding THE Alliance, Jensen said "it's slightly stable" due to similar operating strategies and less aggressive ship ordering. However, he said the changing carrier landscape may make THE Alliance's two biggest members, Hapag-Lloyd and Ocean Network Express (ONE), reconsider their partnerships. Jensen even posited that the two could decide to merge as a way to take on ever-larger ocean carriers.  

"This is not the first time we've seen alliances break up and get re-formed," he said. "The challenge is once everyone's dance card is open, Hapag and ONE will have some thinking to do about who do we actually want to be lined up with now that everything is shifting." 
Conclusion
It appears there will be quite a bit of drama to watch with the carrier alliances. In the meantime, shippers will likely be paying lower freight rates for a while until the cycle of competition moves back to the cycle of reduced competition. Perhaps the biggest problem with these cycles for shippers, is overall competition contracts each time around like a spiral.
The spiral goes down in terms of number of carriers on the ocean, meaning that conversely the overall cost of shipping over time likely moves in an upward direction with that loss of competition.
Shippers should hope for a healthy level of competition in the industry. As I've said a number of times over the years, when competition gets too unhealthy and freight rates get too low, the risks of buyouts, mergers, bankruptcies, and alliances rise, likely costing shippers more over the long run.