Overcapacity & the Sword of Damocles in Ocean Freight Shipping
With great capacity comes great responsibility. And the international shipping industry is about to have a giant influx of ocean freight capacity. With the arrival of March, new container ships will start hitting the industry in quantities never before seen. Greg Miller reported in a Freight Waves article:
An unprecedented flood of new container ships is about to enter service. The pace of deliveries will pick up in earnest next month, surge much higher in the second quarter, go higher still in the second half, even higher throughout 2024, and stay strong in 2025.

"The colossal orderbook is like a sword of Damocles hanging over the market, with a raft of new ship deliveries in the next months inevitably triggering a return of overcapacity," warned Alphaliner in a new report on Tuesday.
Alphaliner's reference to the sword of Democles is an excellent one, but many may not know the story that dates back thousands of years. So let's revisit the tale that provides a good analogy to what's happening in the industry.
The Sword of Damocles – a Short Retelling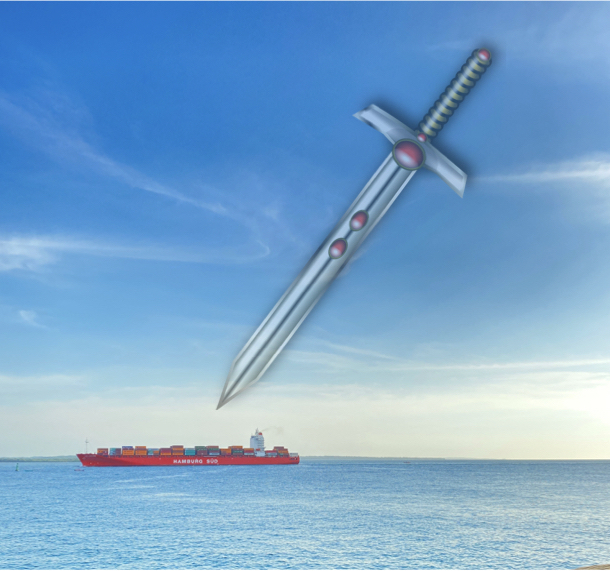 There once, as the tale tells, a man in King Dionysius II's court named Damocles. He tried to flatter the king by raining compliments about how luxurious was his highness's palace, how beautiful the king's servants, how luscious the royal banquets… "Yours, oh king, must be the most blissful life."
But King Dionysius was not blissful. He was deeply unhappy, for he was a tyrant. So ruthless was his rise to power and so many enemies the king had made, he wouldn't even dare be shaved by the most trusted royal barber for fear of his throat slit in vengeance. He would only allow his daughters to shave him in a guarded and locked room. What little sleep he got was in a bedchamber surrounded by a moat.
"Since this life delights you," King Dionysius told Damocles, "do you wish to taste it yourself and make a trial of my good fortune?"
Damocles did indeed wish to taste it. The king had a golden couch brought for Damocles to lounge upon, the finest food fed to him by the most beautiful servants, and the most precious perfumes and ointments lavished upon the court flatterer. As Damocles looked up to the heavens in pleasure, he saw – dangling by a single, thin strand of horsehair – a sharper than the sharpest razor's edge sword was hung over his neck.
Damocles quickly became agitated and full of fear. The perfumes no longer smelled sweet. He could not even eat the fine food. The beauty of the servants waiting upon him paled in the reflection of the blade. And the golden couch felt like shackles holding him for imminent execution. Damocles begged King Dionysius to be excused. "I no longer wish to be so fortunate."
Fortune of the Carriers Brings Danger
While making billions upon billions of dollars over the last few years, many carriers invested in new ships. In July of 2021, as freight rates soared at ridiculous heights with no end of the rise in sight, I wrote in Universal Cargo's blog about how maritime research firm Drewry warned new ships arriving in 2023 could finally bring down freight rates. Well, freight rates plummeted before the arrival of the new ships. Yet, the ships are still coming.
The result could be a major overcapacity crisis for carriers.
In the past, carriers have lost billions of dollars while struggling with overcapacity. In fact, when I first started writing about international shipping – in January of 2011 – overcapacity had freight rates so low they were unprofitable, and carrier losses would go on to measured in the billions that year. In 2018, I wrote a tongue-in-cheek article headlining with Sherlock Holmes looking into whether ocean freight carriers were bad at business because they still hadn't learned to manage capacity.
A commenter and shipping industry expert, Gary Ferrulli, mentioned at the time that carriers had lost money in 6 of the previous 7 years.
After that, and especially in 2020, carriers finally gained control over capacity, utilizing their alliances. That played a large role in freight rates and carrier profits shooting up, particularly near the beginning of the pandemic. Carrier alliances have not been able to blank (cancel) sailings fast enough to get current capacity to fall to the reduced level of demand economic downturn has brought. If carriers are cursing overcapacity right now, they'll be cussing like sailors real soon.
How Much Capacity Is on the Way?
With the low demand in shipping right now and the additional capacity on the way, there will likely be a stark rise in overcapacity.
Miller shares some details on how much capacity is heading toward the industry:
"The change will be obvious from mid-March," Alphaliner analyst Stefan Verberckmoes told American Shipper, adding: "This newbuilding wave is coming at a time of shrinking demand."

Maritime Strategies International (MSI) estimates that deliveries will total 717,900 twenty-foot equivalent units in Q2 2023, up 62% sequentially from the current quarter, with deliveries rising to 764,800 TEUs in Q3 2023.

The overall orderbook stood at 7.69 million TEUs as of Feb. 1, just under 30% of the on-the-water fleet capacity, according to Alphaliner.

Of the total, 2.48 million TEUs (32%) was set for delivery this year, 2.95 million TEUs (38%) next year, and 2.26 million TEUs (30%) thereafter.
Discipline Needed to Stop the Sword Falling
It will take a great deal of discipline from carriers to keep overcapacity from getting out of control and freight rates falling to quite unhealthy and unprofitable lows. The breakup of the 2M Alliance, creating some uncertainty in the balance of the carrier alliances, adds more danger for carriers. There are industry experts who think we are heading into a period of not just freight rates getting sucked down a whirlpool of overcapacity but also a return of freight rate wars between carriers.
The image of the sword of Damocles hanging over carriers becomes an even stronger metaphor if carrier behavior reverts to what it was before they managed to finally gain discipline over capacity. Bankruptcy, mergers, and buyouts shrinking carrier competition dominated the picture of the ocean freight industry for a while. That's where we could be headed again if experts predicting freight rate wars are correct.
The story of the sword of Damocles has often, especially in medieval times, been used to promote the moral more recently put so famously as "with great power comes great responsibility" by Uncle Ben in the origin story of Spider-Man. Perhaps carriers were first tested in this with great profits. Their actions of ordering so many ships may have been a short-sighted fail in this department with the rise of capacity they now face. Test two will be what they do with all this new capacity.
There is much updating of fleets that must take place, particularly with the new carbon emission rules and goals of the industry. I do expect to see big upticks in ship scrapping. But can carriers actually manage the capacity on the way? Will the sword of Damocles fall, eventually leading to the thinning out of the industry's carrier competition?
I know shippers wouldn't want to see the prediction Maersk made before the pandemic hit and carriers started pulling in profits by the billions of competition shrinking to only 3 global companies. But at least shippers can expect downward pressure on freight rates for a while. But how carriers handle the coming capacity influx will have to be watched carefully. With great capacity comes great responsibility under a dangerously dangling sword that some carriers may see beneficial in making fall on their competition.