Freight Rate Wars: Carriers Strike Back
Freight Rate Wars - Star Wars Crawl - Universal Shipping News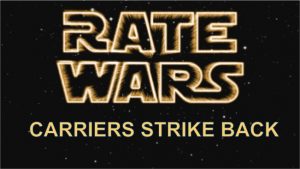 It has been a dark time for ocean carriers. Investing heavily in megaships--ships so large they can destroy entire planets--carriers created capacity greatly surpassing disappointing global trade growth.
It doesn't take an economist to know what happens when supply far outweighs demand. When this happens in international shipping, we call it overcapacity.
This overcapacity drove freight rates down to record lows over the last few years. Shippers became so spoiled with low freight rates that they could have shipped goods from the ice planet of Hoth cheaper than actually manufacturing products themselves.
While these low freight rates were great for shippers, they caused obvious struggles for carriers. Carriers lost money in the billions of dollars. We even eventually saw the destruction of a major carrier, blown up like Alderaan, with the bankruptcy of Hanjin Shipping.
But carriers are finally starting to turn things around.
In May, we posted a blog that took a look at what's happening with freight rates, with possibly the biggest takeaway being that record freight rates were gone. At that time, transpacific spot freight rates were 49% higher to the U.S. East Coast and 74% higher to the U.S. West Coast per FEU than a year prior.
The normal annual trends were occurring, causing freight rates to be dropping at that moment and overcapacity certainly wasn't a thing of the past; however, signs were pointing toward carrier recovery and healthier freight rates for the shipping companies. Yes, that means higher freight rates for shippers.
I want to be clear that overcapacity is not completely over; however, with all the carrier mergers, alliances, and even ship scrapping increases, carriers are managing capacity better than they have been, bringing somewhat better balance to the force. The force on freight rates.
A strategy carriers have always used to increase freight rates and their profitability are general rate increases (GRIs) and during peak seasons, when shipping increases in anticipation of holiday season shopping, peak season surcharges (PSS).
For the last several years, as overcapacity made things worse and worse for carriers, these giant ocean shipping companies had trouble making a GRI, or even a PSS, stick. It seemed like there was always a carrier that would undermine the attempted freight rate increase. In fact, carriers even engaged in freight rate wars, undercutting each other and further pushing freight rates to record lows and unprofitable levels (for themselves, not for shippers, of course).
Now, carriers are finally managing to make their GRIs and PSS stick. Largely this has to do with carriers artificially reducing supply through the reallocation of vessels due to the recent carrier alliance changes, which is brought up in a Supply Chain Management Review article about pricing gains in international shipping during the approach of the peak season.
The article lists current GRIs and PSS, citing research from Flexport:
Asia -U.S. West Coast, with tight capacity, a July 1 GRI (general rate increase) partially implemented at $350-$400 per 40 foot container and carriers announcing Peak Season Surcharges for July 15 at $540, $600, $675, and $765 for 20', 40', 40' HC (High Cube), and 45', which Flexport expects to be partially mitigated; Asia-U.S. East Coast, with space currently open, depending on the carrier, and a July 1 GRI being partially implemented at $300-$450 per 40', and Peak Season Surcharges (PSS) of at $540, $600, $675, and $765 for 20', 40', 40' HC (High Cube), and 45', which Flexport expects to be partially mitigated; Asia-Europe, a Peak Season Surcharge slated for July 15 at $300/20' and $600/40', which Flexport said it expects to be partially mitigated while capacity is expected to be "extremely tight as we enter peak season. Capacity will not increase during peak so space will continue to be constrained as volume increases";
India-U.S. East Coast rates are holding steady and space is somewhat tight; and India-U.S. West Coast rates are increasing and space is tight.
Tight capacity is not a phrase shippers are accustomed reading or hearing of late. But there it is in that quoted research. And here we are, heading for the midpoint of August, with carriers managing to keep freight rates growing. That's not only because of July's GRIs and PSS, but fresh sets of these freight rate increases in August.
As July ended, international shipping news outlets were reporting increases in shipping freight rates before August GRIs even hit. For example, Mike Wackett reported in the Loadstar:
Container spot rates from Asia to the US, and Asia to Europe were given a lift this week ahead of August GRI and FAK [Freight All Kinds] increases.

The increase was most notable on the transpacific where the Shanghai Containerized Freight Index (SCFI) components for the US west coast and the US east coast leapt 37.6% and 20.2% respectively…
It's easy for shippers to begrudge carriers' success in increasing freight rates. After all, lower freight rates mean higher profits for importers and exporters, right? However, shippers shouldn't think of carriers as Darth Vader, the evil emperor, or Khan.
Wait, I might be mixing metaphors or mixing sci-fi's there. You can't have both Star Wars and Star Trek. Or can you? Right J.J. Abrams?
Anyway, shippers shouldn't think of carriers as their enemies and begrudge their success in raising freight rates. Carriers provide a service, without which shippers couldn't be shippers. When freight rates remain unsustainably and unprofitably low for  carriers, things like Hanjin's collapse happen. That creates disruptions to the supply chain and is more costly to shippers than healthy freight rates.
So I guess what I'm saying is it's okay that the carriers strike back; balance must be maintained in the force.