Hurricane Harvey Hurts People & Supply Chain
Hurricanes Harvey & Irma Shipping Effects - Universal Shipping News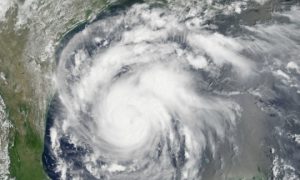 The U.S. hasn't seen a hurricane as powerful as Hurricane Harvey hit in a decade. It came right through the Gulf of Mexico, making landfall as a category 4 hurricane, destroying homes, claiming lives, and slamming shipping and supply chains in and near the Gulf Coast.
Of course, the most important thing is people. And the people of Texas have been hit hard. Adrienne LaFrance reports in the Atlantic:
The magnitude of the flooding in Texas is almost incomprehensible, even for a disaster that the National Weather Service warned was "unprecedented," "unknown," and "beyond anything experienced." At least seven people have died. Texas faces a recovery that will span years.
It doesn't seem like any city has been hit as hard as Houston. The flooding there is immense, the rain hasn't stopped, and right there is the Port of Houston.
Universal Cargo Account Manager Jessica Langdon told me, "The Houston ports have been closed since Friday at 11am and remain closed through today.
Jessica even gave me a picture (on the right) from one of the truckers she works with that helps make the "incomprehensible" flooding a little more comprehensible for those who aren't in Texas to see it.
One look at that picture, in which all you see is water where you should see road, makes it easy to surmise that truckers aren't likely to be operating in the area.
Kellee Mallord, Account Executive at Universal Cargo, made the picture of the situation Houston truckers have found themselves in even clearer when she told me, "I spoke with one of our truckers in Houston yesterday, and she told me that all of their buildings are under water."
What's happening in Houston is not just of professional concern for us at Universal Cargo, and no one exemplifies that more than Kellee. Kellee has great personal care for her customers and was checking in on the welfare of those in the path of this devastating weather:
"One of my Houston customers, as of yesterday, was still ok at his house, and his power is still on. He's got his army surplus WW1 boat ready to go if need be. He's in west Houston."
She has family connections in the area too:
"My brother in law's mom lives in Friendswood and said she's ok with power still and his dad, who lives just east of Houston, said water is about 3 ft. from his front door."
There's a long list of ways the supply chain has been affected by Hurricane Harvey. Elizabeth Landrum wrote an article for American Shipper that includes much of the havoc it wreaked on the international shipping industry. It included details on:
Maersk vessels delayed
Damage to the Port of Corpus Christi, keeping it closed until further notice
Railroad BNSF disruption
Closures at both Houston airports
Gulf of Mexico oil refineries shut down causing fuel stations to run out of gasoline
When something like this hits the supply chain, there's a ripple effect. Universal Cargo Atlanta Operations Manager Erick Constantino explains how disruptions and delays spread beyond the region of the initial problem:
Our service is based off of estimated times of arrivals. When we don't have that, it's pretty difficult to coordinate deliveries and provide proper answers to our customers' questions. When operations are shut down in one area, it has a ripple effect across the nation. For imports, we will see delays on ETAs as vessels are parked at sea until operations resume. That'll lead to delays at the other ports the vessel is calling. For exports, that will mean the containers will have delayed departures and a shortage of available equipment. For truckers, they'll have to assess the damage to their equipment, and we can expect port congestions when operations resume as every container will be hot for delivery.
But here's the thing. Despite all the international shipping and supply chain disruptions, shipping will recover. And it will probably recover fairly quickly. It's really the personal losses in Houston that are devastating. The loss of homes; property; and, worse, loved ones, leaves many in need of support. Many need water and medical attention.
To make donations to the Hurricane Harvey Emergency Disaster Response relief fund, click here.
That link will take you to Americares Foundation. Here's what your donations will be used for straight from their donation page:
Donate to provide emergency medicine and supplies today. Right now, Americares is in Texas, distributing water, aid and mobilizing medical outreach with our local partners. Thousands of people are in desperate need of aid, medicine and basic supplies but we can't keep up with demand. You can help them! Send your gift today!