Warning: Increased Ship Collisions Highlight Need for Cargo Insurance
Shippers Pay for Skipping Cargo Insurance - Universal Shipping News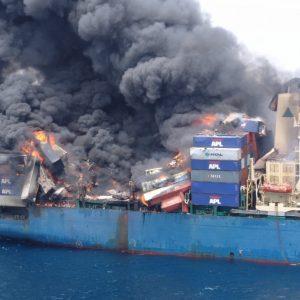 I read something very disturbing this week. According to a brief from Supply Chain Dive, most cargo imported to the U.S. travels uninsured. In fact, according the brief, 9 out of 10 shipping containers that arrive in the U.S. travel uninsured.
9 out of 10? Really? Failing to insure cargo is a huge risk for shippers. Some might think because ocean shipping has been happening for so long that it's getting safer and less likely to result in damaged or lost cargo. But recent news shows that's not the case at all.
Making headlines since Monday (August 21st), is a collision between navy destroyer USS John S. McCain and an oil tanker. This is a tragic incident as 10 sailors were missing after the collision, of whom the remains of one has since been reported found.
Making this news scary is how quickly it follows on the heels of another navy ship collision in international shipping waters. It hasn't even been a full month since we shared about the tragic collision between the USS Fitzgerald and a Nippon Yusen Kabushiki Kaisha (NYK) container ship in a blog.
The navy obviously has some serious investigating to do, being involved in two fatal collisions in the span of just weeks. However, it's not only with the U.S. Navy that ship collisions are happening on international waters. Every time I turn around it seems like there's another story of a ship collision.
Maritime Bulletin published a post at the beginning of this month detailing a Maersk container ship colliding with a tug-pulled vessel. Again, this is a tragic news story as 9 people were missing after the collision.
Last week, the South China Morning Post published an article about a container ship and tanker being identified as vessels that collided, leading to an oil spill.
Container ships don't even need other ships to have a collision or worse. About a month after the Panama Canal expansion opened, we posted a blog about how ships kept colliding with canal walls. There was also the cargo ship El Faro that was lost along with its crew during Hurricane Joaquin.
I could go on and on listing examples of collisions and tragedies that involved cargo ships. The worst part of it is the loss of lives. However, the loss or damaging of goods shouldn't be overlooked either. These collisions and tragedies are not even the only things that have caused loss or damage to cargo. I would be remiss to not even mention cargo theft, which has been a growing problem in the international shipping industry.
All this is to say that there is always a risk of loss when importing and exporting goods. If it's really true that 9 out of 10 containers are not insured, shippers have suffered very significant financial losses.
According to that Supply Chain Brief brief, many shippers simply don't insure cargo until disaster strikes them.
Cargo insurance tends to cost roughly half a percent of the overall worth of the goods being shipped, yet shippers routinely prefer to take risks and go without any coverage at all. This is due in part to the misunderstanding that Cost, Insurance and Freight (CIF) or Free on Board (FOB) coverage is in place, when in reality, neither are active.

…

Another reason shippers skip insurance can be attributed to a reliance on luck, laziness, or attempted thriftiness.
For a better understanding of things like CIF and FOB, we have a blog series that defines incoterms, deal types that identify who is responsible for insurance across the different legs of shipping. Shippers should always make sure that cargo is insured for all portions of the shipping process, even parts that their business partners are supposed to be responsible for.
If thriftiness is the reason for skipping insurance, that thriftiness turns out not to be very thrifty at all if something does happen to a shipper's cargo.
This stat of 9 out of 10 cargo containers shipped to the U.S. come from a linked in blog by Steve Fodor, Director at Association For Trade Compliance. Actually, according to his blog it's even more than that as Fodor writes:
One thing that has shocked me in my 33 years working in international trade is the fact that a large portion (90%+) of import cargo moves to the U.S. without any insurance coverage. While cargo insurance costs about 1/2 of a percent of the shipment's value, many (most) importers don't purchase this coverage.
I don't know where Fodor got his stats, but it's unbelievable that so many shippers would be unwilling to purchase insurance at 0.5% of the shipment's value to protect themselves from damage and loss.
That percentage can vary some, depending on factors like the type of cargo you're transporting; however, cargo insurance is always well worth its price. The reasons Fodor sites for people not purchasing cargo insurance are:
A belief (usually a misbelief) that the shipper's business insurance covers his or her shipments.
A belief (also usually a misbelief) that the shipper's supplier covers the cargo insurance
A misbelief that because nothing ever happened to the shipper's goods during importing or exporting before, it never will.
Don't make the mistake of believing one of these things and allowing your cargo to get shipped without insurance.