ILA Strangling Port of Charleston's New Terminal
As ports are congested on both coasts of the U.S., there's a fully capable terminal at the Port of Charleston where carriers are not sending their ships. Rather than call at this terminal, container ships are sent to a neighboring terminal that's already trying to handle surging imports, a situation across East Coast ports that was exacerbated by the recent Suez Canal disruption. Why are carriers not calling at this terminal? Because they're are afraid of getting frivolously sued by the International Longshoremen's Association (ILA) for doing so.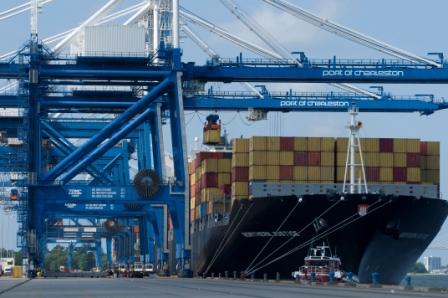 Kim Link-Wills reports in an American Shipper article:
It is unclear whether ocean carriers will avoid a newly opened container terminal in South Carolina until a labor dispute is cleared up. But at least for now, it appears most shipping lines are steering clear of the Port of Charleston's Hugh K. Leatherman Terminal to avoid being caught up in a lawsuit filed by the International Longshoremen's Association (ILA).

Over the next 15 days, only two container ships are slated to be handled at the Leatherman Terminal. Forty vessels are scheduled to berth at the Port of Charleston's neighboring Wando Welch Terminal in the same time period.
Should These Union Expectations Be Acceptable?
For what's getting close to half a century, South Carolina ports have used a hybrid model of employing ILA and state employees. The union hasn't exactly been happy with this. In fact, Link-Wills reports a clause was put in the 2013 master contract between the ILA and United States Maritime Alliance (USMX) to do a study on "how the hybrid labor model 'could be altered to permit work currently performed by state employees to be performed by ILA-represented employees in a more productive, efficient and competitive fashion.'"
That study was apparently never done. Just speculation here, but maybe that's because no one believes giving control of more jobs at ports to longshore unions would make the ports more productive, efficient, or competitive. I know of no evidence that would suggest as much. As a matter of fact, the longshore unions at the East and West Coasts are part of why U.S. ports are less efficient than their counterpart ports in Asia.
Just last week in a blog about how the pandemic is not the root cause of the high freight rates we're seeing right now, Universal Cargo's CEO gave seven factors leading to what we're seeing. One of his reasons for the high freight rates was a searing one for longshore unions: "Very slow adaptation and progress of automation in US ports (compared to China and Asia) coupled with stubborn longshoreman unions keeping ports (especially LA) very slow, cumbersome, and congested."
We've come to expect disruption at the ports whenever a master union contract expires and a new one needs to be negotiated. The unions, ILA on the East and Gulf Coasts and the International Longshore & Warehouse Union (ILWU) on the West Coast, always seem to have their most powerful negotiation tools – port slowdowns and strikes – at the ready to leverage better deals. In recent memory, we've seen more of this on the West Coast than the East Coast; however, automation was a sticking point in the last contract negotiations between the ILA and USMX. Automation at the ports is always met with staunch opposition from the ILA and ILWU. That's probably the single biggest reason U.S. ports have fallen behind other countries' ports in this area.
Longshore Union Overreach Is Costly
One can understand that from the unions' point of view, automation is a threat. They don't want to see machines taking their jobs. Of course, the ILA and ILWU have shown they want control of all jobs at the ports, and have no problem hurting ports, shippers, and carriers in order to try to take jobs away from other people. Even jobs that have never belonged to the ILA or ILWU.
Over only two jobs plugging and unplugging reefer containers, the ILWU hard-timed the Port of Portland so much, making it so inefficient with slowdowns and shutdowns, carriers stopped sending container ships to the port altogether. These two jobs never belonged to the ILWU. They had always been performed by the International Brotherhood of Electrical Workers. Not only did this obviously hurt shippers, the port, and the carriers that called there, but it also hurt the dockworkers who loaded and unloaded containerships at the Port of Portland. The ILWU was willing to sacrifice their own people's jobs to show their power and make any port think twice about not giving them control over any job. Now we're seeing something similar from the ILA.
The Leatherman Terminal is a new terminal that could be a serious help during this time of costly port congestion. The ILA is trying to muscle its way to controlling every job there, even though the union is not entitled to every job, as the hybrid model is long established at ports in the state of South Carolina. The union is basically saying, if we can't have all the jobs, we'll make it so there are no jobs. By suing carriers who call on the terminal, they're intimidating them away from calling upon it. Carriers are making billions right now, so they'll be fine. The ones the ILA are hurting most are the employees losing work over the union's actions and shippers, who usually suffer the greatest losses during congestion at the ports.