International Shipping News Roundup: 5 Big Shipping News Stories Happening Right Now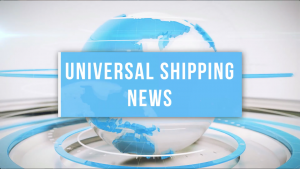 As 2019 draws to a close, a ton of things are happening in international shipping. You would think with the last three blogs getting into IMO 2020, Incoterm changes with Incoterms 2020, and the trade war with China, there would be no other big news stories happening.
Wrong.
Beyond the big topics listed, there are several significant international shipping news stories happening right now. So here are 5 shipping news stories worth your time that you might have missed.
1. Michigan Missing Out on Big International Shipping Opportunities
Since I started out life in Michigan, let's start out these international shipping news stories with one set in Michigan.
It turns out the Great Lakes State is missing out on utilizing the Great Lakes for international shipping while nearby states like Ohio and Illinois are able to.
Tom Henderson reports in Crain's Detroit Business:
In May, the University of Michigan released a report on the impact on Michigan ports in general and the Port of Monroe in particular of contradictory policies by two regional offices of U.S. Customs and Border Protection on what can be shipped in and out. The Chicago CBP office has far more lenient policies on how shipping containers and crated cargo should be examined before entering or leaving ports than the Detroit office does.

Since the Chicago office regulates Ohio ports, cargo can go in and out of Cleveland and Toledo that can't come in or out of Michigan's 40 ports, which means a substantial loss of jobs and revenue here.
The article is a great read, and the study referred to in the above quote from it chronicles massive job and revenue losses for Detroit and Michigan in general from just two companies, Ford and Arauco, being thwarted from shipping out of Michigan ports. And where there are two, there are more.
The CBP needs to get on fixing this problem for Michigan. Not only is Michigan business being lost to other states, it's being lost to Canada as well. That makes this a national problem, CBP.
Detroit has obviously suffered some economically trying times, though it is a city on the rise again. But even so, with Detroit and Michigan having to suffer through another dismal Lions season — yes, I am a lifelong fan, who has only had his team win one playoff game in his lifetime because it was the only playoff win for the Lions in the Super Bowl era — the least we could let them do is ship internationally from their own ports. And let's not forget there are other cities in Michigan with economic difficulties, my hometown of Flint possibly being top on the list. The CBP shouldn't be putting the state at a greater disadvantage.
2. U.S. and Vietnam Enter Customs Assistance Agreement
The background for this international shipping news story is the trade-war-with-China-related article referenced in the first paragraph of today's blog. That article is about Vietnam cracking down with increased inspections on U.S.-bound goods because Chinese companies trying to bypass tariffs have been committing country of origin fraud.
The United States signing a customs assistance agreement with Vietnam is big. The U.S. not only can help stop tariff-avoiding country of origin fraud, but also help shippers importing from Vietnam avoid expensive delays because of all the inspection increases.
At least the U.S. can help with those things in theory. We already saw in the last story that the CBP can cause issues right here in our own country. However, there should be optimism that this agreement is a good thing and the partnership will help.
You can read a quick article on this by Chris Gillis in American Shipper.
3. East Coast Ports Poised to Take More Market Share from West Coast Ports
Since the 2014/2015 contentious contract negotiations between the International Longshore & Warehouse Union (ILWU) and the Pacific Maritime Association (PMA) resulted in port congestion, delays, and serious damage to U.S. shippers and the widening of the Panama Canal allowed bigger ships through the passageway, U.S. East Coase (USEC) ports have gained serious market share on U.S. West Coast (USWC) ports.
According to an American Shipper article by Greg Miller, that trend is going to continue:
During a discussion presented by investment bank Stifel on Dec. 6, [industry veteran John McCown, founder of Blue Alpha Capital and former CEO of liner company Trailer Bridge] noted that the East/Gulf Coast share of container imports among the top 10 U.S. ports has risen from 43% in 2015 to 47% this year. "I see that trend continuing to play out," he asserted.
The article is a good one. The assertion that USEC will continue gaining market share is backed up by sections on the Panama Canal and U.S. population location, physical space for USEC ports to grow, and even the impacts of trade war.
4. Optimism Arises in Container Market
George Griffiths's article in the Loadstar about this shipping news story uses the phrase "pessimism in container market recedes" in its headline. However, that seems like an awful pessimistic way to put positive news. Griffith writes:
November reversed some of the pessimistic sentiment that was emanating from carriers earlier in the year, as rates remained stronger, clinging on to the General Rate Increases (GRIs) introduced at the start of the month to a much greater degree than was previously expected by many market participants.
Reversal of pessimistic sentiment is optimistic sentiment, right?
Anyway, this article does a very good job of giving the current outlook of freight rate strength in light of current events. Griffith continues with:
The reason for this firming in rates is largely split between carriers' ongoing employment of void sailings in the market, and a slight uptick in demand ahead of an early Chinese New Year, which is expected to significantly reduce export demand at the end of January from Asia.
While Griffith covers different markets in the article, the North American market is obviously of most interest to us. It isn't the strongest among markets when it comes to carriers maintaining freight rates, but there is optimism to be had for carriers even here.
Griffith starts the North American market by talking about weak imports in the month of November and carriers struggling with slipping spot rates and holding on to their General Rate Increases (GRIs) from the start of November; however, Griffith ends the section with this:
Demand is expected to pick up going forward, however, as an early Chinese New Year gives rise to a spike in front loading, much like as was seen on the transpacific lanes last year, but this is expected to be more muted in 2019 due to the dearth of additional tariffs being imposed on container freight imports by both the US and China.
5. Carrier/Shipper Contracts Being Negotiated Under Big Stakes
Naturally, the freight rate market would bring us to contracts between shipping lines and shippers. Now, most shippers work within the spot rate market, but that does not mean they are unaffected by the contracts between carriers and BCOs (beneficial cargo owners).
BCOs are those big shippers like Walmart, Target, and Best Buy that can have direct contracts with carriers based on the volume of their imports and exports instead of working through freight forwarders and playing the spot market. Right now, carriers are working on getting the best contracts with BCOs that they can for 2020.
IMO 2020 creates high stakes for these contract negotiations. Back in April, Universal Cargo published a blog about there being expectations that carriers would be able to recoup IMO 2020 fuel costs through shipper contracts. Now we're getting to the point when carriers are trying to achieve the results in those expectations.
A Mike King written article in American shipper gets into how high the stakes are for these contract negotiations in light of IMO 2020. The article is definitely worth a read as it also gets into leverage and carriers doing their best to push freight rates up right now in order to lock shippers into higher rates for 2020.
The expectation is that there will be higher freight rates in 2020, but right now is when the stage is being set for what kind market we'll be looking at in the upcoming year.
Share News with Us
Those are the 5 more international shipping news items happening right now that we thought you should probably be aware of. Are there more happenings in international shipping that you think we should have shared? Let us know in the comments section.
We always love hearing from you, especially concerning news and events in the international shipping industry. And, of course, Universal Cargo is always here to help you with all of your international shipping needs.