Top 10 International Shipping News Stories of 2019
Before 2020 hits, let's take a look back at 2019.
What happened in international shipping this year didn't happen in a bubble. Just like events of years past affected this year, the things that happened in 2019 will affect 2020 and beyond.
So what did happen in international shipping in 2019? Let's take a look with a top 10 list of stories that shaped the international shipping industry's 2019 and often 2020 and beyond as well.
#10 Government Shutdown Affects International Shipping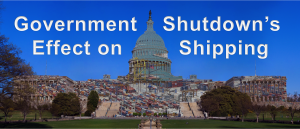 It somehow seems like a long time ago now, but 2019 started out with a, well, not a bang… a big nothing. We had a government shutdown. Correction, we had a partial government shutdown. Basically, the year started and now ends with government infighting: the shutdown then and the impeachment fight now.
Of course, this was a big international shipping story for U.S. importers and exporters because the government shutdown impacted shipping. It shut down the Federal Maritime Commission (FMC) for a while and affected government staffing in shipping related areas. However, the U.S. Customs and Border Protection (CBP) continued to operate, though not completely unaffected, as an essential operation for national security.
Here's a blog post to travel down memory lane to the start of 2019 and the government shutdown:
How the Government Shutdown is Affecting International Shipping
#9 Maersk Starts Random Container Inspections
Maersk is the top dog (at least for now—foreshadowing, wink, wink) in ocean freight shipping. As Maersk does, so do other shipping lines. Therefore, Maersk often shows up in big international shipping news stories.
Misdeclared cargo has been a problem for shipping lines and in ocean freight shipping in general for some time. Rising fires on cargo ships have been blamed on misdeclared, hazardous goods being transported in shipping containers.
In 2019, Maersk has decided to use random container inspections to fight this. It will be interesting to see if other carriers do likewise and this becomes a trend in 2020 and beyond.
Here's the story:
Maersk Starting Random Container Inspections
#8 Drone Attack on Oil Facilities in Saudi Arabia
A drone attack in Saudi Arabia may sound like an event U.S. importers and exporters wouldn't worry about. However, it was an impactful event because of the loss of fuel affects fuel prices, which affect shipping costs. The attack was an especially impactful event in light of the approaching IMO 2020, which *SPOILER ALERT* will show up later on this list.
Here's the link to the Universal Cargo post that covers this news event and its impact on international shipping:
2 Big Effects of Drone Attack on International Shipping
#7 DOJ Ends Antitrust Probe on Ocean Freight Carriers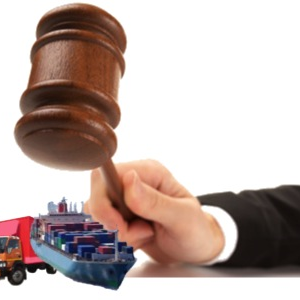 Shipping lines were able to let out a sigh of relief in 2019 when the U.S. Department of Justice (JOC) ended its antitrust probe into all of the world's biggest ocean freight carriers.
The industry has had plenty of trouble over the years from antitrust/price-fixing activity, some alleged and some proven in courts of law, by shipping lines. The way carrier alliances have come to dominate ocean freight in recent years has made many shippers, and apparently governments too, especially suspicious of collusion among shipping lines.
It looked like governments really might crack down on the ocean freight industry before the DOJ officially ended its probe.
DOJ Antitrust Probe of Ocean Freight Carriers Is Over
#6 Announcement of Incoterms Changing in 2020
We learned in 2019 of changes in Incoterms that will go into effect January 1st, 2020. Incoterms are generally updated every ten years, so seeing an update now is not surprising, but it is significant. This affects so many importers and exporters since Incoterms are used for international deals to define who is responsible for the shipping and insuring of goods.
Here's a link to a Universal Cargo's blog post sharing the changes being made:
Incoterms 2020 — What Is Changing from Incoterms 2010
#5 Bitterness Rises in Rivalry of Two Biggest Ocean Freight Carriers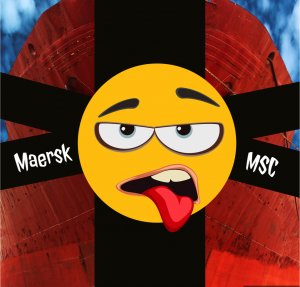 MSC looks like it might supplant Maersk as the biggest ocean carrier in the world after moves the shipping line made in 2019. MSC also managed to poach a Maersk executive to become its CEO. That bitterness is rising between the companies in the midst of these events is clear. A Maersk executive even said, "MSC are getting too big for their boots and we have a fight on our hands to stop them."
If that fight leads to the 2M Alliance between Maersk and MSC splitting, we could see a complete reshuffling of all of the carrier alliances that shipping lines have come to depend on and that dominate the entire ocean freight industry.
Here are the blog articles:
MSC Makes Move to Overtake Maersk as Biggest Carrier
Things Getting Bitter Between Maersk & MSC in Their 2M Alliance
#4 ILWU Hit with $93M Verdict for Labor Practices at Port of Portland
The ILWU slowed down operations at the Port of Portland so much that shipping lines stopped calling on the port with container ships. A federal jury in 2019 ruled the ILWU has to pay $93.6 million for the illegal slowdowns and work stoppages perpetrated.
93+ million dollars is not a mere slap on the wrist. The ILWU says this threatens to bankrupt the union that owns the jobs all along West Coast ports. This news story could have a significant impact on U.S. shipping in 2020 and beyond, and, hopefully, will make the ILWU think twice before using such costly slowdown or strike tactics over contract contention or labor disputes in the future.
Here's the story:
Jury Hits ILWU with $93M Verdict for What Union Did to Port of Portland
#3 U.S. Removes Steel & Aluminum Tariffs on Canada & Mexico
The U.S. lifted the steel and aluminum tariffs on Canada and Mexico after the successful negotiation of the United States-Mexico-Canada Agreement (USMCA). We're still waiting for that agreement to be ratified, but it does create optimism regarding other tariffs the Trump Administration has imposed in that when a trade deal is reached, President Trump is willing to remove tariffs.
Here's the story:
Steel & Aluminum Tariffs Lifted Between U.S., Canada, & Mexico
#2 IMO 2020 Preparation
In case you somehow haven't heard, ship fuel has to be much cleaner in 2020 and moving forward. The International Maritime Organization's (IMO) sulfur cap on fuel is dropping from 3.5% to 0.5% effective January 1st. The international shipping industry has been scrambling all year to prepare for this change, known as IMO 2020.
There's only one thing that has dominated international shipping news more than IMO 2020 (which is why this is number 2), but we'll get into that in just a moment. First, here's more than half a dozen 2019 Universal Cargo articles that focus on IMO 2020:
2 Big Problems Ocean Freight Shipping Faces in 2019
Carriers Expect To Recoup IMO 2020 Fuel Costs Through Shipper Contracts
Could Cargo Ships Get a Speed Limit?
Ocean Freight Industry Needs to Test Low Sulfur Fuels Now
Will IMO 2020 Have a Grace Period on Implementation?
Fire, Water & Corrosion: Scrubbers May Be Dangerous IMO 2020 Answer
World Fleet Does Not Seem Ready for IMO 2020
#1 All Things Trade Deal & Trade War with China
There's no surprise in what tops the list of 2019 news stories in international shipping. Could it be anything but the trade war with China?
Universal Cargo's blog in 2019 probably could have been filled with nothing but updates about tariff announcements, from new tariff hikes to tariff exclusions or postponements, and updates about trade deal negotiations. Luckily, we didn't decide to make every blog post in 2019 about the trade war.
Still, there's probably nothing we covered in the blog more than trade war and trade deal negotiations with China. Below are a couple videos and links to more than a baker's dozen worth of articles we posted about the trade war with China. You can watch the videos and read through the articles to see how things progressed with the trade war in 2019 (HINT: it will continue on in 2020).
Trump's Tariffs on China & Trade Talks - Universal Shipping News
2 Big Problems Ocean Freight Shipping Faces in 2019
Shippers Indicted for Evading U.S. Tariffs on Furniture Imported from China
What's Happening in U.S.-China Trade Talks? Trade War Update
US China Trade War Ramps Back Up: Tariffs on $200 Billion of Chinese Goods to Hit May 10th
China Announces Tariff Hikes on $60 Billion of U.S. Goods – Trade War Update
What's Stalling U.S. – China Trade Deal Talks?
Tariffs on Chinese Goods Postponed Till After Peak Season
Freight Rates Down Despite Trade War Up
Trump Raises Tariffs on Chinese Goods Again!
What VP Pence's Speech Says About China Trade Deal & China's Response to Latest Tariff Announcement
New Round of Tariff Exclusions on Chinese Goods
New Strategy Yields US-China Trade Deal Progress
Is This the Month We See a U.S.-China Trade Deal?
Phase One Trade Deal Looking Less Likely
Made in Vietnam? Nope — Still Made in China — Shippers Beware
Tell Us What You Think
What did you think of this list? Were there any big international shipping news stories in 2019 that you think should have made the top 10 over these ones? Would you change the order? At Universal Cargo, we love hearing from you and helping you with all of your international shipping needs.