Tragic Fire on Maersk Megaship Shows Need for Container Contents Verification in Shipping
Maersk Fire & ILA Contract - Universal Shipping News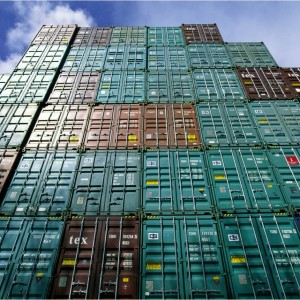 On Tuesday, a tragic fire broke out on one of Maersk's new megaships (images in above Youtube video posted by Bhartiya Samachar). If Maersk is right about the fire's cause, this will be a quintessential example of why the international shipping industry needs to take action to create an effective container contents verification system.
Mike Wackett reported yesterday (Wednesday, March 7th) in the Loadstar:
More than 23 crew members have been evacuated, but four seafarers are unaccounted for, after a fire in the hold of the 15,262 teu Maersk Honam could not be contained.

Maersk Line said this morning the ship was "still on fire" and the situation was "critical".
Not only are we talking about a critical situation, but there were crew members in critical condition after suffering injuries from the fire as well.
One of those crew members in critical condition died according to an article by Hailey Desormeaux in American Shipper:
One Maersk Honam crew member has passed away due to injuries sustained in connection with the fire that broke out on board the vessel, while four crew members still remain missing, Maersk reported today.

…

Two crew members in urgent need of medical care due to worsening conditions have been evacuated by an Indian navy vessel and handed over to the Indian coast guard of Trivandrum. They are now receiving medical treatment, Maersk said.
Sadly, hope is fading for finding the crew members that remain missing from the cargo ship fire according to a press release from Maersk:
"While search operation continues the hope of finding our missing colleagues is fading. We are in contact with their families and they know that tragically, the time passed decreases the likelihood of finding their loved ones alive. Our thoughts and prayers go to them," says Søren Toft, Chief Operating Officer of A.P. Moller – Maersk.
This was the maiden voyage of the 15,262 teu Maersk Honam according to Mike Wackett's Loadstar article. It was also in that article that I first read Maersk's suspicion of how the fire started:
Maersk said the cause of the fire was currently unknown, but it is likely to have emanated from a container of misdeclared cargo.

…

And as containerships have almost trebled in size in the past 20 years, insurers have become increasingly concerned at the risk from rogue containers.

Indeed, such is the limited transparency of the container industry that nobody, including shipping lines and the masters of vessels, knows for sure what has actually been loaded into the millions of boxes being transported around the world every year.
You didn't read that incorrectly, nobody knows what's inside the containers being shipped around the world from country to country. But they're supposed to.
There is no effective system in place for verifying what's declared as the contents of containers loaded onto cargo ships. And that's dangerous. Megaships have only increased that danger.
Obviously, the biggest concern in a tragic event like this fire on Maersk's megaship is people's lives. But this also validates concerns critics of the international shipping industry's move to megaships have been raising for years.
One of the biggest concerns from shippers and cargo insurers from the onset of international shipping's shift to megaships is increased risk.
So many more containers packed on a single ship means greater risk of catastrophic events in terms of cargo loss. A megaship going down, catching fire, or being delayed has a heightened impact. The Maersk Honam was carrying 7,860 containers when this tragic fire began, according to Wacket's article. That's fewer than half the number of containers the ship is capable of carrying, but still a very significant amount.
With containers in huge stacks, a fire starting in one containing misdeclared hazardous materials is harder to get to in order to extinguish the fire.
Yes, this is a reminder of the importance of cargo insurance, however, primarily, this is a call for action on the misdeclared cargo problem in the industry.
The international shipping industry recently underwent a crackdown on container weight with the Verified Gross Mass (VGM) rule change. Maybe it's time we see something similar when it comes to verifying the contents of containers.
As it is, the lack of transparency when it comes to what's inside containers puts cargo and, more importantly, lives at danger.