U.S. Ports Bracing for Another Deadly Hurricane
Hurricanes Harvey & Irma Shipping Effects - Universal Shipping News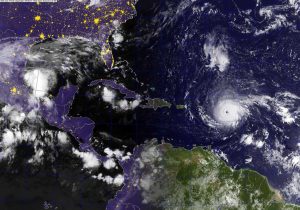 We haven't even gotten over Hurricane Harvey, and already another deadly hurricane is headed for U.S. landfall.
Hurricane Irma is a category 5 storm that is likely to make landfall in Florida over the weekend.
While Harvey was the most powerful hurricane to hit the U.S. in over a decade, Hurricane Irma is the most powerful Atlantic storm in a decade, according to ABC News, and maybe ever, according to updated reports around the web. In fact, ABC's Chief Meteorologist Ginger Zee said, "Hurricane Irma can now be said to be the strongest for the longest period of time on the globe."
To get an idea of how massive Irma is, CNN reports that the square mileage of Irma's force winds is 65,000, which is roughly the same area as the entire state of Florida. Irma's diameter is 300 miles, about twice the width of Florida. The maximum sustained strength of Irma's winds is 185 mph, 10 mph more than Hurricane Andrew--the most destructive hurricane to ever hit Florida.
The hurricane has already devastated the Caribbean on what looks to be a direct path to Florida. Mark Osborne and Morgan Winsor wrote in an ABC article:
Hurricane Irma skirted north of the Dominican Republic early Thursday as the powerful Category 5 storm set its sights on south Florida after leaving a trail of death and destruction in the Caribbean. At least 13 people have been killed.
The U.S. Coast Guard set port condition X-Ray for South Florida ports, meaning gale force winds are expected to hit within 48 hours. Here's a list of hurricane port conditions:
PORT CONDITION WHISKEY: Gale force winds predicted to arrive within 72 hours. Ports Status: Open to all commercial and recreational traffic.
PORT CONDITION X-RAY: Gale force winds predicted to arrive within 48 hours. Port Status: Open to all commercial and recreational traffic.
PORT CONDITION YANKEE: Gale force winds predicted to arrive within 24 hours. Ports status: Closed to inbound traffic and vessel traffic control measures in effect on vessel movements within the port.
PORT CONDITION ZULU: Gale force winds predicted to arrive within 12 hours. Ports Status: Closed to all inbound and outbound traffic.
PORT CONDITION RECOVERY: Storm is no longer threat to area, however some damage may have occurred and response and recovery operations are in progress. Ports status: Reopened to outbound traffic at completion of port survey. Vessel traffic control measures remain in effect on vessel movements within the port.
Expect the port conditions for Florida ports to update to Yankee and Zulu this weekend, as Irma looks likely to hit Florida on Sunday morning.
When ports reach condition Zulu, vessels are not allowed to enter or transit the waters around the ports. Carriers should be wise enough to keep their vessels away from the hurricane anyway, especially with the El Faro and its crew having been lost to Hurricane Joaquin just two years ago.
People are evacuating in Florida and major ports prepare to close down.
The disruptions and delays to international shipping will add on to the ones already rippling through the U.S. portion of the supply chain. Closures at Florida ports will ripple through other U.S. ports just like port closures from Hurricane Harvey did.
Also like with Hurricane Harvey, U.S. oil/gasoline is expected to be significantly impacted.
Looking through the expected path of Irma from various news and weather sources, Irma is expected to be downgraded to a category 4 storm when it hits. However, there is always a level of unpredictability with hurricanes. It is even possible that Irma's trajectory could change and it will stay off the coast of Florida. Unfortunately, that seems less and less likely.