What's Happening in U.S.-China Trade Talks? Trade War Update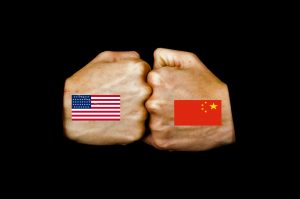 What's the deal with the trade war with China? Are tariffs on Chinese goods about to start rising again? Is a trade deal close?
This blog gives you the lowdown on where everything stands and what we at Universal Cargo believe it all means.
Quick Ceasefire Recap
During a dinner meeting in Buenos Aires on December 1, 2018 between President Donald Trump and President Xi Jinping, a 90-day ceasefire was called to the trade war for a period of trade negotiation between the countries.
This ceasefire postponed a hike of U.S. tariffs from 10% to 25% on $200 billion worth of Chinese goods that was supposed to take effect on January 1st, 2019.
But now, we're fast approaching the deadline for negotiations to reach a trade agreement with the tariff hike scheduled hit on March 2nd.
Trump May Delay Tariff Hike Again
Shippers who import from China certainly hope tariff hikes won't happen on March 2nd. Many have hoped that, even if a trade deal is not reached in time, the March 2nd tariff increase will be postponed.
Now there is more than just hope that will happen. Trump himself said he may delay them.
Brian Bradley reported in American Shipper:
"There is a possibility" President Donald Trump will extend the March 2 deadline for raising tariffs on China, depending on if the U.S. and China are "close" to reaching an agreement to resolve trade tensions or if "the deal is going in the right direction," Trump said in remarks at the White House on Friday.

"I would do that at the same tariffs that we're charging now," he said. "I would not increase the tariffs."
That Trump said he's willing to delay the tariff hike on top of the fact he has done so before gives shippers reasonable hope that the tariff increase won't hit on March 2nd.
Of course, progress of the negotiations is the deciding factor. Naturally, this brings us to the trade talks themselves…
New Round of Negotiations Begin Today in Washington
The White House released a statement yesterday (February 18th, 2019), that trade talks between China and the U.S. will resume today (February 19th, 2019) in Washington D.C.
Here's the information from the statement:
Today, President Donald J. Trump announced that the United States will welcome an official delegation from China for a series of meetings starting on February 19, 2019, to discuss the trade relationship between the two countries.

Principal-level meetings will begin on February 21, 2019.  For the United States, these meetings will be led by United States Trade Representative Robert Lighthizer and will include Secretary of the Treasury Steven Mnuchin, Secretary of Commerce Wilbur Ross, Assistant to the President for Economic Policy Larry Kudlow, and Assistant to the President for Trade and Manufacturing Policy Peter Navarro.  These meetings will be preceded by deputy-level meetings that will begin on February 19, 2019, led by Deputy United States Trade Representative Jeffrey Gerrish.

… The two sides will also discuss China's pledge to purchase a substantial amount of goods and services from the United States.

The meetings will take place in the Office of the United States Trade Representative and the Eisenhower Executive Office Building at the White House.
That let's us know when and where trade talks are happening at the moment, but not how they're going.
Will a Trade Agreement Be Reached?
It is almost unanimously believed that trade issues between the U.S. and China are too complex for an agreement to be reached by the March 1st deadline.
However, while the governments aren't opening the doors to the negotiating rooms to let people see exactly how talks are going, reports from those involved use positive words like "productive," "progress," and "picking up."
Of course, those positive words go along with phrases like "we still have a long way to go," as Steve Censky, U.S. Department of Agriculture's Deputy Secretary, was quoted as saying along with all those positive things in a Bloomberg article that was published today.
The person who most importantly must feel confident that talks are moving toward resolution, President Trump so he'll continue to delay tariff hikes, sounds very positive on the subject. He tweeted two days ago (February 17th):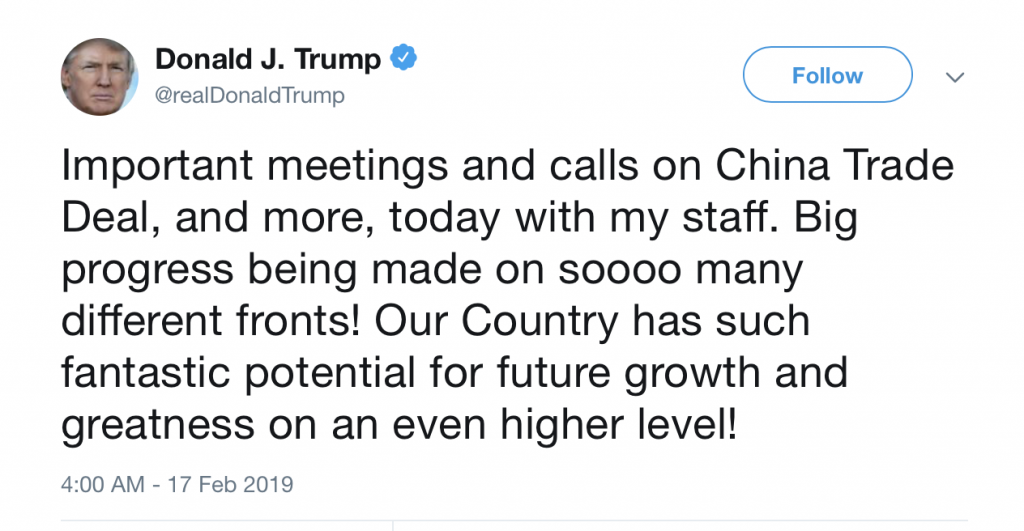 "Important meetings and calls on China Trade Deal, and more, today with my staff. Big progress being made on soooo many different fronts! Our Country has such fantastic potential for future growth and greatness on an even higher level!"
The president's tweets tend to ring with hyperbole, but they do give a good semblance of how Trump feels about things. The positive tone combined with his referring to a China Trade Deal rather than talks or negotiations is a good sign that President Trump feels things are moving in the correct direction for a deal to be reached and increased tariffs not be needed.
In a CNN article, Donna Borak and Daniel Shane quoted President Trump as saying in regard to a China Trade Deal:
"I'm thinking about doing something very different," Trump said at a Rose Garden press conference. "Any deal I make, toward the end I'm going to bring Schumer — at least offer him — and Pelosi. I'm going to say, 'Please join me on the deal.'"
While this is highlighting a political move, and probably a wise one, of President Trump inviting top Democrats and political rivals into the finalizing of a trade deal with China that they'll likely criticize, it again suggests the president thinks that deal is on the way.
Conclusion
At Universal Cargo, we believe the March 2nd tariff hike will be postponed and likely eventually cancelled as trade negotiations between the U.S. and China continue and eventually reach a deal.
However, we are prepared for the possibility of the tariff increase to still hit March 2nd. At Universal Cargo, we prepare for all possibilities when it comes to importing and exporting your goods.
While trade negotiations could break down causing the trade war between the U.S. and China to escalate again, it is likely the negotiations will eventually end in a deal that officially signals the end of the U.S.-China trade war.