Freight Rates Fell Last Month But Climb Again Now
In July, I went out on a limb as seemingly the only one in the shipping industry to predict ocean freight rates could fall by the end of the year.
I turned out to be right. YAY! Headlines like "Ocean Shipping Rates Fall but Ports Are Still Jammed" from the Wall Street Journal and "Premium Ocean Shipping Rates Fell 25% Last Week, Ports Still Clogged" from Floor Daily hit about a month ago.
Unfortunately, it was short-lived. BOO! Now headlines like "About that rate relief … ocean shipping costs are rising again" from American Shipper have replaced those dropping rate headlines.
Of course, if rates went down once, they could go down again. In fact, eventually they have to fall. With inflation out of control and looking to only get worse with the Democrats' tremendously high spending plans and money printing, it doesn't look like inflation is going to slow down anytime soon. The extra money people have from stimuli and lockdowns preventing traveling and spending on entertainment is dwindling. We're also past the heavy importing season that preps stores for the Christmas and holiday shopping season. That should equate to falling demand and decreased rates. Of course, carriers have learned to manipulate capacity with things like blanked (cancelled) sailings through their alliances, so freight rates probably won't fall as fast or low as demand might normally dictate.
But let's step back from looking at the future of how freight rates might behave and see what they've been doing lately and are doing right now.
Last Month's Ocean Freight Rate Drop
Last month actually saw a significant ocean freight rate drop.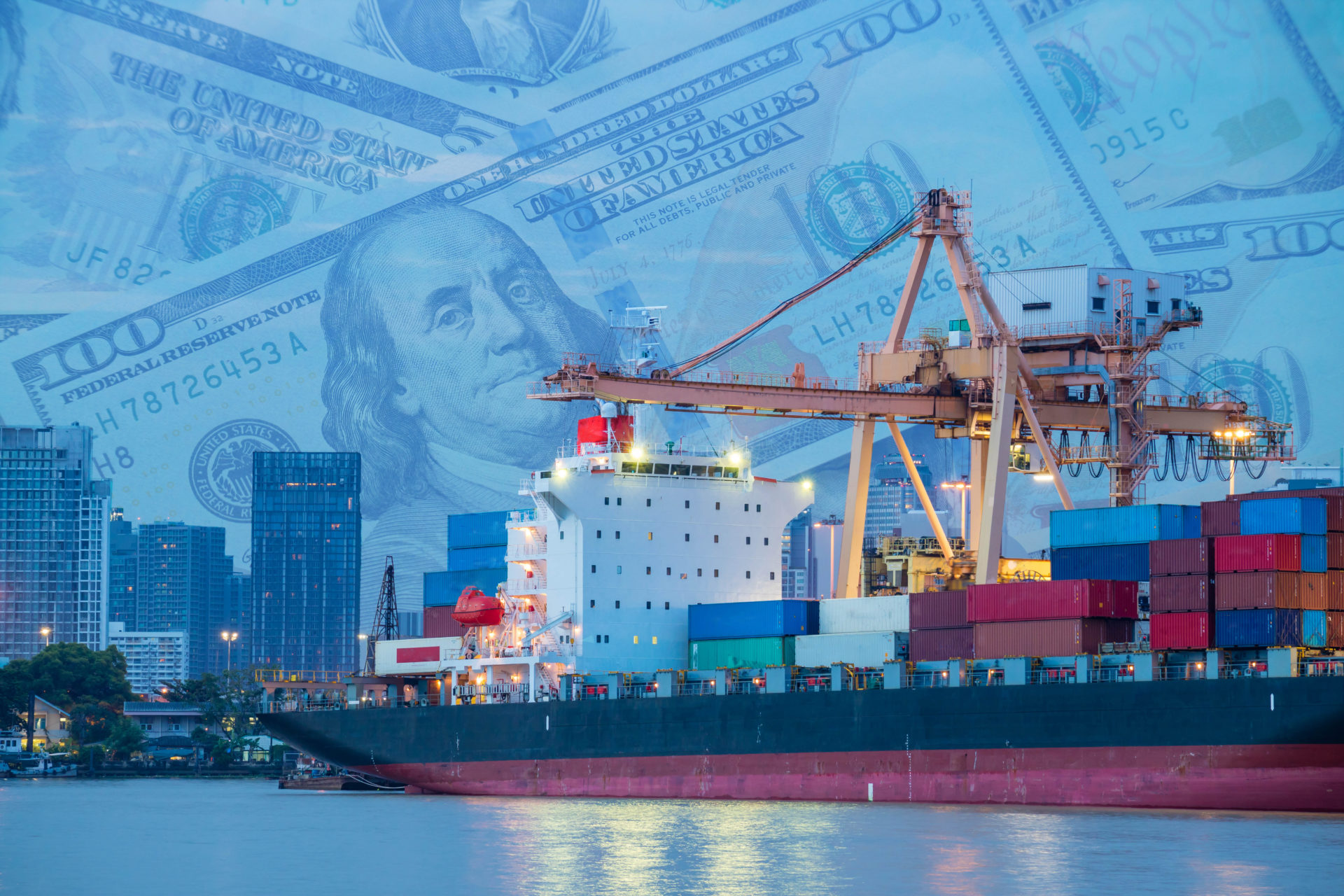 The Wall Street Journal (WSJ) reported it in rather a good news, bad news type of way:
The cost to move a container across the Pacific fell by more than one-quarter last week, the biggest decline in two years. The decline signals that the huge demand for Asian exports is easing, though shipping executives say it will be months before the logjam of ships outside of U.S. ports clears up.
Yes, port congestion is still a thing. However, we are at the point where it should naturally be improving. And there are some reports of improvement already. Improvement doesn't mean there isn't a long ways yet to go. The ports are often playing catch up in the months after the peak season as shipping eases despite a little surge before the Chinese New Year. However, ports are not normally this congested, having never recovered from last peak season as demand and cargo movement remained at near-record to record levels through the year.
According to the WSJ article, which was penned by Costas Paris, shipping executives don't expect the logjam of ships at U.S. ports to ease until "February at the earliest." That's not much of a surprise as a week ago there were nearly 100 ships (96 was the number I saw) waiting to dock at Southern Californian ports.
But today's post is not about port congestion. It's about freight rates. So let's go back to Paris. No, not France, the WSJ article. In that November 15th article, Paris wrote:
The cost to move a container from China to the U.S. West Coast fell 26% last week compared with the week before to $13,295, according to the Freightos Baltic Index.
That is a significant drop, though there was still that feel of good news, bad news from Paris:
That is still more than three times as high since the start of the year when the same box cost $4,200.
Despite a freight rate drop, container shipping prices were still incredibly high. However, let's keep that glass half full and concentrate on the fact rates were finally dropping. And by a very significant amount at that. For the last year and a half, it seemed like freight rates did nothing but rise and shatter records. There was actually a little period where freight rates stabilized for two to three months and an occasional slight decrease before rates continued their stratospheric ascent. However, before last month's drop, it had been months since any kind of freight rate decrease had been seen, at least according to the article's source:
Freightos head of research Judah Levine said it was the first decline since June in the premium cargo owners pay to secure space on ships.
Freight Rates Now Back Up
As is often the case here in Universal Cargo's blog, it's Miller time. No, that doesn't mean enjoying a drink. It means looking at an American Shipper article by Greg Miller. In this case, it's the one with the headline mentioned above about ocean shipping costs rising again.
Of course, Miller starts with a classic misquote of Samuel L. Clemens: "Reports of my death have been greatly exaggerated." Ah, classic Mark Twain – almost – and classic Miller to use this funny line to signify this historic, and what shippers would probably call damnable, rate boom is not over. Miller reports:
The historic rate boom appears alive and well — bad news for cargo shippers and good news for container shipping investors.

There was a dip in spot prices over recent months from stratospherically high levels, but downward momentum did not hold. In several trade lanes, including Asia-to-U.S., rates are now gravitating upward yet again.
Okay, okay, let's get to the numbers, Miller. His article was published on Monday, December 13th, and it reports:
The Drewry World Container Index, a global composite of main routes, rose 2.3% last week, to $9,262 per forty-foot equivalent unit, up 170% year on year. The index hasn't been this high since the last week of October.

A different measure, the Shanghai Container Freight Index (SCFI), shows an even more bullish pattern for ocean carriers. After pulling back minimally in October, the SCFI global composite continued its climb and has just reached a new all-time high, rising 1.8% last week and 2.7% the week before that.

Looking specifically at the Asia-U.S. trade, Drewry's Shanghai-Los Angeles weekly assessment was $10,138 per FEU last week, up 5% week on week. Drewry's Shanghai-New York assessment rose 4% from the prior week, to $13,118 per FEU.

The Platts Freight All Kinds (FAK) daily rate assessment, which does not include premiums, was at $8,400 per FEU for the North Asia-West Coast route on Friday, unchanged since late October. The Platts North Asia-East Coast rate was at $10,000 per FEU on Friday, an all-time high and the same level it has generally been since mid-September.

The FBX daily index — which does include premiums for its two Asia-U.S. routes — was at $14,924 per FEU on Friday for Asia-West Coast, up 7% month on month and 3.8 times the spot rate at the same time last year.

FBX's Asia-East Coast rate was at $17,195 per FEU on Friday, up 8% month on month and 3.5 times the spot rate at the same time last year.

…

As of Friday, Xeneta put the daily Far East-West Coast FAK rate at $7,383 per FEU, excluding premiums. To put that in perspective, Xeneta assessed the most recent low at $6,913 last Tuesday. Pricing is up 7% since then. It put the all-time high for this route at $8,961 per FEU on Oct. 31, 21% above Friday's rate.
Making Comparisons
You may have noticed there's more extensive data from Miller in American Shipper than Paris in the Wall Street Journal. That's generally to be expected when comparing shipping-specific news outlets to mainstream media outlets. Especially with it being reported earlier this month that the White House has been having secret (though not so secret now) meetings with major news outlets to give more positive coverage of the economy and supply chain, it wouldn't be surprising to see only the best data singled out. Kudos to Paris for his good news, bad news approach to his article.
Adding to the differences you see are all the different container indices out there. Paris was using Freightos while Miller referenced the Drewry World Container Index, the SCFI, Platts, FBX, and Xeneta.
None of the indices can be looked at by the average shipper to know exactly what freight pricing they'll be paying on their cargo containers. Some indices include only the base per-container rate carriers are charging on particular routes while others include fees carriers automatically add to their per-container rates. In July, Freightos changed the way they calculate their index, which led to a massive index hike that had nothing to do with the actual market. It's not uncommon for one index to be three times as high as another with the numbers it reports for shipping a container on a particular route.
What shippers can get from the indices is how freight rates are trending. Are they increasing? Decreasing? Significantly? Or just a little?
That Freightos index drop last month Paris reported on was quite large. However, Miller is showing increases now to all time highs. Still, the recent week-on-week percentage rises are not nearly as large as the week-on-week percentage drop Paris was reporting on. I think we could see another significant drop very soon. Big surprise, I might be the only one with such a prediction…
Experts Bullish on Freight Rates
Miller reports that freight rates are expected to not just remain high, but probably keep on rising:
The consensus is that spot rates should remain strong in the near term, if not rise further. "The container sector continues to be well supported," affirmed Clarksons Platou Securities on Monday.

According to S&P Global Platts, "All-inclusive trans-Pacific container shipping rates to North America held steady [last week] with the expectation that shipping lines would push for further increases [this week] as demand strengthens.

"Shippers are getting squeezed by a shortage of empty containers in Asia as port congestion and blank [canceled] sailings impede the return of equipment from Europe and North America."
As a side note, I think blank sailings should be looked into by regulators. Blanking sailings is something completely in the carriers' control and decisions they make as groups inside of their vessel sharing agreement partnerships (or alliances). Not only are carriers able to manipulate the market through blank sailings, but they also create equipment and container shortages that greatly contribute to congestion and rises in shipping costs.
Then again, I've advocated for regulators to reconsider allowing these massive carrier alliances since the U.S. and Europe approved the P3 Network (which was actually halted by China).
But back to the final opinions Miller's article shares about rising freight rates:
Consultant Jon Monroe wrote in his new weekly newsletter, "It does not look like the spot market will come down anytime soon."

Vespucci Maritime CEO Lars Jensen said in an online post: "And up we go again. … Following a large hike in rates up to Chinese New Year 2021, rates did decline for a short while, only to then rocket further on upwards over summer 2021. Then there was a second break after Golden Week 2021, where rates once more declined. But now we are again setting new records. It appears this might continue until Chinese New Year 2022."
Let's hope they're wrong.