ILWU Action Closed Ports of LA & LB Last Week, Slowed Opening This Week
Sudden Closure Thursday and Friday
The Ports of Los Angeles and Long Beach suddenly shut down Thursday night. The closure of the country's busiest port complex continued Friday.
"Terminals noted they closed due to labor shortage," Universal Cargo Senior Account Manager Jenny Chang wrote to team members in an internal email Friday. "But news did suggest a possible strike," she added.
A full-blown strike complete with picket lines didn't happen, but labor action from the ILWU Local 13 had the same effect: all terminals closed at the Ports of Los Angeles and Long Beach. Of course, anyone calling the dockworkers, in coordination, not going to work and shutting down the port a strike would sound an awful lot like someone calling a spade a spade.
The closure came suddenly and unexpectedly (as unexpectedly as such a thing can be when the ILWU is negotiating a new contract). Chang has a contact who usually gives her a heads up when this sort of thing is about to happen, "but not this time," she noted in her email.
Friday morning, ITS Terminal Management sent out a bulletin email, which read as follows:
Dear Trucking Community,

Due to unforeseen circumstances throughout the harbor which resulted in ILWU labor unavailability today, all ITS terminal operations will be closed.

Normal gate operations are expected to resume Monday 04/10 1st shift.

We apologize for the inconvenience and wish everyone a Good Friday and Happy Easter weekend.

Please plan accordingly,

ITS Terminal Management
The situation was an obvious problem for shippers and their agents. There was no time to plan around the closure. The interruption required changing plans already in action. Universal Cargo Operations Manager confirmed Friday, "Yes, we had appointments to outgate today, and they were cancelled."
Work reportedly resumed during the Friday night shift, but for most shippers it was too late for last week. With it being a holiday weekend, shippers planning to get their import cargo from the ports or export cargo to the ports by the end of the week were stuck having to wait until this week. This week didn't have the strongest start at the Ports of Los Angeles and Long Beach either, but more on that later.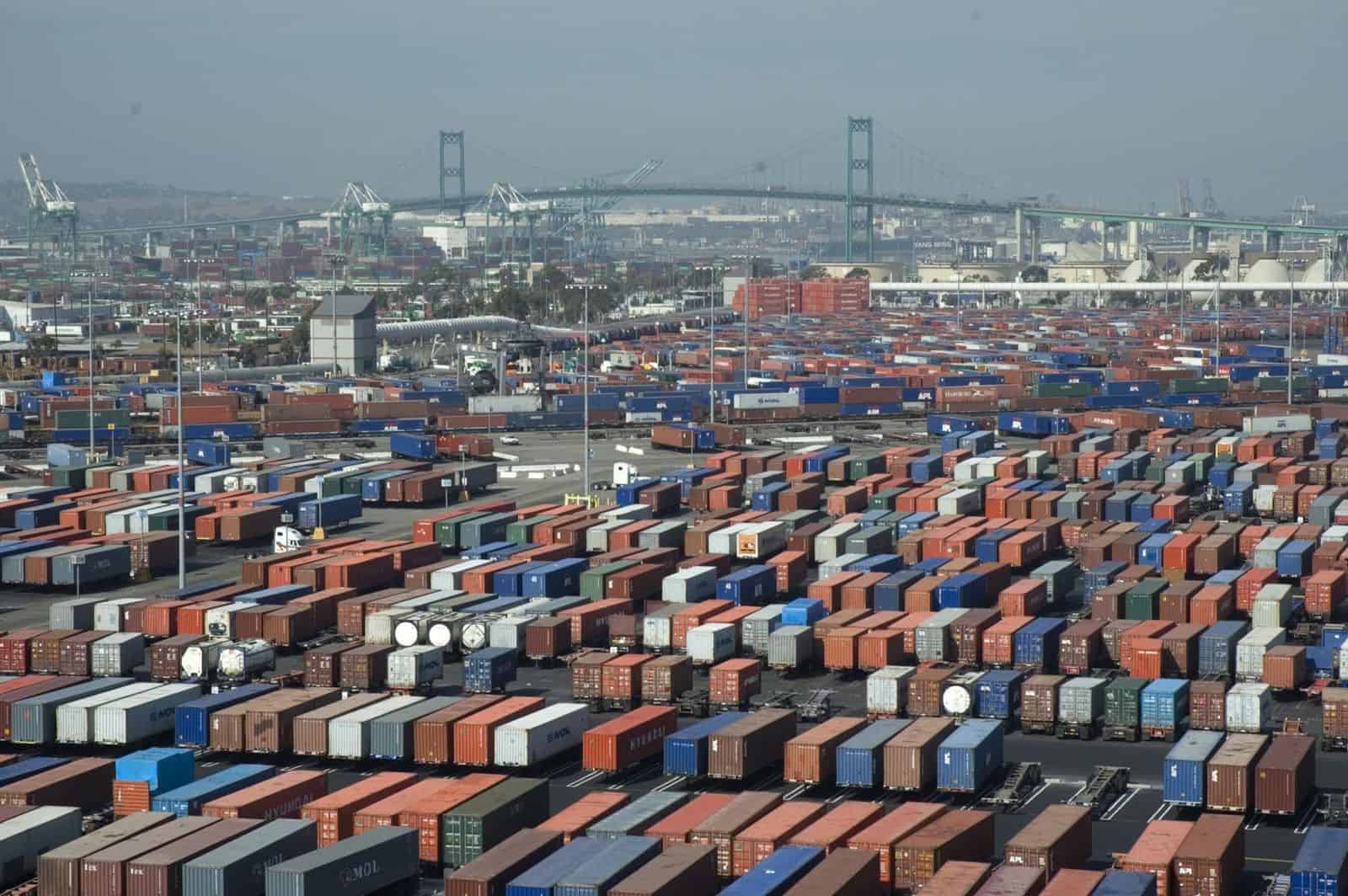 ILWU's Labor Action Excuse
So what were the "unforeseen circumstances" that made ILWU labor unavailable Thursday and Friday?
The Pacific Maritime Association (PMA) called it a "concerted action to withhold labor" by the ILWU Local 13.
In a Freight Waves article published Easter Sunday, Greg Miller reported ILWU Local 13's claim about its labor action:
The ILWU Local 13 said members didn't show up Thursday night because they happened to be busy at a monthly membership meeting, where a new president was appointed. It said workers' absence Friday was due to union members spending time with families for the religious holiday.
Reporting on it Monday in the Journal of Commerce (JOC), Bill Mongelluzzo fills out ILWU's justification claim for its work stoppage, along with the details that show its reasoning to be shaky:
ILWU Local 13 said in a statement Friday that it held its monthly membership meeting Thursday evening for the swearing in of incoming Local 13 President Gary Herrera, noting that the membership meeting is a "contractual right."

A source close to the matter said that although the ILWU is allowed to call a stop-work meeting each month under the coastwide contract to discuss union issues, Thursday's meeting was not previously arranged according to the terms of the agreement.

In addition, ILWU Local 13 said union members who observe religious holidays "took the opportunity to celebrate with their families" on Friday. Good Friday is not a recognized holiday under the coastwide contract.
Whenever the ILWU master contract expires and a new one has to be negotiated, labor action disrupts West Coast ports. I can't remember the ILWU ever saying they were engaging in labor action related to such talks. Instead, when labor action clearly takes place, the union tends to make an excuse, which can be extremely hard to believe and contradictory to reports on the situations. Additionally, local factions of the union tend to engage in disruptive slowdowns over seemingly small issues of discontent or whatever pretense opportunity might pop up during periods when protections against such actions are unavailable to employers due to expired contracts.
After Miller described in his Freight Waves article the ILWU's claim, he wrote the following about the union's port disruption in general:
Labor action at West Coast ports does not have a history of being explicitly confirmed; rather, it takes the form of passive-aggressive behavior that escalates with increasingly implausible deniability.
I can't help but be reminded of when about a hundred ILWU members refused to cross truckers' AB 5 protest lines, helping screech the Port of Oakland to a halt less than a month after the ILWU's contract expired. ILWU members who refused to work said their labor action was to "support" or "stand with" the independent truckers. One ILWU member was even quoted as saying, "We are working without a contract right now, so we support the owner-operators and understand what they are trying to do." However, Farless Dailey III, president of ILWU Local 10, claimed afterward in a statement, "The workers stood by on health and safety, as is permitted in our contract when conditions at the terminals present a risk."
That statement was hard to swallow. Likewise, few people seem to think the current situation is about a meeting and a holiday but rather the contract negotiations that have almost reached a full year since they began.
ILWU Local 13 Executes Slowdowns on Monday
I said earlier this week hasn't started well either. ILWU Local 13 followed up last week's disruption last week with slowdowns to start this week. See, I told you I'd give you more on that later.
Mongelluzzo reported in his above-quoted JOC article:
The International Longshore and Warehouse Union (ILWU) Local 13 on Monday delayed work at most of the marine terminals at the ports of Los Angeles and Long Beach by slowing the dispatch of workers, after union job actions closed nearly all of the port complex's terminals Thursday night and Friday morning.

According to three sources close to the matter who asked not to be identified, ILWU Local 13 also refused to allow a representative of the Pacific Maritime Association (PMA), which represents employers, to observe the dispatching process. The dispatch hall is jointly operated by the ILWU and the PMA.
West Coast Risks for Shippers Reaffirmed
Regular readers of Universal Cargo's blog know we've been suggesting shippers divert cargo from West to East and Gulf Coast ports as a way to protect themselves from ILWU risks since about a year before the master contract expired. Economic downturn and shippers diverting cargo have helped mitigate labor disruption at West Coast ports by significantly reducing cargo volume there. Still, I've continued to suggest in this blog the strategy of diverting goods.
In fact, a few weeks ago, when international shipping news headlines warned of dockworker talks spanning the continent, I suggested again that shippers continue the strategy of diverting from West to East and Gulf Coast ports because the risk for port disruption and delays were much greater at West Coast ports. I even doubled down on this in the return of our Universal Shipping News videos. It was easy to double down, as ILWU-related disruption happened at the Ports of Los Angeles and Long Beach about a week after I said to keep diverting because of the higher risk on the West Coast.
Still, there was some doubt out there. Someone even commented on the Universal Shipping News video, "Diverting cargo from west to east is causing more problems then [sic.] solutions."
Thursday, Friday, and Monday's ILWU labor actions should remove the remaining doubt of high cargo movement risk through the West Coast as these ILWU contract negotiations continue to drag.
Miller wrote in his Easter Sunday Freight Waves article:
The Port of Los Angeles' sales pitch to importers in recent months has been: We have plenty of capacity now. No more ship queues. The port labor contract expired July 1, 2022, but there has been no major disruption to imports during negotiations on the new contract. No need to ship your goods all the way through the Panama Canal to the East or Gulf coasts. Come back to LA!

That sales pitch, to the extent it ever worked, died on Friday.
The National Retail Federation (NRF), which already has written letters to President Biden about the ILWU contract negotiation situation, issued a statement on Friday that pleads for action from the administration. The NRF press team forwarded me the statement, which includes the following:
"NRF is closely monitoring the situation in California and has reiterated its concerns to the White House. It is essential that the ongoing labor negotiations between the International Longshore and Warehouse Union and the Pacific Maritime Association are resolved immediately. We again call on the administration to engage and prevent any further disruption to port operations and cargo fluidity."
Here at Universal Cargo, we continue to monitor the situation, and the international shipping industry as a whole, closely too. We inform shippers on news that affects their imports and exports here in this blog. One way you can keep informed is by subscribing.