ILWU Contract Negotiations Stalled Over Union Jurisdiction
There's an issue holding up contract negotiations at the West Coast ports, and it's not automation.
Paul Berger reports in the Wall Street Journal (WSJ):
Labor talks between West Coast dockworkers and their employers are at a standstill because of a fight between two unions over who maintains equipment at a cargo-handling terminal at the Port of Seattle, according to people familiar with the talks.
No News Is Good News
We haven't blogged very much lately about the International Longshore & Warehouse Union (ILWU) and its negotiations with the Pacific Maritime Association (PMA). That's generally a good thing.
One reason there hasn't been much news is the ILWU and PMA agreed not to talk about negotiations with the media. But negotiation news being quiet also means we haven't been seeing a bunch of disruption at the West Coast ports due to labor slowdowns, which have basically been a standard part of the negotiation process every time the union's master contract expires.
In an article for the Journal of Commerce (JOC), Peter Tirschwell went so far as to say disruption "has accompanied every West Coast longshore labor negotiation going back to the 1990s." However, he also reported, "The union has been working without a contract since July 1, but according to several sources there has been no evidence of slowdowns or other industrial actions at the ports since that time."
Of course, anyone saying there have been no slowdowns or industrial action would have to ignore one very notable incident. ILWU members did help screech operations at the Port of Oakland to a halt in late July. However, that was from about one hundred ILWU workers at the port's largest terminal standing with truckers, who were picketing and demonstrating over Assembly Bill 5, not over the ILWU's own grievances. For that reason, I can understand people not counting that industrial action.
However, the lack of a contract does make it easier for the ILWU to execute secondary strike and labor actions in support of other groups who may have issues with the ports. That's just one more factor that will make shippers breathe easier once these contract negotiations are concluded.
With the ports already suffering plenty of congestion in the lead-up to contract negotiations, the last thing shippers need to see is more disruption because of labor slowdowns at West Coast terminals. Many shippers preemptively shifted cargo movement to East and Gulf Coast ports, as they anticipated a high likelihood of history repeating itself with labor slowdowns creating or adding to port disruption. Problematically, East Coast ports are also experiencing congestion, which is exacerbated by more cargo being diverted that way.
The Union Jurisdiction Battle Holding Up Negotiations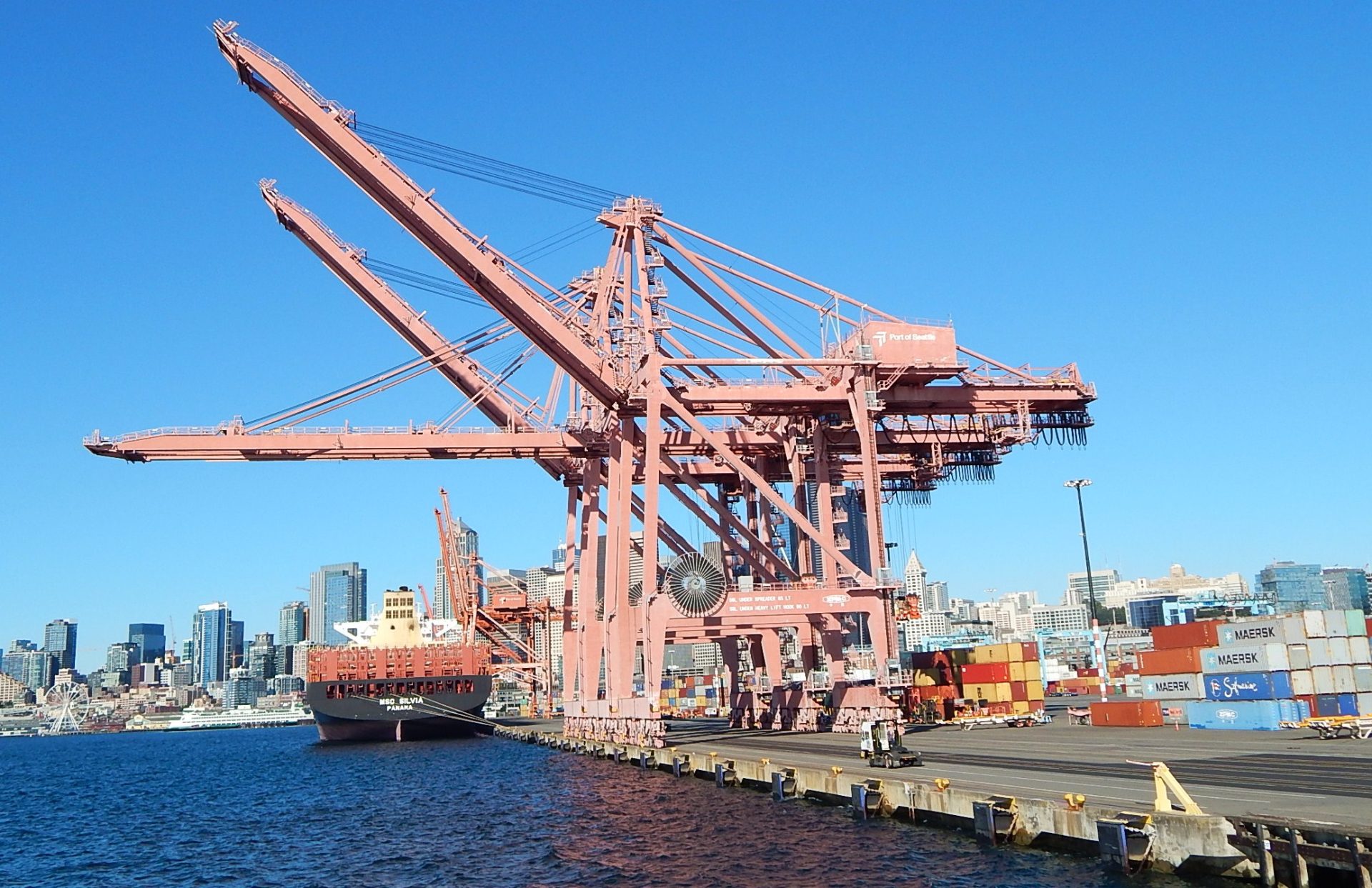 Reportedly, it's a battle of union jurisdiction at a Port of Seattle terminal, T5, that's stopping negotiations from moving forward.
Berger sums it up in his WSJ article as follows:
The ILWU, which represents more than 22,000 West Coast dockworkers, wants its next labor contract to ensure that a cargo-handling terminal at Seattle uses ILWU workers to maintain and repair equipment.

The Pacific Maritime Association says it can't award that work to the ILWU because the National Labor Relations Board ruled in 2020 that the International Association of Machinists and Aerospace Workers has jurisdiction at the terminal.

People familiar with the talks say the union won't turn to other significant issues, such as wages and the right for employers to bring more automation to the docks, until the Seattle disagreement is resolved.
For over a year, the automation issue is the big one that people have been talking about being the most likely source of contention when it comes to these negotiations. However, there have been a few in the know who knew this T5 issue was festering and could impact negotiations. Apparently, at least one warned about it. Tirschwell reported in his JOC article:
When a well-placed source was asked at TPM22 in early March what factor he thought could most likely trigger a breakdown during this year's West Coast longshore labor negotiations, he said, "Watch T5 in Seattle."
ILWU Executed Slowdowns Over Union Jurisdiction in the Past
The ILWU gets very serious when it comes to jurisdiction over jobs.
Regular readers of this blog likely know about the massive slowdowns the ILWU executed at the Port of Portland over just two jobs. The ILWU wanted jurisdiction over these two jobs, plugging and unplugging reefer containers. However, those jobs had been worked by members of the International Brotherhood of Electrical Workers (IBEW) since the 1930's.
The ILWU thought the stipulations of its 2008 master contract agreement meant those two jobs should no longer belong to the IBEW but belong to the ILWU. The Port of Portland did not agree. So the ILWU slowtimed the port to the point that the major carrier, the now defunct Hanjin, calling on the port with the most shipping containers stopped calling on the port altogether.
In 2014, the ILWU really took advantage of the its master contract expiring to slow the Port of Portland. At the time, 30 moves per crane per hour was considered the standard to strive for at U.S. ports. The Port of Charleston had productivity of over 40 moves per crane per hour. The ILWU took crane productivity at the Port of Portland all the way down to 7.5 moves per hour.
There were judge and jury rulings against the ILWU for their actions, but the damage to the port, and shippers for that matter, had already been done. Here are some posts on the topic, if you want more details:
Judge Rules ILWU Purposefully Slowed Import/Export @ Port of Portland
ILWU Takes Advantage of No Contract, Slowing Down Port of Portland
Why Is This International Shipping Story So Sad?
ILWU Local 8 Should Pay Damages to Portland Shippers
Jury Hits ILWU with $93M Verdict for What Union Did to Port of Portland
Bottom line is that the union hasn't been afraid to flex its power, even illegally abuse it, over the topic of job jurisdiction in the past. And that was when talking about only two jobs. It's not surprising that T5 job jurisdiction would be a holdup now. Let's just hope we don't see it develop into slowdowns or other industrial action while the ILWU is working without a master contract.