Lumps of Port Congestion for Your Stocking
'Tis the season for congestion. No, I'm not talking about whatever bug your kid brought home from school, although there is plenty of that. I'm talking port congestion. Merry Christmas!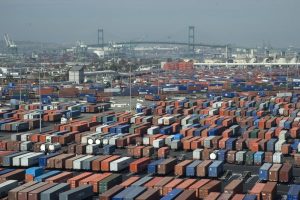 The Ports of Los Angeles and Long Beach, the largest ports in the country per TEU moved, are experiencing congestion.
This isn't the kind of congestion West Coast ports, including these ones, saw during the 2014-15 contentious contract negotiations between the International Longshore & Warehouse Union (ILWU) and Pacific Maritime Association (PMA) that prevented inventory from reaching store shelves during the holiday season and caused agricultural exports to rot on the docks. However, containers are still sitting too long for a combination of reasons.
In an article about the Ports of Los Angeles and Long Beach pledging to relieve congestion, Bill Mongelluzzo wrote in the Journal of Commerce:
The Pacific Merchant Shipping Association (PMSA) reported Wednesday [December 19th, 2018] that the average container dwell time in November in Los Angeles-Long Beach was 3.5 days, compared to about 2.5 days last spring. Some 13 percent of the containers had dwell times of five days or longer, compared to about 5 percent last spring. "Terminals rely on containers getting picked up in a timely manner in order to handle more containers efficiently," said Jessica Alvarenga, PMSA's manager of government affairs. She said it is "absolutely critical" that container dwell times be reduced to the normal level of less than three days.
One of the big causes of longer dwell times for containers is the relentless and extended peak season the international shipping industry has experienced this year because of the trade war with China.
In an attempt to beat tariff escalation dates, shippers have been moving up imports from China. As the new year approaches, shippers have continued to do so because the next escalation, the largest one yet, was scheduled to happen on January 1st.
After a meeting between President Trump and President Xi of China, a 90-day ceasefire was called on further tariff escalations for negotiations. That didn't cancel the jump from 10% to 25% tariffs on $200 billion worth of Chinese goods imported to the U.S. that was supposed to happen at the beginning of the year — it postponed it.
That means there are three more months expected of shippers rushing to beat the tariff deadline, making the ports busier than the usual "relief" of a lull experienced after the peak season and the early months of a typical new year.
Carriers have worked hard during this unusual and extended peak season to control capacity, something carriers have struggled with for years now. While carriers scheduled blank sailings and adjusted ship route schedules to avoid overcapacity, carriers had to use extra-loader vessels to keep up with U.S. and Chinese shippers pushing imports and exports from China to the U.S. ahead of tariff dates.
Extra-loader vessels arrive with significantly reduced notice to the ports to which they deliver. Mongelluzzo wrote that there was "an unprecedented number" of such ships this year, as well as bringing up megaships (which ports are still adjusting to the sheer numbers of containers such ships deliver at once) and weather event delays to go with the uninterrupted front-loading of U.S. imports from China already discussed above.
Beyond those factors contributing to congestion, ports, including the Ports of Los Angeles and Long Beach are still dealing with chassis issues, slowing down truck retrieval and drop-off of containers. It was all the way back in 2012 that pretty much all carriers across the board were done with owning chassis by, and chassis have been an issue for the industry ever since. This was a big congestion-contributing issue back during the awful congestion in 2015, when we were blogging about plans the Ports of Los Angeles and Long Beach had to alleviate the chassis problem. 
In his JOC article, Mongelluzzo writes:
Chassis shortages due to the hoarding of equipment by some terminal operators, and BCOs' increasing use of import containers and the chassis they are resting on as an extension of their warehouses, is one of the biggest contributors to port congestion. The pool of pools operated by the three major equipment lessors has 68,000 chassis in Southern California, yet truckers each day encounter shortages throughout the harbor.
Yes, the ports are working on the chassis problem, but it persists years after the transition of chassis ownership in the international shipping industry.
The ports are working hard to control the congestion issue before it grows out of hand, and promise to do so. Of course, we here at Universal Cargo will be keeping an eye on it to make sure your cargo continues to ship as efficiently as possibly.