US-China Trade War Saves Carriers' Year But Future Uncertain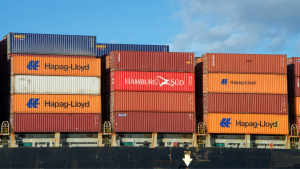 You would think the trade war between the U.S. and China would be nothing but bad for transpacific shipping; however, it may have just saved the year for carriers.
Back in June, we posted a blog asking if ocean carriers are in trouble. The simple answer was yes.
Quoting an American Shipper article by Chris Dupin, we highlighted a really bad number for the start of 2018, continuing a trend of losses from previous years:
 BlueWater Reporting estimates that the 11 largest carriers (not including the privately held Mediterranean Shipping Co.) lost nearly $10.6 billion in 2016, about $1.4 billion in 2017 and already $1.3 billion in the first quarter of this year.
The carriers themselves didn't even have a positive outlook on their situation with MOL President and CEO Junichiro Ikeda saying, "We're all going to go bust."
That may still be true, but U.S. shippers really pushed to beat tariff deadlines on importing goods from China, giving carriers a financial boost.  Sam Whelan reported in the Loadstar:
The US-China trade war has seemed "positive" for transpacific shipping lines, so far, with importers rushing to beat tariff deadlines.

…

APL chief executive Nicolas Sartini believes the industry should still achieve around 5% trade growth this year.

"So far it's paradoxical, because the trade war has been rather positive for shipping companies," he told delegates today at the TPM Asia conference in Shenzhen.

"This is probably because capacity was really low in the market before peak season, as people were hesitant and afraid of the situation.

"But now the peak season is very strong and the US economy is doing extremely well – for the first time the trade growth is superior to the unemployment rate which is quite remarkable. But the most important factor is that many US importers are anticipating tariff increases and are bringing cargo into the US ahead of when they would have normally.

"We have yet another threat, on 1 January, of potential increases to 25% tariffs, so we are expecting – following feedback from customers today – another rush of cargo in the last quarter."
These cargo pushes, increasing demand and helping spot freight rates increase (something carriers very much needed in a year when their contracts with big shippers are actually for lower rates than they managed to negotiate the year before) have been huge in boosting carriers' bid not to end the year in the red.
Carriers have also helped their own cause by doing an uncharacteristically good job of managing capacity through the peak season to keep freight rates high in the spot market. Bill Mongelluzzo wrote in a great article in the Journal of Commerce (JOC):
Carriers, indiviually and through their vessel-sharing alliances (VSAs), have successfully balanced supply and demand in what has proven to be a volatile shipping environment marked by a US trade war with China, a spike in bunker fuel costs of $55 to $60 per TEU, and soaring truck and intermodal rail rates, all of which are contributing to higher transportation costs for retailers and manufacturers.
At least in terms of managing supply, carriers and their VSAs seem intent on avoiding the rate deterioration that normally occurs in the fourth quarter when most of the holiday merchandise has been shipped and before factories in Asia begin ramping up exports in weeks leading up to the Chinese New Year, which in 2019 falls on Feb. 5.
Carriers will need to maintain that discipline and even increase it with the uncertainty ahead. After all, what goes up, must come down. Whelan adds in his Loadstar article:
One cargo owner, who controls around 30,000 teu, told The Loadstar her company had shipped a "tremendous amount" of business early to try and avoid the tariffs – "and we'll continue to ship even higher volumes in the run-up to the end of the year, as in our view the tariff hikes are unlikely to stop".

But she added: "Unfortunate for us, of course, is that if we ship all this business in 2018, we will have a hole in our business in 2019, regardless of the optimism of the American consumer. It's going to be turbulent and we're having to look at alternatives, but it's very, very difficult to move manufacturing in the short term."
A run up on importing goods does mean that later when those goods would normally be imported, it will be a lean time for shipping. Not to mention that after new tariff deadlines hit, the amount of goods imported from China in general will likely decrease.
However, it is hard to tell exactly how big the impact will be on importing and exporting to and from China. Many importers are applying for tariff exemptions on their import goods. Others will move their sourcing to other countries. As long as it isn't domestic manufacturing that they find, carriers will still have the business of shipping the goods across the ocean.
Expectations are that carriers will continue making strides in 2019 in managing capacity, as they've begun to do here at the end of 2018, moving away from the huge overcapacity problem that has plagued carriers for years, resulting in losses measured by the billions, bankruptcy, mergers, and buyouts.
That doesn't mean carriers don't still have challenges. That statement about all the carriers going bust by MOL's president and CEO was in reference to the upcoming sulphur cap on fuel. Rules to reduce the greenhouse gas emissions from container ships will have a major financial impact on carriers.
But for right now, it looks like when the numbers are out on the final quarter of the year, those numbers will be quite good. And strangely, the U.S.-China trade war will have had a lot to do with it. Of course, I don't think anyone would argue the trade war will be a good thing for transpacific trade overall.