Shippers Beware: How to Avoid Fake Freight Forwarder Scams
When Scammers Try to Impersonate Universal Cargo — Universal Shipping News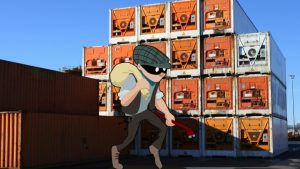 We've noticed an uptick recently in international shipping scams by fraudulent individuals or companies impersonating freight forwarders.
We here at Universal Cargo hate to see shippers, whether importing and exporting goods or just sending packages internationally, get cheated. Therefore, this blog is to help you spot and avoid unscrupulous individuals or businesses posing as freight forwarders.
Here are 2 common scams we've been noticing lately and how to avoid them:
Duplicate or Similar Name Scam
The first thing shippers should check when considering a new freight forwarder is the company's business name.
Stealing the names of trusted and experienced freight forwarders is common practice among scammers trying to cheat shippers out of money.
It's possible for two companies in the same industry to have similar names; however, when new businesses pop up with the same or very similar names to long established freight forwarders, the proprietors of those new businesses are trying to use the older company's brand recognition to gain trust and customers for themselves.
These new businesses may be complete scams, aimed at stealing money given to them, or just new freight forwarders trying to seem more experienced than they actually are. Inexperienced freight forwarders, who lack the expertise and industry network that comes with years of experience in the international shipping business, can be extremely costly for shippers.
Scammers may create similar names by changing one word in a multiple word business name, adding an additional word or letter to the original name, utilizing rhymes, or changing the name only slightly to make it plural or singular.
You don't want to ship through someone who's stealing another shipping company's name.
How To Avoid This Scam
Check the URL
Just looking at the website's URL in the address bar might be enough to raise red flags about a freight forwarder you're considering.
Make sure the company name is not misspelled.
If the URL is a misspelled version of the company name, that's a big red flag.
Don't use a freight forwarder that doesn't have its own domain.
Another big red flag is if the freight forwarder is using free hosting for its site. Real freight forwarders will have their own domain, so if the URL contains a hosting website in its address like Wix, Hubspot, Homestead, etc, etc, you're not looking at a real freight forwarder.
Be wary of surprising URLs.
Sometimes a company may not be able to get its name followed by dotcom as its URL. Someone may have beaten them to that domain. But if their domain is not the company's name, it's a good idea to question why that is. You know, just to make sure it's not because they're stealing the name from a legitimate company that owns that URL.
How do you check? Well, that brings us to…
Google the Company Name
If you Google a company name only to find the website of another, more established freight forwarder, that's a big red flag.
If the name is exactly the same or extremely similar to that of an established company, the newer company has probably unscrupulously stolen the name. It may not even be a company at all but a fraudulent individual trying to get you to pay for services he or she can't provide.
Stolen Website Scam
Often a scammer can be spotted by having a website that's riddled with mistakes and poor English. However, some scammers go full out in avoiding that by cloning an established company's website, claiming it as their own.
You could be looking at a fantastic website full of blogs, videos, credentials, and the like, and have no idea it's been completely stolen from another company's site.
Someone willing to steal a freight forwarder's site is definitely willing to steal a shipper's money. In fact, it's hard to imagine any other intentions such scammers could have.
How To Avoid This Scam
Unfortunately, the stolen website scam is easy to get bamboozled by. But there are things for which to check that give this scam away.
Check Logo Quality
Often, scammers that clone websites do it with a changed business name (possibly using the similar name scam) in order to have the URL match the business's name.
This means they have to change the logo from the original website to reflect the new name.
It's likely the new logo ends up not matching the rest of the website in quality. It may look pixelated or poorly altered, with colors not matching inside letters with closed spaces like "a", "e", or "o".
On first glance, it's easy to overlook these little details. But when you see it, this is a dead giveaway for a stolen website.
Check Content Consistency
The cloned site may contain blogs and videos, like we do here at UniversalCargo.com. There's a good chance that the scammer will have copied that content onto the cloned site, but it still contains references to the original company that will help you spot the website you're on is a clone.
A site that is schizophrenic about its own name is probably a clone. Crazy, right?
Watch Videos for Logo & Company Name
Take the time to watch a video or two on the site. Do the videos contain the logo at any point or say the company's name? If they don't match up with the logo and URL of the site you're on, you're probably looking at a cloned site set up to scam you.
Check Blog for References to Company
Often on a cloned site, blogs are copied with only internal link addresses changed, so you'll contact scammer and not the actual company when you click on them. This means if blog posts or articles refer to the company that created them, they'll refer to the original company and not the name on the cloned site.
It's possible the cloner was good enough to change such references, but there are also other giveaways in blogs…
Check Blog Backlog
Cloned sites will often not have all of the blog content from the original site because of the time it would take to update all the links. Scammers hope visitors to the site will only take the time to look at recent entries. Older blogs may have pictures and links to click on for reading them but not really exist.
Check Latest Blog Entry Date
Cloned sites are often not updated. So if the site you're on has a regular blog with, for example, weekly posts, as Universal Cargo has, but the blog suddenly stopped posting for several weeks or months, maybe even years, you could be looking at a cloned site.
This alone does not necessarily mean you're looking at a cloned site. It's possible the company discontinued its blog. You could always ask the freight forwarder about that.
Conclusion
The stolen name and website scams are two common fraudulent practice used to impersonate freight forwarders, but are not the only scams to watch out for when shipping internationally.
When choosing a freight forwarder, do your research. Make sure they are reputable with years of experience, can offer references, and are who they say they are.
Over the years, we've published a number of posts here in Universal Cargo's blog about choosing a freight forwarder. Here's a handful of helpful blogs on the topic: