3 Changes Coming to International Shipping in the Near Future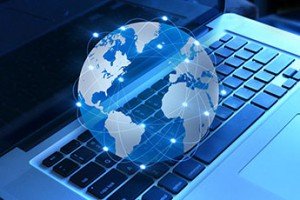 In light of digital technologies, big data, and the Internet of Things–yes, the 4th Industrial Revolution–the global management consulting firm McKinsey & Company imagined what the international shipping industry will be like 50 years in the future.
McKinsey compared the effects the "Digital Age" will have on container shipping to the effect container shipping had on the industry as a whole. "When McKinsey investigated containerization in 1967, we found that industry players would have to rethink everything. Is it time to rethink everything again?"
Inspired by McKinsey's post on the subject by Steve Saxon and Matt Stone, this blog will not only share highlights of their vision for what the industry will look like in 50 years, but my own thoughts on those changes as well.
While we're at it, why not do this in list fashion. So, without further ado, here are 3 changes coming to the international shipping industry in the near future:
1. Automation
Automation is perhaps the most obvious thing happening in shipping with the Fourth Industrial Revolution (4IR) or Digital Age.
What McKinsey says about automation in international shipping in fifty years is:
Autonomous 50,000-TEU ships will plow the seas—perhaps alongside modular, dronelike floating containers—and the volume of container trade will be two to five times what it is today.
Automated ships are on their way to ocean freight shipping for sure. Drone-like floating containers seem very likely in that they'll be easier to design and manufacture than whole automated ships. However, they could also present more complications because of the sheer number of such "ocean drones" it would take to transport the amount of cargo moved by one container ship and perhaps more susceptible to loss.
I don't just see automation happening on the ocean routes in the digital age; automation will take place in all legs of cargo shipping. Complete automation, despite unions' fight against it, will take over ports. Automated trucks and rail will distribute containers inland, and drone deliveries will eventually become common place. Welcome to the sci-fi world we saw in 80's and 90's movies.
McKinsey actually brings this up too with:
A fully autonomous transport chain will extend from loading, stowage, and sailing to unloading directly onto autonomous trains and trucks, with last-mile deliveries by drones.
2. Shipping Monopolies
Maersk's COO Soren Toft said Maersk expects competition in ocean freight international shipping to be whittled down to three global companies.
McKinsey certainly appears to believe Maersk:
After multiple value-destroying overcapacity and consolidation cycles, three or four major container-shipping companies might emerge: digitally enabled independents with a strong customer orientation and innovative commercial practices, or small subsidiaries of tech giants blending the digital and the physical.
The way ocean carrier competition has been shrinking over the last few years, there's no reason not to believe Maersk and McKinsey to be correct about carrier competition.
I've been bringing up shrinking carrier competition for years in this blog.
The biggest problem with so few companies handling international shipping is that they will have virtual monopolies that shippers who import and export goods will have to deal with.
I don't believe that competition shrinking will be limited to ocean carriers. Competition will also shrink between ports that goods are imported and exported through.
Because carriers are working together in alliances, ports will be allowed to work together in alliances to level the negotiation table. In fact, we've already seen the beginning of the rise of port alliances.
It won't be much of a stretch to go from port alliances to single companies controlling multiple ports. In fact, the mother corporations that own the carriers may also end up controlling the ports, as terminals at ports are already owned and operated by such companies.
When it comes to truck and rail, the companies first able to release large scale automation will likely corner the market like a winning race car driver corners the turns and edges out his or her competitors.
3. Freight Forwarders Will Morph
I actually diverge a bit with McKinsey on this one. McKinsey thinks freight forwarders will go the way of the dodo bird:
Freight forwarding as a stand-alone business will be virtually extinct, since digital interactions will reduce the need for intermediaries. All winners, closely connected through data ecosystems, will have fully digitized customer interactions and operating systems.
I don't think freight forwarders will be completely removed from the shipping process. I do, however, think the role of the freight forwarder will be very different in the future.
I expect many, many freight forwarders will go out of business, failing to adapt to the digital age or 4IR. However, those that are smarter than the dodo will excel in a more advisory and compliance role in the industry.
International shipping is complicated by fluctuating laws from all the different countries and governing authorities through whose territories goods move. Someone will be needed to make sure shippers are in compliance with the complexity of these laws, and I think that will become the biggest focus of freight forwarders.
McKinsey seems to think that despite the shrinking competition of ocean carriers, the remaining shipping companies will have improved customer service.
Perhaps that is true, but usually customer service suffers as competition shrinks. Freight forwarders will likely still be needed to create the customer service, which carriers have never been good at, between the carriers and shippers.
Along with making sure shippers meet the requirements of international and national laws, freight forwarders will also assist shippers in meeting the physical and legal requirements of carriers' digital platforms.
What Do You See in International Shipping's Future?
We'd love to hear what you think the future has in store for the international shipping industry.
Perhaps you disagree with how the Digital Age or 4IR will affect shipping.
Share your thoughts in the comments section below.