Crazy Cargo Ship Crash Video
Whoah!
Collisions and incidents with cargo ships are not uncommon; however, it's not every day one is caught on video. But that's exactly what happened at South Asia Pakistan Terminal in Karachi.
Grant Rowles posted the video on Splash247.com and Youtube. The video was taken by a port worker, according to Rowles, and captures the 8,000 TEU Hapag-Lloyd Tolten scraping against the terminal dock and another ship. Shipping containers fall in pretty dramatic fashion.
There's also a second video, in which the aftermath of the collision can be seen. Shipping containers are scattered in the water and sink.
The videos are below. For the first, you may need to watch on Youtube or Splash247, but the second one plays fine right here.
Boxships collide in Karachi
Aftermath of boxship collision in Karachi
Watching these videos is yet another reminder of the importance of getting cargo insurance when importing or exporting goods. In his posting of these videos, Rowles shared from local reports that 50 to 60 containers ended up in the water from the collision.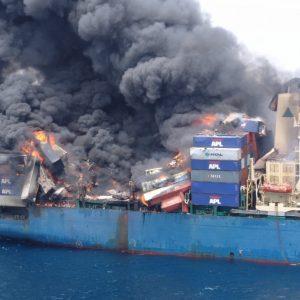 Just imagine if one of those was your container of goods and you didn't have the proper insurance on the shipment.
It would be a total loss!
I mentioned at the top of this post that collisions and incidents with cargo ships are not uncommon. In fact, the last two weeks we were posting blogs about a Maersk megaship fire, apparently caused by the contents of one of the stacked shipping containers it was transporting.
Here are those blogs:
Mike Wackett wrote an article in the Loadstar about insurers bracing for hundreds of millions of dollars worth of claims from that Maersk megaship fire.
Right in the first paragraph of Wackett's article, he writes that some shippers who lost cargo in the fire will not have been insured. That's because many shippers forego insurance, hoping that everything will just work out. In fact, it may even be most shippers who take this kind of risk.
In August of last year, I stumbled upon a brief from Supply Chain Dive, which said 9 out of 10 shipping containers that arrive in the U.S. travel uninsured.
That was so crazy to me, I posted a blog here warning shippers about the danger of failing to insure their cargo. It included references to several news stories about ships that were lost or involved in collisions. You know, the kinds of things that are all too common and result in the loss of cargo.
Here's an excerpt:
Making headlines since Monday (August 21st), is a collision between navy destroyer USS John S. McCain and an oil tanker. This is a tragic incident as 10 sailors were missing after the collision, of whom the remains of one has since been reported found.

Making this news scary is how quickly it follows on the heels of another navy ship collision in international shipping waters. It hasn't even been a full month since we shared about the tragic collision between the USS Fitzgerald and a Nippon Yusen Kabushiki Kaisha (NYK) container ship in a blog.

The navy obviously has some serious investigating to do, being involved in two fatal collisions in the span of just weeks. However, it's not only with the U.S. Navy that ship collisions are happening on international waters. Every time I turn around it seems like there's another story of a ship collision.

Maritime Bulletin published a post at the beginning of this month detailing a Maersk container ship colliding with a tug-pulled vessel. Again, this is a tragic news story as 9 people were missing after the collision.

Last week, the South China Morning Post published an article about a container ship and tanker being identified as vessels that collided, leading to an oil spill.

Container ships don't even need other ships to have a collision or worse. About a month after the Panama Canal expansion opened, we posted a blog about how ships kept colliding with canal walls. There was also the cargo ship El Faro that was lost along with its crew during Hurricane Joaquin.
You get the idea from that excerpt, but it's still only the tip of the iceberg. We don't look for stories about containerships getting damaged, lost, or colliding with something else, yet we've posted many blogs on such topics because of how often it happens and how significant the losses are. We've shared many more such stories than the ones talked about in the above excerpt.
Moral of the story. Yeah, you know it. Get cargo insurance.