DOJ Antitrust Probe of Ocean Freight Carriers Is Over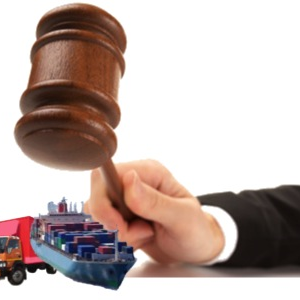 A couple years ago in San Francisco, the world's major ocean freight carriers were holding a biannual Box Club meeting when the U.S. Department of Justice (DOJ) burst in on them with a raiding party of antitrust investigators, who handed subpoenas to major shipping line CEOs.
Ooh, the drama.
Now, the drama is over as the DOJ has dropped its antitrust probe into container shipping companies, according to an American Shipper article by Chris Dupin:
The U.S. Department of Justice has reportedly dropped an investigation of major container carriers that began nearly two years ago.

The Department of Justice did not immediately respond to a request for comment, but several shipping companies caught up in the probe said on or off the record that they were told the investigation had ended, clearing both their individual companies and the container shipping industry more generally.
That the DOJ dropping this investigation clears the container shipping industry feels like a bit of a stretch. Regular readers of Universal Cargo's blog may remember a great deal of suspicion and trouble regarding antitrust laws ocean carriers have run into in recent years.
Yes, in 2017, we got into the DOJ's raid on the Box Club in an article asking the question is it time to change or replace the Ocean Shipping Reform Act, but we posted an article just this summer about carriers being called cartels when the top ocean shipping companies announced emergency bunker surcharges almost simultaneously causing shippers to shout collusion and unfair business practices. But those posts are just the tip of the iceberg when it comes to carriers and price fixing.
We first posted a blog on international shipping price fixing investigations back in 2013 with:
Holy Cargo Collusion, Batman – Shipping Companies Under Investigation!
Then back in October of 2014, we blogged about Kawasaki Kisen Kaisha Ltd. (K-Line) pleading guilty to price fixing with:
What's Happening in International Shipping News? Top 5 Stories
Next, we shared with our readers, in February of 2015, that K-Line Executive Hiroshige Tanioka pleaded guilty for his involvement in a price fixing conspiracy in the blog:
International Shipping Fought the Law & the Law Won
It didn't take long for us to announce a third shipping executive who pleaded guilty to price fixing. March of 2015 brought an announcement from the FBI that an executive from Japan-based Nippon Yusen Kabushiki Kaisha (NYK) pleaded guilty and we shared it in our blog:
FBI Takes Down NYK Exec for International Shipping Price Fixing
Phew, 2015 was a big year for antitrust action against carriers. And the above listed posts weren't even all of it. China fined over 20 shipping lines for antitrust or price fixing related activities that year and then met with the U.S. and European maritime regulators about closer antitrust cooperation, which we covered in yet another post:
China Fines Shipping Companies & Joins US & EU Antitrust Cooperation
While all that is not a comprehensive list of all the antitrust activity surrounding ocean carriers over recent years, it is enough to say that the DOJ dropping its probe into the shipping lines hardly clears the industry of any wrongdoing when it comes to price fixing.
However, this looming investigation being over must be a weight off of carriers that already face 2 big problems in 2019 between what the trade war fallout will be and reaching the cleaner fuel mandate that goes into effect in 2020. The latter of which is an especially expensive and worrisome problem for carriers that made MOL's president say, "We're all going to go bust."
Dupin's American Shipper article quotes spokesmen from top shipping companies Maersk, MSC, and Hapag-Lloyd all predictably saying things along the lines of being pleased the investigation is closed without them having been charged with violations of antitrust laws. What I find more interesting in the article is a quick summary of the members of the Box Club, which has been reduced since the investigation started due to shrinking carrier competition in the ocean freight industry:
At the time the investigation began the 18 members of the Box Club were China COSCO Shipping, CMA CGM, Crowley, Evergreen Line, Hamburg Süd, Hapag-Lloyd, Hyundai Merchant Marine (HMM), "K" Line, Maersk Line, MOL, MSC, NYK, OOCL, Pacific International Lines, United Arab Shipping Co. (UASC), Wan Hai, Yang Ming and ZIM. Since that time the membership of the group has been reduced as the three Japanese carriers have been replaced by Ocean Network Express, Hamburg Sud has been removed as a result of its acquisition by Maersk and UASC has been removed as it was acquired by Hapag-Lloyd.