FMC Finally Acts on Unfair Fees with Hapag-Lloyd Fine
On Friday, the Federal Maritime Commission (FMC) served its initial decision, fining Hapag-Lloyd over $800,000 for violating the Shipping Act by assessing unfair detention fees against a drayage company called Golden State Logistics (GSL). Among the decision's orders are that:
… Hapag-Lloyd, A.G. is liable to the United States for the sum of $822,220 as a civil penalty for fourteen willful and knowing violations of section 41102(c) of the Shipping Act of 1984. It is

FURTHER ORDERED that Hapag-Lloyd, A.G. and its agents cease and desist, absent extenuating circumstances, from imposing demurrage or detention when there are insufficient appointments available…
This feels like a big win for shippers, who have long complained about unfair demurrage and detention fees assessed by ocean freight carriers like Hapag-Lloyd, but will this be enough to deter carriers from continuing to charge these fees unfairly?
The Lead-Up of Unfair Detention and Demurrage Fees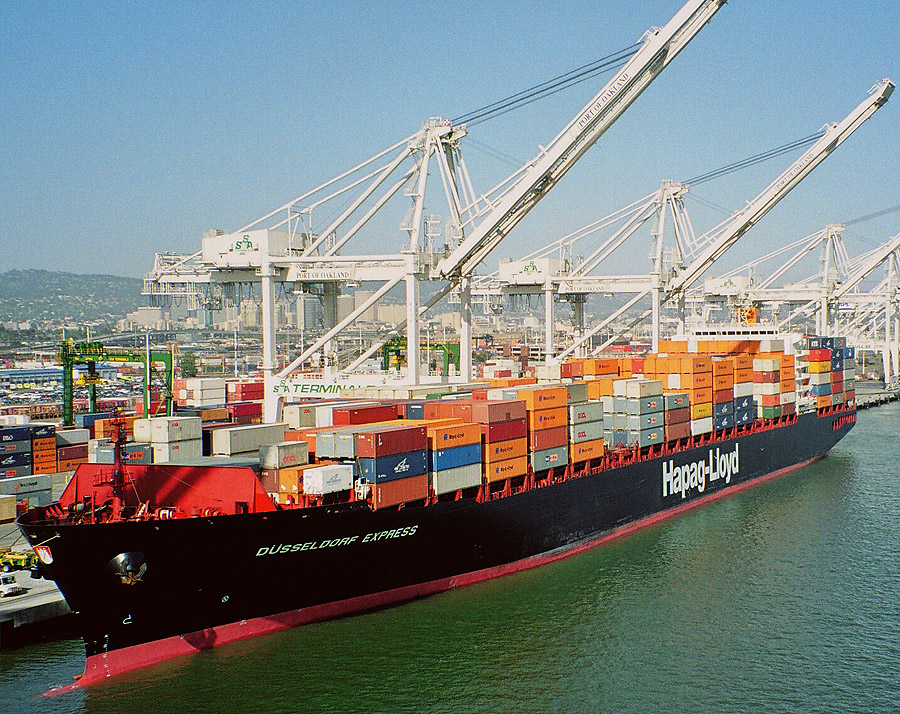 The issue became especially pronounced during the pandemic. In November of 2020, when a strong and already extended peak season was seeing port congestion, I wrote in Universal Cargo's blog about how that congestion was causing shippers to unfairly be hit with demurrage and detention fees. As cargo volume and disruptive Covid policies and events in the supply chain kept compounding port congestion, unfair demurrage and detention fees became something of a motif in Universal Cargo's blog throughout the pandemic.
Unfair detention and demurrage fees always seem to become especially prevalent when there's port congestion. Especially major port congestion.
Think back to when imported goods didn't make it to store shelves and agricultural exports rotted on the docks because of the congestion caused by the 2014-15 contentious contract negotiations between the International Longshore & Warehouse Union (ILWU) and the Pacific Maritime Association (PMA). The economic impact on the country could be measured in the billions as U.S. shippers lost revenue and international business partnerships thanks to the costly delays of moving their goods through West Coast ports. And top of that, they were hit with unfair detention and demurrage fees.
These fees in 2014 and 2015 were so excessive and harmful that, in June 2015, the Los Angeles Customs Brokers and Freight Forwarders Association (LACBFFA), along with 94 other organizations, was petitioning the FMC to prohibit the unfair practice and I was covering it in this blog.
Among the many such blogs I wrote concerning detention and demurrage fees that have long plagued shippers, the FMC has played a featured but ultimately disappointing role. There was "FMC Investigating Detention, Demurrage & Per Diem Charges" in March of 2018 that had shippers hoping to finally see action from the commission on the issue.
After an 18-month fact finding investigation into detention and demurrage fees, Commissioner Rebecca Dye put forward an interpretative rule designed to make the assessment of detention and demurrage fees reasonable. Commissioner Dye wrote:
These financial incentives operate to ensure that cargo interests do everything customarily required to be positioned to retrieve cargo and return equipment within the time allotted. Absent extenuating circumstances, however, when incentives no longer function because shippers are prevented from picking up cargo or returning containers within time allotted, charges should be suspended.
I covered this in more detail in September of 2019 with a post entitled "FMC Finally Addresses Unfair Demurrage & Detention Charges." It finally looked like shippers might have finally gotten some action from the FMC with this interpretative rule, but of course, within months they were being hit as hard or harder than ever with unfair demurrage and detention fees.
In October of 2020, complaints about the fees were so loud that the FMC invited shippers to comment on the fairness of ocean carrier billing. But that too just felt like the commission pacifying shippers as I was writing about shippers still awaiting action on fees in April of 2021.
However, Commissioner Dye's work did result in a final Interpretive Rule on Demurrage and Detention under the Shipping Act ("demurrage and detention rule"). The over $800,000 fine on Hapag-Lloyd is a direct result of that, as the FMC wrote in its decision:
This proceeding is the Commission's first enforcement proceeding alleging a violation of the demurrage and detention rule.
Deterrence of Future Unfair Fees?
Now the question is whether this decision will significantly decrease the implementation of unfair detention and demurrage fees against shippers in the future.
As a named party in the case, the FMC's Bureau of Enforcement (BOE) acted like a prosecutor against Hapag-Lloyd and wanted a much higher penalty levied against shipping line. BOE requested a penalty of $16.5M to help deter future violations:
BOE calculates the requested penalty using the statutory maximum for a knowing and willful violation in 2022, for eleven containers, for a continuing violation of 228 days until the filing of BOE's brief ($65,666 x 11 x 228=$164,690,328) and argues that ten percent is necessary to deter future violations and therefore requests a civil penalty of $16.5 million.
The FMC did not find it fit to fine Hapag-Lloyd that much. The commission said that though "a significant penalty is required to deter future violations and ensure compliance
with the demurrage and detention rule," the "penalty must be proportional to the violation established, particularly where BOE did not establish a violation for all eleven shipments or for all days of detention." Instead of $16.5M, the FMC went with $58,730 per violation for fourteen violations, which came to the aforementioned $822,220 penalty total.
While that much money would likely sink the average shipper's business, the fine is rather negligible for Hapag-Lloyd. Major ocean freight carriers have been pulling in profits by the billions over the last couple years, and Hapag-Lloyd is no different.
Hapag-Lloyd itself reported, in a press release in January, about the billions the company took in last year:
On the basis of preliminary figures, Hapag-Lloyd's earnings before interest, taxes, depreciation and amortisation (EBITDA) for the 2021 financial year increased to more than USD 12.8 billion (approximately EUR 10.9 billion). Earnings before interest and taxes (EBIT) rose to roughly USD 11.1 billion (approximately EUR 9.4 billion)….

Revenues increased to roughly USD 26.4 billion (approximately EUR 22.3 billion).
Looking at those numbers, Hapag-Lloyd could have paid the proposed $16.5M amount pretty easily. You're guess is as good as mine as to whether the fine Hapag-Lloyd was hit with will actually deter the company or other ocean freight carriers from continuing their use of unfair detention and demurrage fees. Detention and demurrage fees won't go away, but maybe carriers will be more careful about imposing unreasonable ones when shippers are unable to clear or return containers due to port congestion.