Top 10 Most Useful & Popular Shipping Posts
Whether you're new to Universal Cargo's blog or a regular reader, this post will help you navigate through to the most useful and popular articles we've posted here over the years.
After years of regularly posting international shipping articles, Universal Cargo has established its blog as a recognized resource for shippers and businesspeople considering an import and/or export business.
Often, blog posts here are news articles, covering the current happenings in the international shipping industry. However, the most viewed blog posts are articles giving shipping tips or explaining basic or important information around shipping.
Below we count down the top 10 such blog posts, ranked by the most visited posts. We measured this not by which posts have the most views, as that would favor older blogs, but by the blog posts that are currently receiving the most visits from shippers and potential shippers that come to our site.
You can throw a bookmark on this page to have easy reference to the following links. To read the blogs, just click on the titles that are also links to the pages.
Without further ado, let's count them down from number 10 to number 1 just like David Letterman used to do!
NUMBER 10
This is the only guest post that made the list. In this post by John Stuart of the International Logistics Centre shares 13 facts you need to know about freight forwarding that will help you through the shipping process.
NUMBER 9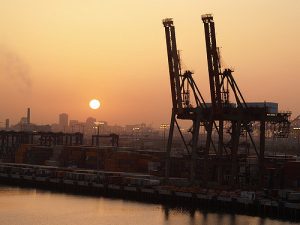 This article was posted at the height of record low freight rates in 2016. While freight rates aren't quite as low now as they were then, carriers still struggle with overcapacity and increasing freight rates to the healthy and profitable levels they would like.
Traditionally, the really large shippers, with the
ir direct annual contracts with carriers, are at an advantage when it comes to freight rates. However, this highlights an interesting anomaly of smaller shippers having an advantage over the Walmarts of the world.
NUMBER 8
At number 8 comes 7 extremely useful tips to help shippers avoid common and costly scams that happen in the international shipping industry.
If you haven't checked out this blog, please do. It could end up saving you major hassle and serious money.
NUMBER 7
Universal Cargo has moved away from shipping vehicles, but we posted this blog back when we still handled that specialized cargo. While you'll need to go elsewhere for this particular service, our blog post looking at the two options for auto shipping is still very useful and popular among new auto shippers.
NUMBER 6
Ah, the age old debate: which is better, air freight or ocean freight. This is our first blog covering the topic and still the most popular.
While this blog is still useful, we have a more recent version that takes into consideration almost twice as many factors when comparing air freight to ocean shipping and helping you decide which is better for your cargo shipping needs.
Here's that newer article: Air Freight Vs. Ocean Freight — Which Will Win Your Cargo
NUMBER 5


From the time we published this series defining Incoterms, it has been one of the most popular pages on our site. Coming in at number 5 is part one of the series defining the Incoterms in Groups E and F.
Anyone making deals with overseas partners that involve shipping should familiarize themselves with these types of deals that define who is responsible for the shipping and insurance of cargo.
NUMBER 4
Here the Incoterms definitions series continues, covering the deal types in Group C.
NUMBER 3
Our most popular blog in the Incoterms definitions series is the third part. This blog defines the deals in Group D.
It should be noted that these Incoterm blog posts also include videos that have the Incoterm definitions in them.
NUMBER 2
What this blog is about is pretty self explanatory from the title. But if you're wondering what exactly a freight forwarder does and whether you need one, as many people do, this is the blog for you.
Finally, we come to the number one visited post in our blog. And yes, it is a useful one. Drum roll, please…
NUMBER 1
Not only does this blog provide a thorough definition of exactly what customs clearance is, it also gives shippers (both new and experienced) information that will help shippers navigate this unavoidable part of international shipping.