ILWU to Vote on Early Contract Extension, AND IT COULD PASS!
ILWU Voting on Early Contract Extension - Universal Shipping News
This is unprecedented news. The International Longshore & Warehouse Union (ILWU) is actually going to vote on an early contract extension.
Chris Dupin reports in American Shipper:
The International Longshore and Warehouse Union (ILWU) said Friday that rank and file members of its longshore division will have an opportunity to vote on a proposal to extend their current contract with employers for an additional three years beyond the current July 1, 2019 expiration date.
I didn't want to get shippers, and everyone else in the supply chain, too excited about this news. After all, the ILWU approving an early contract extension would be a major narrative change. Historically, it has been a policy of the dockworker unions, both the ILWU and International Longshoremen's Association (ILA), to never extend or agree to a new contract before the expiration of the previous one. And just because an extension is being voted on does not mean it will be passed.
However, my sources say there's a good chance that the ILWU rank and file will actually approve the extension.
In fact, when I asked David Griffen, a longshoreman who granted Universal Cargo an interview during the contentious ILWU contract negotiations of 2014/2015, about the contract extension vote, he said, "I think she passes."
Here is his response to my inquiry on Twitter: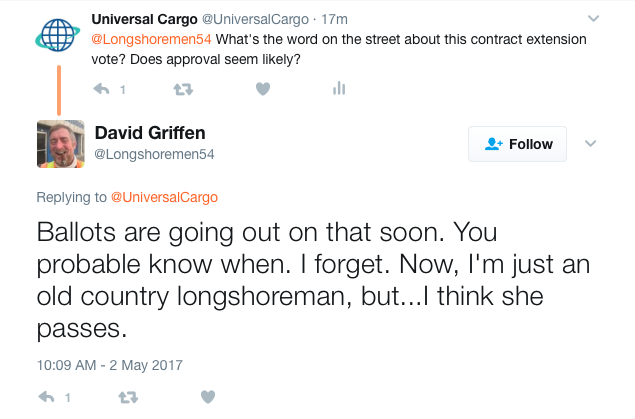 Despite Mr. Griffen saying I probably know when the vote is happening, I do not have that information to share. The ILWU has not released the date of the vote to the public. However, Griffen's comment that ballots are going out soon means there shouldn't be a long wait before finding out if he's right about the extension passing.
Almost from the moment the current contract was ratified, groups across the supply chain began urging the ILWU and Pacific Maritime Association (PMA) to begin early contract negotiations for the next contract. There was probably no voice louder than that of the National Retail Federation, but the urging for early contract negotiations came from manufacturers, farmers and agribusinesses, wholesalers, retailers, importers, exporters, distributors, transportation and logistics providers, other supply chain stakeholders, and even politicians.
Despite so many wanting to see an early contract extension, few probably thought it would happen, even when the PMA and ILWU met about a contract extension. That an early extension is actually being voted on and expected to be passed by members of the rank and file is a very pleasant surprise.
The extension does come with pay bumps for ILWU members. Chris Dupin shared the following details about the extension from an unnamed source:
    • A wage increase of 3.1 percent per year over the base wage rate of $42.18 per hour, which amounts to an hourly increase of $1.31 the first year, $1.35 the second year and $1.39 the third year;
• An increase in pensions, with the maximum pension jumping from $88,000 to $95,460 by 2022, however, one source said that figure was misleading since most members do not receive the maximum (Surviving spouses receive a 75 percent benefit);
• A three-year early retirement "window" for members with at least 13 years of service to encourage early retirement;
• And maintenance of benefits for the union healthcare program, with no premiums, limited deductibles and a $1 co-pay for prescription drugs.
Universal Cargo has kept a close eye on this situation because of the impact contract negotiations have and can have on shippers. We'll continue to keep you updated. You can catch up on the lead-up to this contract extension vote in the blogs listed below.