ONE Posts 3,000% Profit Increase, Signalling Peak Season & Raising Shippers' Eyebrows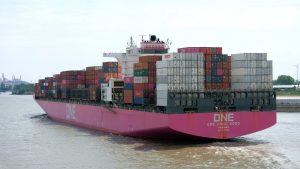 Reporting is starting to come in on the first quarter of the financial year for carriers. Ocean Network Express (ONE), formed a few years ago when Japan's big three ocean carriers – K Line, MOL, and NYK – joined forces, is having a good year so far. Actually, that might be an understatement, as Mike Wackett reports in the Loadstar that ONE's FYQ1 profits are up 3,000% on last year:
Japanese carrier Ocean Network Express (ONE) has kicked off the quarterly financial results reporting season with a $167m net profit for April-June.

…

Additionally boosted by a 20% fall in the price of bunkers, to $348 per ton, and surcharges levied on shippers for low-sulphur fuel, ONE's profit for the quarter soared by more than 3,000% over the $5m for the same quarter of 2019.
This story means more than merely an ocean carrier is doing well in the middle of a pandemic. This story acts as something of an update on recent Universal Cargo blogs on topics that are very pertinent to U.S. shippers. There are signals here relating to my predictions about the peak season and reasons to make shippers even more suspicious that carriers are profiteering as they've been accused of in 2020.
Peak Season Is Happening
Many predicted there would be no peak season this year because of shutdowns and economic downturn caused by the recession. While I agreed we would likely not see a peak season as big as we often do, I predicted we still would have a peak season in both a blog about what the peak season will look like and another about whether 2020's high freight rates have reached their peak.
In the latter, I predicted the peak season would be strong enough and carriers disciplined enough that we had not yet seen the highest freight rates of the year. As August gets underway, it appears that at the very least my prediction of us having a peak season is coming to fruition with ONE signaling a recovery in volume.
A Journal of Commerce (JOC) article about ONE's profits specifically credits the carrier with "saying pandemic-hit volumes are rebounding from the 20 percent drop it saw in the April through June period."
Wackett's Loadstar article quoted above credits ONE with indicating that 20% drop is being cut in half:
The carrier said "demand is gradually coming back" in the current quarter to approximately 10% less than last year.
Yes, we're looking at less volume than last year, but volume is increasing and the gap is shrinking. As volume increases here in the peak season, ONE indicates it plans to continue to operate in a disciplined manner as the Loadstar article continues with:
ONE's action plans include "a focus on operational excellence by closer collaboration with terminal operators, improvements in vessel stowage planning along with empty repositioning optimisation".
If other carriers do likewise, which we've seen throughout 2020 (and even to a degree in 2019), we should see freight rates at least be maintained, if not rise, through the peak season that is already seeing an increase in cargo volume.
Profiteering Suspicions Only Increase
ONE has done nothing to quell shippers' suspicions of profiteering from carriers during this pandemic. In fact, there are a couple things brought up in Wackett's article that make shippers even more suspicious.
In the first quote above from the Loadstar article, Wackett writes:
Additionally boosted by a 20% fall in the price of bunkers, to $348 per ton, and surcharges levied on shippers for low-sulphur fuel, ONE's profit for the quarter soared by more than 3,000% over the $5m for the same quarter of 2019.
Oil plunged to record depths this year. In fact, at one point something happened that has never happened before: oil hit negative prices. Despite this, carriers like ONE have still imposed low sulfur fuel surcharges on shippers.
Some shippers are outraged that not only did lower oil costs never get passed on to them, but they also paid fuel surcharges for expected fuel cost increases that never came to pass and that was never remediated.
Coming in to 2020, IMO 2020 was the story of the year. The new requirement of a 0.5% sulfur cap on the fuel emissions of ships had carriers charging fees for the more expensive, cleaner fuel before the rule even came into effect. Shippers were already suspicious of the fees, and a controversy was brewing. Then the pandemic struck, and oil prices crashed. Shippers argue clean fuel surcharges have been unfairly charged and were nothing more than an increase on rates under a false guise.
There's one more item in Wackett's article that likely raises shippers' eyebrows:
From April, [ONE] suspended publication of its monthly liftings statistics for Asia-Europe and the transpacific, but has included the quarterly data in its results.
Shippers have long, and rightfully so, complained about carriers' lack of transparency. Then, in the midst of a pandemic, posting a year-on-year 3,000% profit increase, ONE becomes less transparent rather than more forthcoming.
I still don't want to go so far as to say carriers are profiteering. I do believe all the alliances they've been allowed to form over the last several years has allowed them to manipulate the market. I've been leery of allowing the consolidation of the industry through alliances as regulatory authorities around the globe have done. I haven't been afraid to say regulators should rethink allowing carrier alliances.
All that being said, carriers could go a long way in alleviating shippers' fears by being more transparent. The less transparent carriers are – and, traditionally, carriers have been extremely opaque in their practices – the more suspicious shippers will become over things like dropping capacity below demand, making large profits during a pandemic, and levying fuel surcharges when the oil market sinks.