Carriers Fined Millions for Price Collusion Call Fines Insignificant as They Make Billions
Over $80 Million in Price-Fixing Fines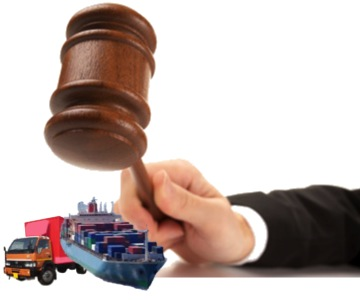 Keith Wallis reported in a Journal of Commerce article this week that South Korea's Fair Trade Commission fined ocean freight carriers over $80 million for collaborating in setting freight rates:
Cosco Shipping Lines, Evergreen Marine, and HMM are among 23 carriers that have been fined a total of $81 million for failing to fully adhere to South Korean maritime law involving collaboration in setting freight rates. The fines involve rates from South Korea to Southeast Asia, South Korea's Fair Trade Commission (FTC) said Tuesday.
Carriers Shrug Off the Fines
$81 million may sound like a lot of money. But apparently not when you're making billions of dollars off the high freight rates that shippers have accused carriers of profiteering with throughout the pandemic. In a Loadstar article, Martina Li reported that the shipping lines scoffed at Seoul's price fixing fines:
Wan Hai Lines spokesperson Laura Su said in a Taiwan Stock Exchange filing the company had not yet received notification from the authority.

She added: "The reported fine of around $9.6m has no significant impact on the company's finance and business. We will discuss the follow-up treatment with a lawyer to protect the company's rights and interests."

Yang Ming GM Du Shu-chin said his company was facing a fine of around $2m and added: "The company has appointed a lawyer to safeguard its rights and interests, and the penalty has no significant impact on our financial status."

Evergreen is facing a fine of around $2.85m, its president, Eric Hsieh, said in a filing to the Taiwan bourse, while an HMM spokesperson told The Loadstar: "As soon as the KFTC provides HMM with official notification, we will review and decide to implement relevant measures."
When and Where Did Carriers Go Afoul of Antitrust Laws
It's important to note that these fines are not for price fixing during the pandemic. Wallis reports in his JOC article:
In a 32-page report, the competition watchdog said the carriers, including 11 foreign firms, held 541 meetings in which they set rates 120 times over a 15-year period between December 2003 and December 2018. While collaborating on prices is allowed under South Korea's maritime shipping act, it must be done in discussion with shippers and details reported to the Oceans and Fisheries Ministry within 30 days. The FTC said the carriers did not abide by those two rules, and thus declared the price-setting "illegal."
Wallis went on to detail the varying degree of fines while listing more carriers involved:
The highest fine of $25 million was imposed on local carrier Korea Marine Transport Co., while Taiwan's Wan Hai Lines was slapped with a $9.6 million fine, the highest penalty levied on a foreign carrier.

Other carriers involved include Sealand Asia, OOCL, Hong Kong-listed SITC, Heung-A Line, Yang Ming Marine, and CNC, part of CMA CGM group. Sealand Asia, Maersk's intra-Asia subsidiary, was fined $2 million, while HMM was fined $3 million.
Fines actually could have been much higher per previous fine threats made by the FTC according to Wallis's article:
The fines are considerably less than the $672 million the FTC told carriers they could be fined in an interim report last May.
The article also included that the investigation called for a local lawmaker to call for the end of the antitrust protections carriers enjoy in Korean maritime law.
Freight rate collusion has long been a problem in the international shipping industry. It's one of the reasons I've long argued against regulatory authorities allowing carrier alliances, which I believe add to the antitrust problems in the industry. To get a glimpse into the problem, here are a handful of related stories from over the years.
Carriers Defend Against Shipper's Complaint to FMC
Are Ocean Freight Carriers Profiteering from Global Crisis?
DOJ Antitrust Probe of Ocean Freight Carriers Is Over
Are Carriers, Imposing Emergency Bunker Surcharges, Really Cartels?
Should Maritime Regulators Rethink Carrier Alliances?
China Fines Shipping Companies & Joins US & EU Antitrust Cooperation
International Shipping Fought the Law & the Law Won
Holy Cargo Collusion, Batman–Shipping Companies Under Investigation!
Conclusion
What's unfortunate is that these price-fixing fines amount to little more than slaps on the wrists of ocean freight carriers. Consider Maersk having to shell out $2 million for its subsidiary Sealand Asia. Yes, $2 million is a lot of money. However, Greg Knowler reported in the JOC last week that Maersk added another $1 billion to its profit expectations for 2021:
The A.P. Moller-Maersk group expects to report full-year earnings before interest, taxes, depreciation and amortization (EBITDA) of $24 billion, up from the previous operating profit guidance of $22 billion to $23 billion announced in September.
Knowler said this profit increase was prompted by an "incredible 80 percent increase in freight rates through the fourth quarter." For the last two years, we've been talking about stratospheric freight rates in the ocean freight industry, which started when carrier alliances manipulated capacity through hundreds of blank (cancelled) sailings to below market levels when they feared losing money because of the pandemic. Then freight rates really exploded when politicians decided the best response to the pandemic was to shut down businesses and schools and give everyone money through stimuli packages, which created a boom in online shopping and goods buying in general that the supply chain was unable to handle.
Carriers have never had such success in pushing freight rates up. It's not just Maersk that's making billions. Ocean freight carriers across the board have been raking in the money. Here are a few blog posts about the billions carriers have been making since the pandemic hit.
How Did Carriers Go From Looking at Billions in Losses to Billions in Profit in 2020?
12 Figure Profits for Carriers? Depends on How Peak Season Plays Out
Just How Much Are Carriers Earning with These High Freight Rates?
I'm all for businesses making money, but there tends to be something wrong when businesses' services get worse – and ocean carriers' services have tended to be much worse over the last couple years – yet their rates and profits soar. Especially when those companies are in an industry known for antitrust behavior and regulators allow them to work together to manipulate market conditions.